Apple just released the new iPhone Pro 11 and while it didn't offer a huge upgrade for most users, the camera features added are a gamechanger for videographers who like to film with their smartphone.
During this year's Keynote, Apple made an ambitious pitch for the iPhone as a device for professional photographers and videographers, underscoring the new camera and editing capabilities.
The iPhone 11 Pro is shaping up to be the ideal professional filmmaker's smartphone camera with much better cameras, more energy efficiency, spatial audio sound, and 4k resolution at 60 frames per second.
For professional photographers, there is now a 4x optical zoom and much better night shooting to rival Google Pixel's night mode.
They are also rolling out a new feature called Deep Fusion that relies upon high-speed machine learning to combine nine different images into a single super high-quality shot.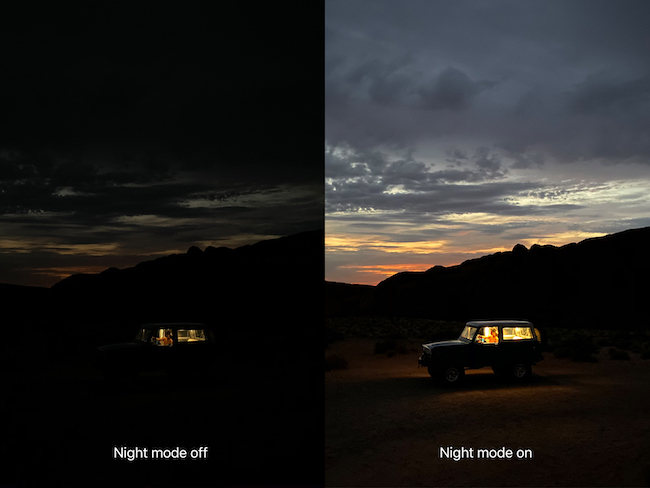 The iPhone 11 Pro's Three Camera System:
The new iPhone 11 Pro adds a third lens, which is Super Wide 13mm f2.4.
This goes with the 12mp 26mm f1.8 wide-angle camera and a 52mm f2.0 2x Telephoto lens.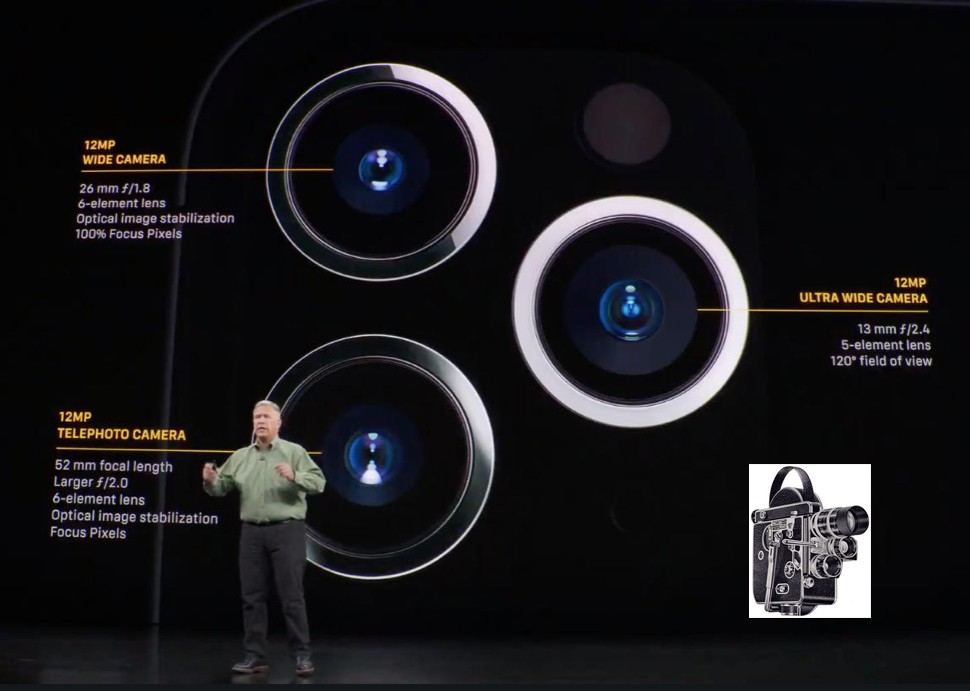 Incredibly, the iPhone Pro does something huge that no DSLR or mirrorless cameras can duplicate. It can capture images simultaneously from all three cameras thanks to the new A13 Bionic chip, which means that if you're a videographer, you will be able to change from camera to camera while recording video in real-time.
They've also upgraded the front-facing "selfie" camera with a new 12‑megapixel TrueDepth camera and you will be able to shoot video from the front camera in 4K and at a higher frame rate, which means slow motion is now possible.
Video Specs For The iPhone 11 Pro:
Here is Apple's promo video demonstrating the new camera hardware on the iPhone 11 Pro.
While only the iPhone 11 Pro has the extra third lens, all three iPhone 11 models can record video at the following resolutions:
4K video recording at 24 fps, 30 fps or 60 fps
1080p HD video recording at 30 fps or 60 fps
720p HD video recording at 30 fps
Extended dynamic range for video at up to 60 fps
Optical image stabilization for video (Wide and Telephoto)
2× optical zoom in, 2× optical zoom out; digital zoom at up to 6×
Audio zoom
Brighter True Tone flash
QuickTake video with subject tracking
Slow-motion video support for 1080p at 120 fps or 240 fps
Time‑lapse video with stabilization
Cinematic video stabilisation (4K, 1080p and 720p)
Continuous autofocus video
Take 8-megapixel still photos while recording 4K video
Playback zoom
Video formats recorded: HEVC and H.264
Stereo recording
There's still no USB-C, just the standard Lightning port however the supplied charger has been upgraded to 18W for faster charging.
Battery life will also be significantly enhanced on the iPhone 11 Pro, with Apple claiming it will offer an impressive 4-5 hours longer battery life compared to equivalent models from last year due to efficiency improvements with the new A13 chip.
Another thing that would have been a nice addition to the iPhone 11 Pro for video professionals would have been adding Bokeh (depth-of-field) capability for videos. While Bokeh is available on the portrait photography mode, you can't do it with video, which I find disappointing.
Samsung has a very impressive Bokeh feature on their Galaxy Note10 that allows you to drag a slider to create a live Bokeh effect for a video. Hopefully, Apple will add this in the iPhone 12 Pro next year.
---
Featured Ad: Creative Leadership Webinar
Learn how to craft your brand story and better communicate what makes you different.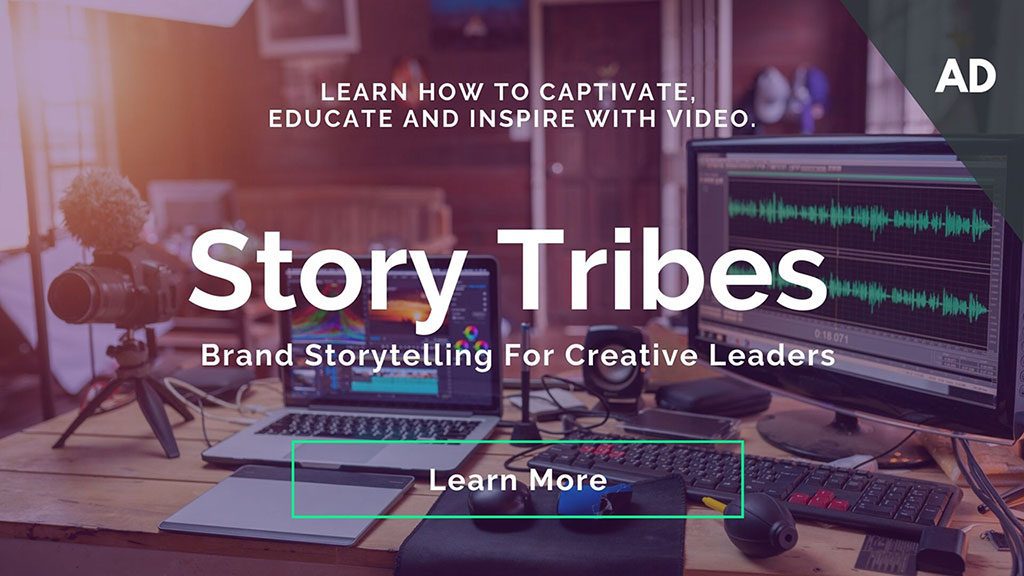 ---
New Filmic Pro Support:
During Apple's Keynote, filmmaker Sean Baker who filmed the award-winning film Tangerine on his iPhone a few years ago took the stage to talk about the iPhone 11 Pro as a tool for smartphone filmmakers and videographers.
He was followed by FiLMiC Pro's chief technical officer Christopher Cohen who explained how their professional filming app will utilize all of the cameras on the iPhone 11 Pro.
Here's the video stream of both of them talking about the new features of iPhone 11 Pro and FiLMiC Pro.
FiLMiC Pro will be adding a new Viewfinder mode, which will give you a visual display of the different focal lengths, which you can then select to shoot.
A new multi-display view will let you easily select the framing you want by showing you the Ultra Wide Angle, Wide Angle, Telephoto and Front-Facing Selfie camera on one screen.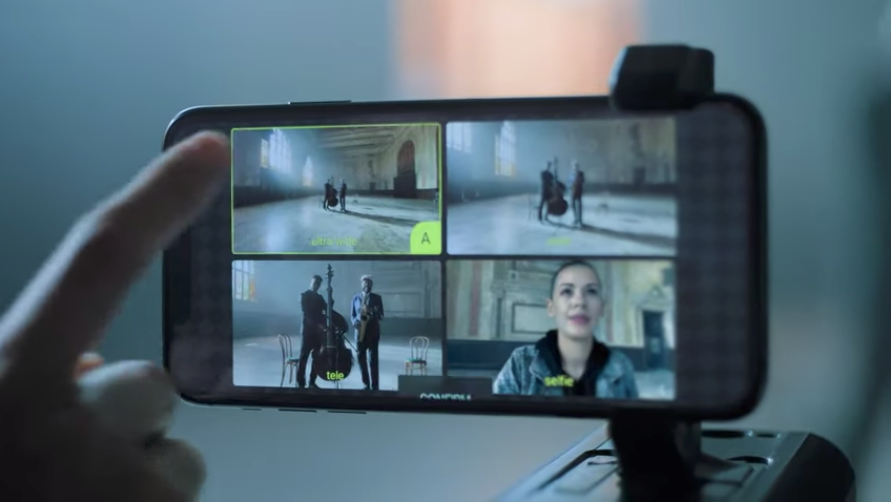 There will also be a refined director's viewfinder, which will enable users to zoom into each focal length from the SuperWide camera to the 2x telephoto, all while recording at 4K at 60fps.
FiLMiC Pro will also be adding a picture in picture (PiP) option, which will give documentary filmmakers a unique perspective for interviews with two separate cameras recording streams at the same time, with the shooter having the option to switch between the two in the frame.
This means you will be able to record the front and rear cameras at the same time, which can be very helpful for video journalism and making documentaries.
Here's how I could see using different recording streams for your videos:
1. Vlogging: You could capture yourself speaking to the camera while also capturing what's in front of you (POV).
2. Interviews: You could capture both you and your interviewee at the same time as well as produce different interview shots (close up and more distant) with the different lenses.
3.  Live videos: There could also be some interesting ways to use multi-cam shooting for live videos on Instagram, LinkedIn, and Facebook Live.
The new version of FiLMiC Pro will be available later this year (no release date has been set).
So, Is The iPhone 11 Worth The Money?
If you're a filmmaker or videographer who is regularly making videos, yes.
If not, it's definitely a lot of money to spend on a smartphone (but just think of how much you use your iPhone every day…).
The new iPhone 11 Pro starts at $999 for 64GB, which won't be enough storage for making videos. The 256 GB model is $1149 and the 512 GB model is $1349.
They are also offering a 6.5 inch "Max" edition of the iPhone Pro that starts at $1,099.
The more basic iPhone 11, which is more than enough for most users starts at $699.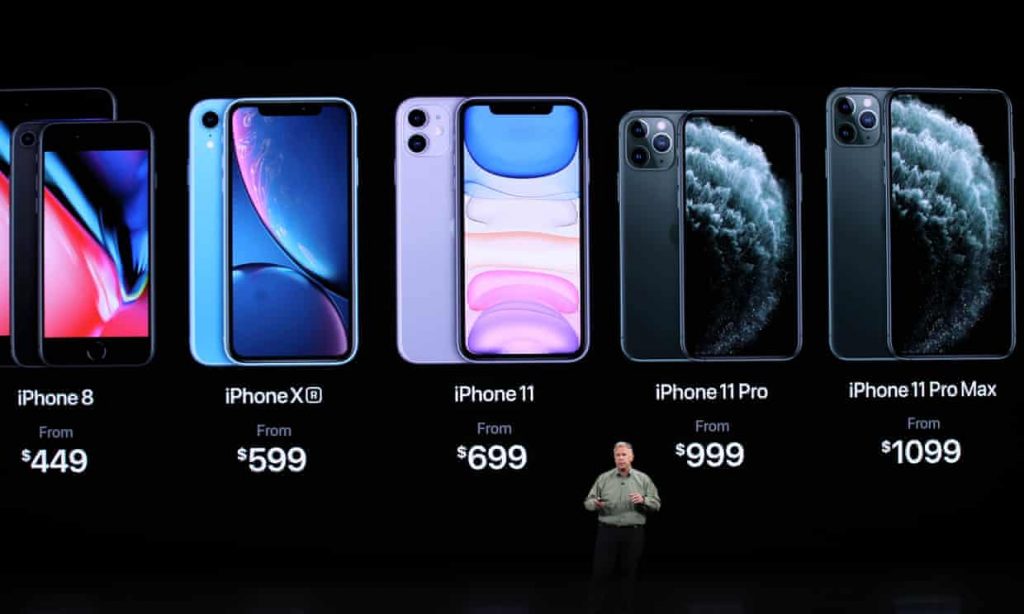 The iPhone 11 Pro is now available for pre-sale on Apple's website and it will be available on September 20th in stores.