While most people just pass through Koh Phangan for a couple days to party at the world famous Full Moon Parties or the legendary Tri-Bay party scene, this island's tropical rainforests have so much more to offer for those interested in nature immersion and ecotourism experiences.
The island of Koh Phangan was recently designated as an "ecotourism zone" in Thailand to protect its unique tropical rainforest ecology. Nearly half of the island is now protected in a tropical rainforest reserve and just off the eastern coast, you have Ang Thong National Marine Park, which is the most spectacular island archipelago found in Thailand.
The Legend of Koh Phangan
The legend of Koh Phangan is that the island formed atop a foundation of Quartz crystals. For true believers, the island is revered as a place for spiritual transformation as it's believed that the energetic tension of opposites is heightened here. As a result, the island has become a mecca for yoga and meditation with the town of Srithanu resembling something like the peace and tranquility of the Balinese town of Ubud twenty years ago.
I can't imagine a better place than Koh Phangan to meditate and do yoga in the morning and then spend the afternoon exploring the tropical jungle and swimming in the refreshing waters of a waterfall. This island has so much to offer in terms of both nature and learning opportunities. As local expats will say, the "rabbit hole" goes very deep on Koh Phangan.
If you're planning to visit Koh Phangan and you're looking for interesting in things to do in nature then here are 10 of the most spectacular natural wonders that you will want to explore:
1. Ang Thong National Park
A short boat ride from Koh Phangan you will find Ang Thong National Marine Park reserve. I highly recommend staying overnight and camping on the Ranger's Island so you can explore the massive caves and hike to the viewpoint of the archipelago without the large crowds of people passing through in the day.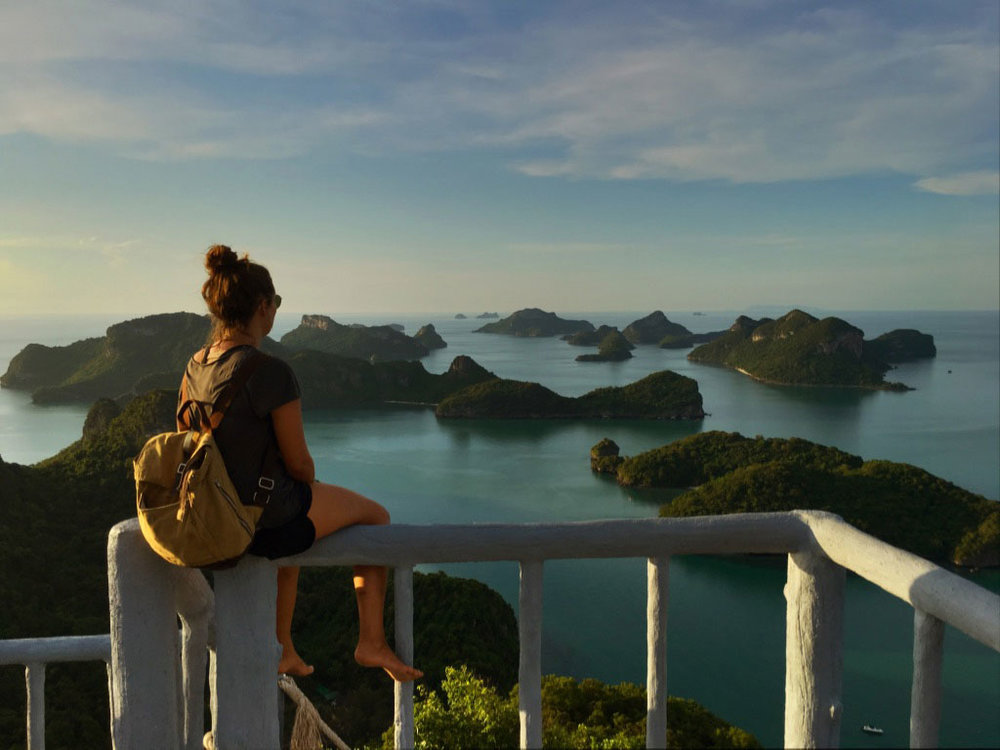 2. Sail Rock
If you've ever dreamed of diving with whale sharks then Hin Bai (Sail Rock) is your spot. This world-famous dive site is about 15 km to the north of Koh Phangan. You will find lots of dive shops in Haad Salad and Chaloklum Bay doing daily trips to Sail Rock. Conditions are best from April to October, when the visibility is the highest.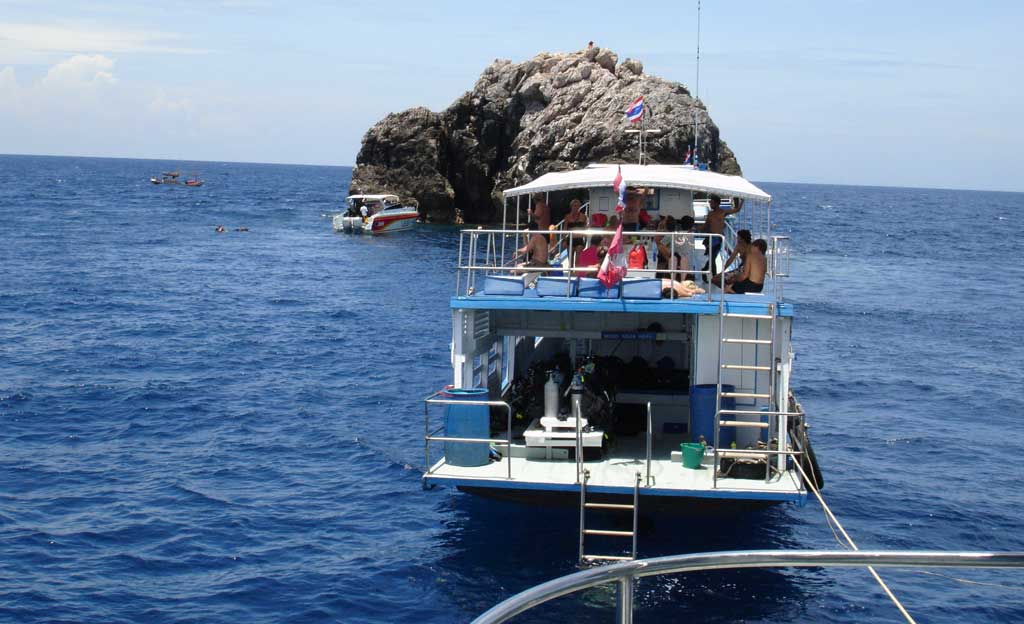 3. Khao Ra
If you're up for a challenge, the 3-hour hike (round trip) to the highest peak on Koh Phangan is exceptionally beautiful. From the summit of Khao Ra at 627 m, you will enjoy incredible views of Chaloklum Bay and the tropical rainforest of Than Sadet National Park. At the bottom, make sure you swim at the "infinity pool" at the Khao Ra Waterfall.

4. Hin Kong Bay
The best place to walk barefoot is on the tidal flats of Hin Kong Bay found on the west coast of Koh Phangan. When it's low tide you can walk for close to a mile while enjoying panoramic views of Khao Ra, Koh Samui, and the islands of Ang Thong National Park in the distance.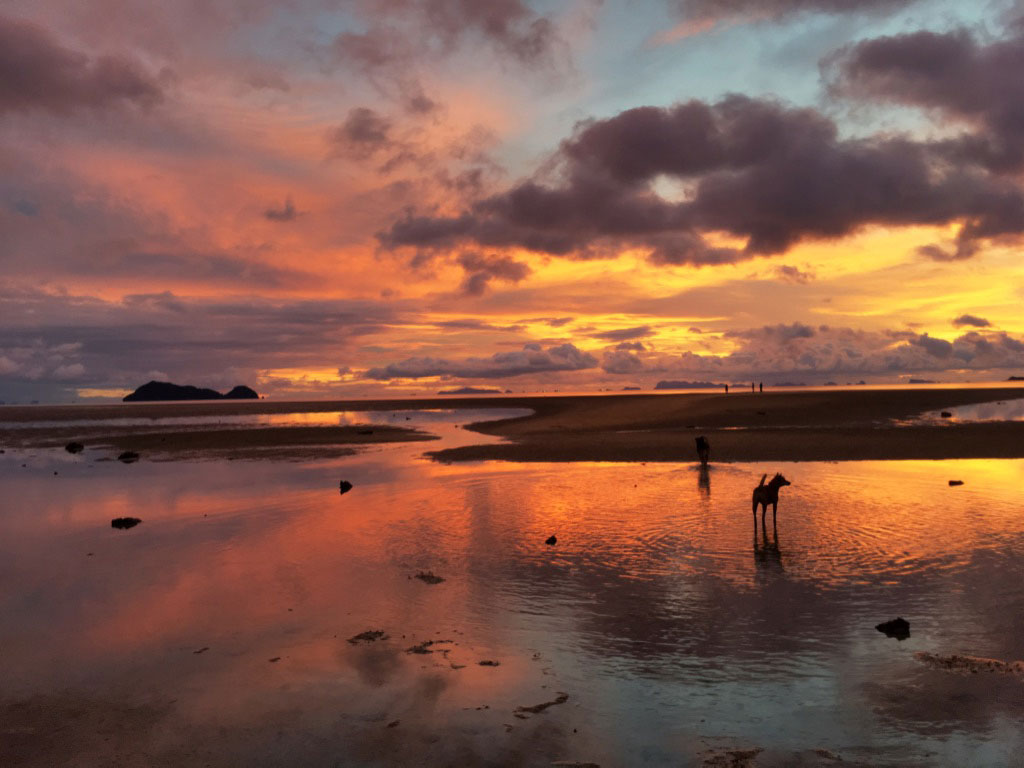 5. Wat Koh Tahm
Situated on a mountaintop above the town of Ban Tai, Wat Koh Tahm is a beautiful temple in the thick tropical rainforest. Also nearby is Wat Pho, which has a popular herbal sauna and massage center set in one of the most beautiful natural landscapes on the island.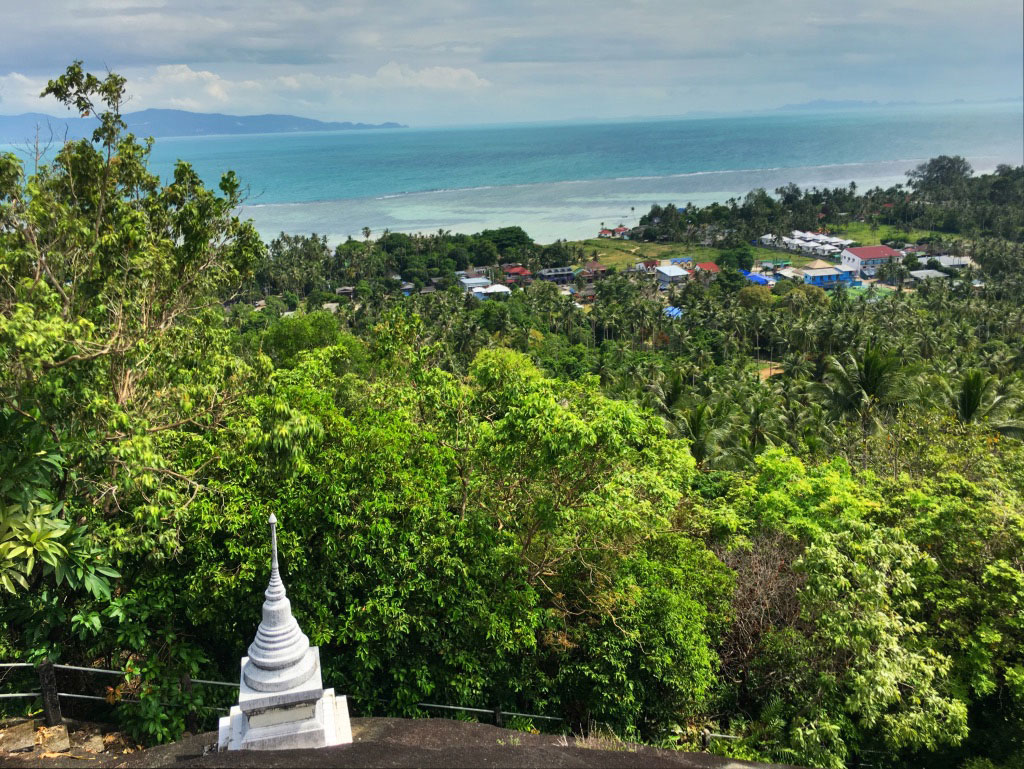 6. Than Sadet National Park
Than Sadet National Park makes up a third of Koh Phangan. In the park, you will find many incredible beaches, waterfalls, and mountain hikes. A popular access point to Than Sadet is at the Phaeng Waterfall. Also, make sure to visit the Dome Sila viewpoint to see the panoramic views of western Koh Phangan.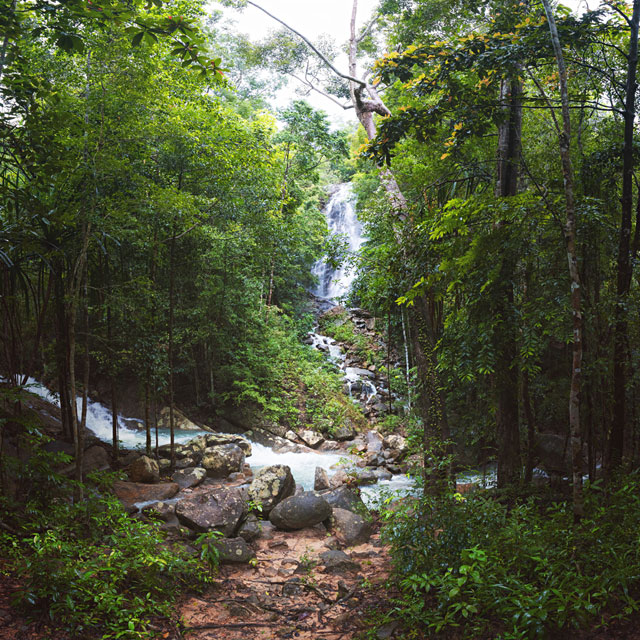 7. The Temple of Mercy
In 1990, when Koh Phangan was still largely undeveloped and without electricity, a Chinese woman named Mrs. Malawan came to the island and had a dream where the Buddha told her to build a temple in the hills above spectacular Chaloklum Bay. Two years later, the spectacular Guanyin Temple to the Goddess of Mercy was complete.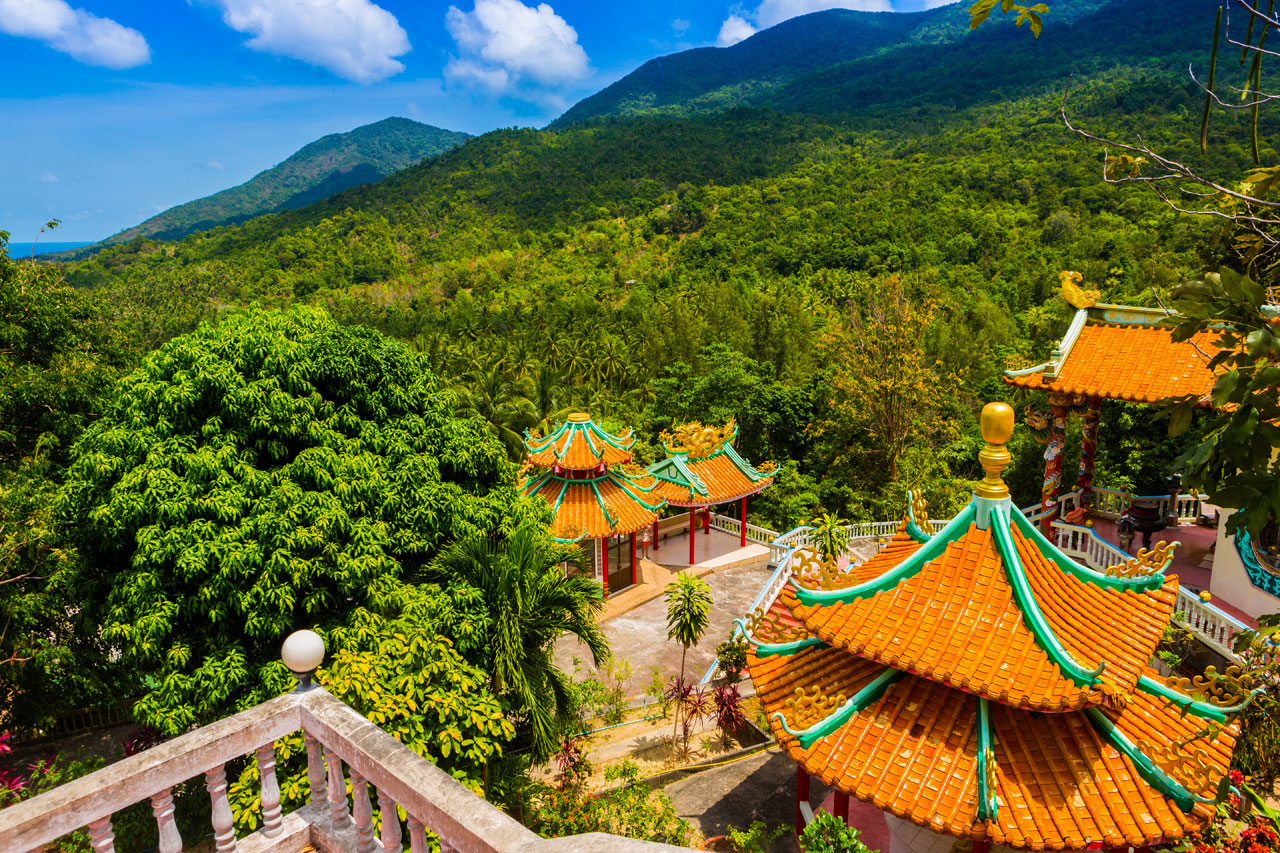 8. Bottle Beach
A 1.5-hour hike through the tropical jungle just west of the town of Chaloklum, you will find one of the Koh Phangan's most beautiful beaches, Haad Khuat. It goes by the name of Bottle Beach because it's only easily accessible by boat or a jungle trek following a trail with hundreds of plastic bottles to mark the way.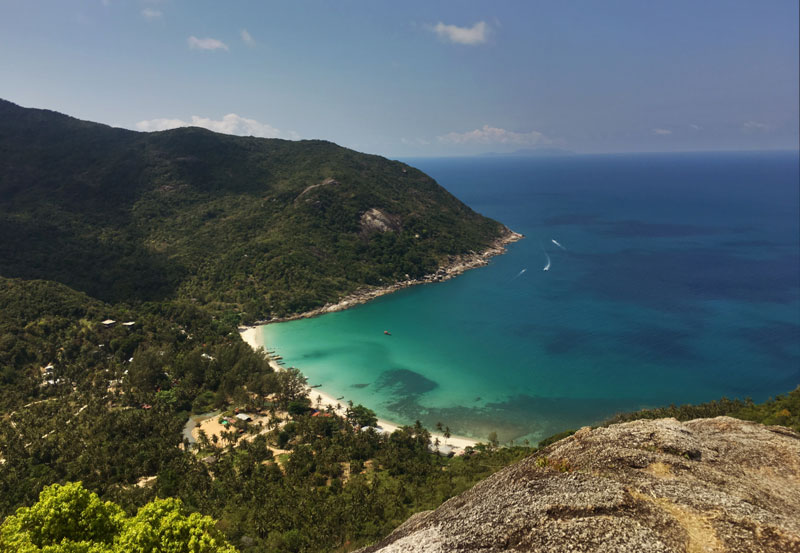 9. The Tri-Bays
These three isolated bays (Why Nam, Haad Thien, and Haad Yuan) are only accessible by boat or a 1.5-hour hike through the mountains from Haad Rin. In addition to incredible natural beauty, you will also find legendary dance parties on the weekends at Eden Bar, Guy's Bar and Why Nam.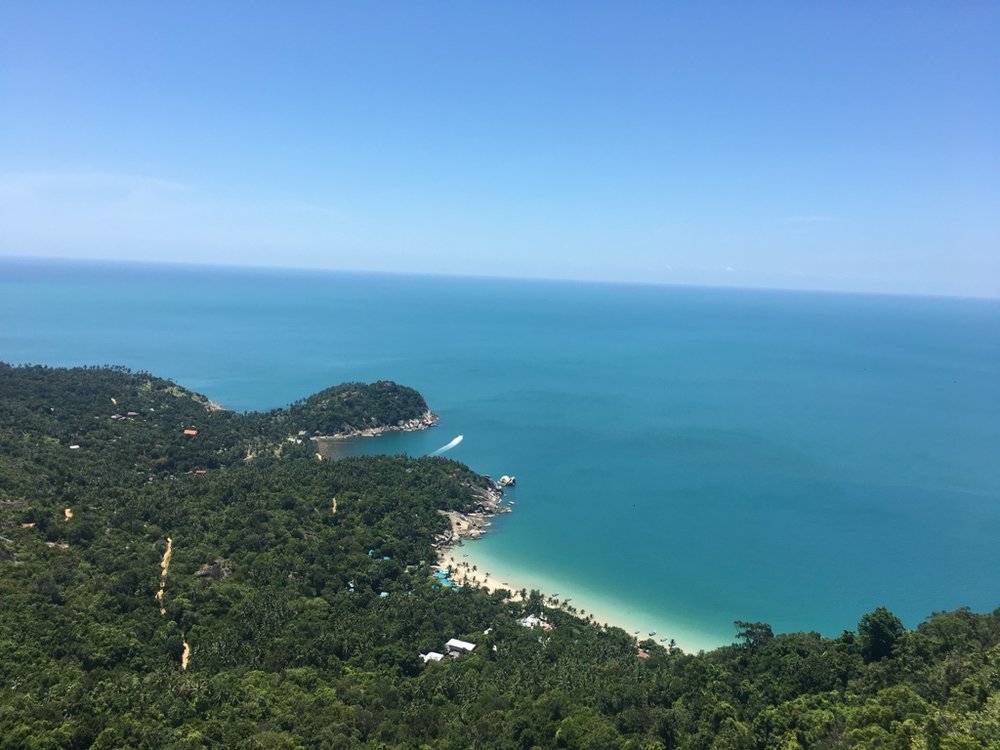 10. Zen Beach
A trip to Koh Phangan isn't complete without watching the amazing sunsets at Zen Beach. The sunset is a nightly ritual in the town of Srithanu. You will usually find many people playing drums, singing, and dancing in the sand. This little town is a mecca for yoga, tantric arts, and consciousness exploration.
Get away from the crowds on Thailand's busy traveling circuit and visit some of these amazing places on Koh Phangan and you'll see why it's being called Thailand's ecotourism island.
Want to explore Koh Phangan's most magical spots? Join us on next years Koh Phangan Nature Quest.