Want to make some extra money? Then you might want to start a side hustle in the Gig Economy.
The Gig Economy is a gold mine for self-motivated learners with an entrepreneurial spirit. You can quickly get new work experience and develop a side income by trying out different side gigs part-time to see what sticks for you.
Thanks to the Internet, you don't necessarily need to work a traditional 9-5 anymore. Instead, you can develop your entrepreneurial instincts and build different incomes streams that give you the freedom to maintain your independence and not rely on a single paycheque from an employer.
There are hundreds of new peer-to-peer marketplaces in the Gig Economy that will connect you with people who are looking for your talents and skills. It's a new sector of the economy that empowers micro-entrepreneurship and allows you to get creative by monetizing your assets and knowledge.
There are so many different startups to choose from in the Gig Economy (also referred to as the DIY Economy, The Sharing Economy, The Peer-to-Peer Economy). The trouble is that many of these startups haven't gained a lot of traction so in this guide I'm going to focus on the more well-established peer-to-peer marketplaces where you can earn some extra money.
Freelancing Websites:
Take advantage of online freelancing websites to develop your skills and earn a side income.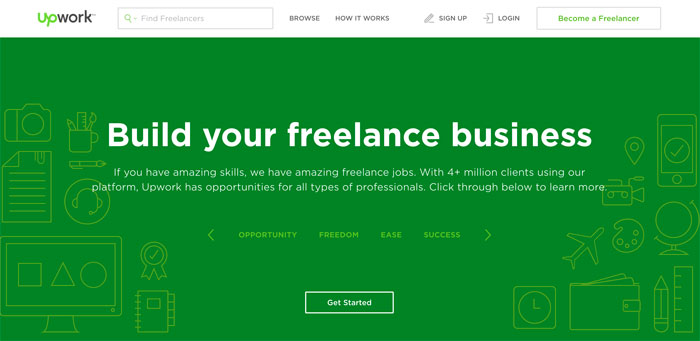 1. Upwork – Find freelance work with your digital skills.
2. Freelancer – Find freelance writer, designer, marketer or web designer gigs.
3. Fiverr – Offer a simple service to other people online for $5.
4. Guru – Find freelancing work in the Gig Economy.
5. 99Designs – Compete in crowdsourced design competitions and win contracts.
6. Mechanical Turk – Make a few extra bucks working on repetitive "human intelligence tasks".
Peer-to-Peer Transportation:
Do you really like driving? Turn your car into an income stream and earn extra money driving people around.
1. Uber – Turn your car into a taxi service.
2. Lyft – Or try using similar peer-to-peer ride sharing service.
3. Turo – Rent out your car for the day or the week.
4. GetAround – Or you can rent out your car out when you're not using it.
5. JustPark – Share your unused parking space and earn a side income.
6. RVShare – Have an RV that's gathering dusk in the backyard? Rent it out.
7. BoatBound – Rent out that boat you never have time to use.
Ecommerce Platforms:
Have a product to sell? Sell it online through ecommerce marketplaces.
1. Shopify – Create a product and sell it on your own website.
2. Alibaba – Buy products at wholesale from China and dropship them to customers.
4. GumRoad – Create a digital product and sell it online.
5. Square – Sell your products or services anywhere by accepting credit cards.
6. Ebay – Find discounted products that people want and sell them online.
7. Amazon – Create an online store and sell in the world's largest marketplace.
Creative Marketplaces:
Looking to monetize your creativity? Try out these thriving creative marketplaces.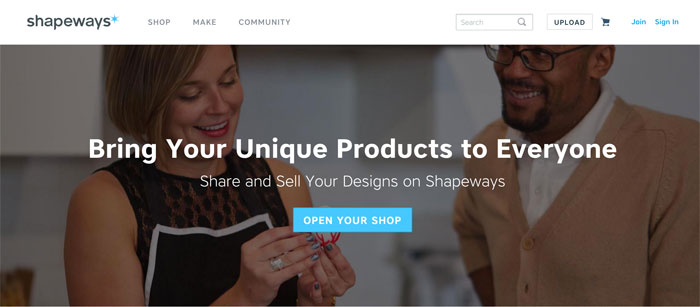 1. Shapeways – Create your own 3D printing designs and sell them.
2. Etsy – Sell your handmade goods in the world's largest DIY marketplace.
3. Envato Market – Sell your graphics, themes, stock music, motion graphics and plugins.
4. Creative Market – Sell your unique graphic design creations.
5. Red Bubble – Sell you art on this global marketplace for independent artists.
Clothing Design Marketplaces:
Have ideas for a clothing that you want to test out? Put them online to see what sticks.
1. TeeSpring – Earn money selling your designs on t-shirts and hoodies.
2. Spreadshirt – Create your own clothing label and sell them online.
3. Threadless – If you're an exceptional designer you should submit your designs.
4. Designed By Humans. – Another great user-generated clothing website to submit your designs.
Music Publishing:
Turn your music into a side hustle by publishing it online and promoting it through your social media channels.

1. Tunecore – Sell your music on Sell your music on iTunes, Google Play, Spotify and Amazon Music.
2. CDBaby – Sell your music in up to 95 online retailers including Amazon.
3. Bandcamp – Promote your music, make money and build your band's online audience
4. Audio Jungle – Share your music, sound effects and jingles for online licensing.
Stock Video Marketplaces:
Are you a videographer? Get paid for your video clips on stock video marketplaces.
1. Vimeo On Demand – Offer your documentaries and short movies to viewers.
2. Pond5 – Sell your work as stock videos for creative projects.
3. Video Hive – Sell your stock video clips in this massive video marketplace.
Stock Photo Marketplaces:
Are you an amazing photographer? Sell your photos in stock photography marketplaces.
1. Shutterstock – Sell your photography as stock photos on one of the largest marketplaces.
2. iStockPhoto – Another great option to tell your stock photos.
3. 500px Prime – Sell your best photography as premium royalty-free stock photos.
4. Getty Images – Take your collection of photos on Flickr and sell them as stock photos.
5. Snapwire –  Earn money with your photos.
6. Foap – Earn money selling your stock photography.
Local Tour Guide Platforms:
Are you passionate about where you live? Take visitors on local tours as a guide.

1. Viator – Promote your guided tours on the TripAdvisor community.
2. With Locals – Share your knowledge as a local tour guide.
3. Get Your Guide – Create your own sightseeing tours and excursions.
4. Tours By Locals – Create your own customizable private tours and show tourists around your area.
5. Show Around – Create a unique travel experience and share it with the world.
Crowdsourced Travel Advice:
Do you think you would make a great travel consultant? Why not give it a try.
1. Plansify – Help world travelers plan their vacations.
2. FlightFox – Share your ability to find the cheapest flights.
Food Platforms:
Are you a foodie? Share your food knowledge and expertise with your community.
1. Eat With – Get paid to host dinner parties in your city.
2. MealSharing – Meet your neighbours by hosting dinner parties in your home.
3. Instacart – Earn money by shopping for groceries and delivering them.
4. Postmates – Make extra income by delivering things in your city.
Freelance Writing:
Turn your writing into a side income and make extra money using these freelance writing marketplaces.

1. Scripted – Share your blogging talents as a content marketer.
2. Kindle Direct Publishing – Write you first book and publish it in a few days.
3. Kibin – If you're a writer, you can offer editing services
4. Wordy – Another option to offer your talents as an online editor.
5. Contently – If you're a journalist, you can make money and freelance.
6. Zerys – Join this writing network and get paid to write for websites.
Home Rentals:
Make extra money by renting out a room, your apartment or an entire house.
1. AirBNB – Rent out a room in your house or your entire apartment.
2. VRBO – Rent out a vacation property you own.
3. MindMyHouse – Make money by house sitting other people's property.
4. HomeAway – List your vacation property in this online travel marketplace.
Shared Offices:
Have some extra office space, share it with other independent entrepreneurs.
1. LiquidSpace – Have extra office space? Share it for a daily fee.
2. Sharedesk – Rent out a long term office or an extra creative workspace.
3.Pivot Desk – Share unused office space.
Crowdfunding:
Want to test out your big idea? Pre-sell it and minimize your risk through crowdfunding.

1. Patreon – Crowdfund a recurring income to support your creative projects.
2. Kickstarter – Crowdfund your creative projects. Great for films, music, art, theatre, games, apps and all kinds of online projects.
3. Indiegogo – Raise money online so you can make your creative ideas a reality.
4. GoFundMe – A do-it-yourself crowdfunding platform for personal causes and passion projects.
Peer-To-Peer Lending Platforms:
Become an do-it-yourself investor by taking advantage of emerging peer-to-peer lending.
1. Kiva – Make money by micro-lending to third world entrepreneurs.
2. Prosper – Get low-cost access to high-yield consumer loans from creditworthy borrowers.
3. Angelist – Join a venture capital syndicate and invest in hot startups.
4. Lending Club – Invest your money on the world's largest peer-to-peer lending platform.
5. FundersClub – Invest in the world's most promising startups.
6. Fundrise – Invest in real estate funds and make extra money on your investments.
7. We Funder – Fund up-and-coming startups through this platform.
Online Course Platforms:
Sell your knowledge and expertise by making online courses.
1. Udemy – Create an online course and sell it an online marketplace.
2. Thinkific – Sell your online courses on your own website.
3. Skillshare – Share your skills and teach a class online.
Online Tutoring:
Offer your academic knowledge and make more money as an online tutor.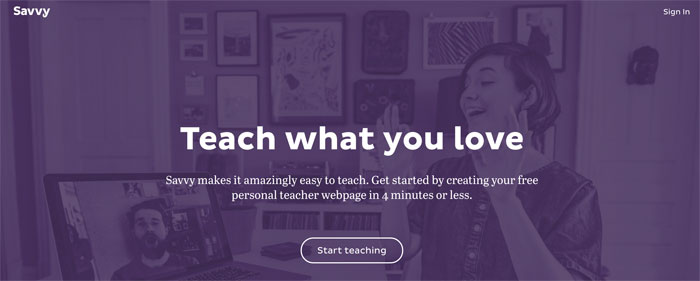 1. TutorSpree – Offer your knowledge as a private tutor.
2. WyzAnt – Share your knowledge as a private online tutor.
3. Hello Tech – Share your knowledge of computers and give tech support advice.
Online Coaching:
Offer your expertise as an online coach and make extra income on the side.
1. Clarity.fm – Offer business consulting and advice to entrepreneurs
2. Coach.me – Coach other people in forming any kind of habit.
Local Services:
Make extra income by providing services to others in your community.
1. Zaarly – Sell your trade services in this local service marketplace.
2. Task Rabbit – Perform task and errands and get paid.
3. AirTasker – Use your trades skills to fix and maintain people's houses
4. Dog Vacay – Become a pet sitter and make extra money.
5. Rover – Share your love for dogs by hosting people's dogs
6. Red Beacon – Offer services to people in their home like cleaning, fixing things or yard maintenance.
7. Amazon Flex – Get paid to deliver packages for Amazon in your city.
8. Gigwalk – Provide your expertise to local businesses.
More Side Gigs:
Here are some more creative ways to earn extra money in the Gig Economy.
1. UserTesting – Get paid to do user testing of websites and mobile apps
2. FieldAgent – Earn money by completing consumer research studies.
3. Soothe – Share your massage skills on this freelance platform.
These peer-to-peer Gig Economy websites are great places to start making extra money by experimenting with side hustles that you may be able to turn into a full-time income.
As you build more experience and grow your talents and expertise, you will want to build a personal brand that allows you to charge an even higher premium for your products or services on your own website.