When I was in my early twenties, I made up my mind that I wanted to build a portable skillset where I could escape the long rainy winters in my home of Vancouver. Thanks to the Internet, I have been able to escape the northern winter and spend time working abroad in sunnier and happier places.
During my time as a digital nomad, I've done a lot of research to find the best digital nomad hotspots where there is rich culture, natural beauty, reliable high-speed Internet, a low cost of living and a thriving community of English-speaking digital nomads.
I also don't like to drink and I prefer places where there is a thriving conscious community of creative expats so I can attend events and meet other interesting people without having to waste time in bars and clubs.
It always amazes me how so many people think travel and living abroad is expensive. That's simply not true. If you stay long-term and rent a villa (or try housesitting) you can live for a fraction of what you would pay to live in a European or American city.
Additionally, when you're working remotely as a digital nomad in a tropical paradise you can make a clean break from debt-fueled consumerism and the corporate rat race that is so prevalent in most big cities.
Tropical Paradises for Digital Nomads
If you're thinking of pulling the trigger and going to live abroad temporarily as a digital nomad — or permanently as an expat — then you'll want to consider some of these tropical islands and beach towns that have become digital nomad hotspots.
Along with a description of my experience in each of these hotspots, here is how I break down this guide:
Budget: This is a rough estimation of what you would spend if you are there long-term renting a guesthouse and not going on lots of expensive adventure tours and partying.
Internet: The Internet isn't as fast or reliable in many of these places as it is in a large European or American city but it's do-able with a little patience or by choosing to work at a coworking space.
Weather: Nearly all of these digital nomad hotspots are tropical or subtropical so the weather is nearly always warm but life tends to be much easier in the dry season.
If you don't have an online business or remote freelancing gigs to live off of while abroad, it's also a great idea to learn online from some of these hotspots because you can keep your expenses low.
1. Koh Phangan, Thailand
I had the good fortune to live in the fishing village of Srithanu on the island of Koh Phangan for a few winters. Known worldwide for the Full Moon Parties in the resort town of Haad Rin, the western half of Koh Phangan is a major center in the world for learning about meditation, yoga, and Tantra.
There are a number of yoga shalas in and around the town of Srithanu. About half the island is protected in Than Sadet National Park, which is the legacy of forest monks who fought to protect the island's unique ecology.
Koh Phangan is a really incredible place and the island is full of perfect white sand beaches like Haad Yao, Mae Haad, and legendary Bottle Beach. You will have no problem here meeting all kinds of interesting digital nomads, spiritual seekers, and long-term expats here.
Budget: $1000+ a month
Wi-Fi: Fast 4G, coworking spaces and inexpensive Internet if you rent a house.
Best Time of Year: November to April.
2. The Oaxacan Coast, Mexico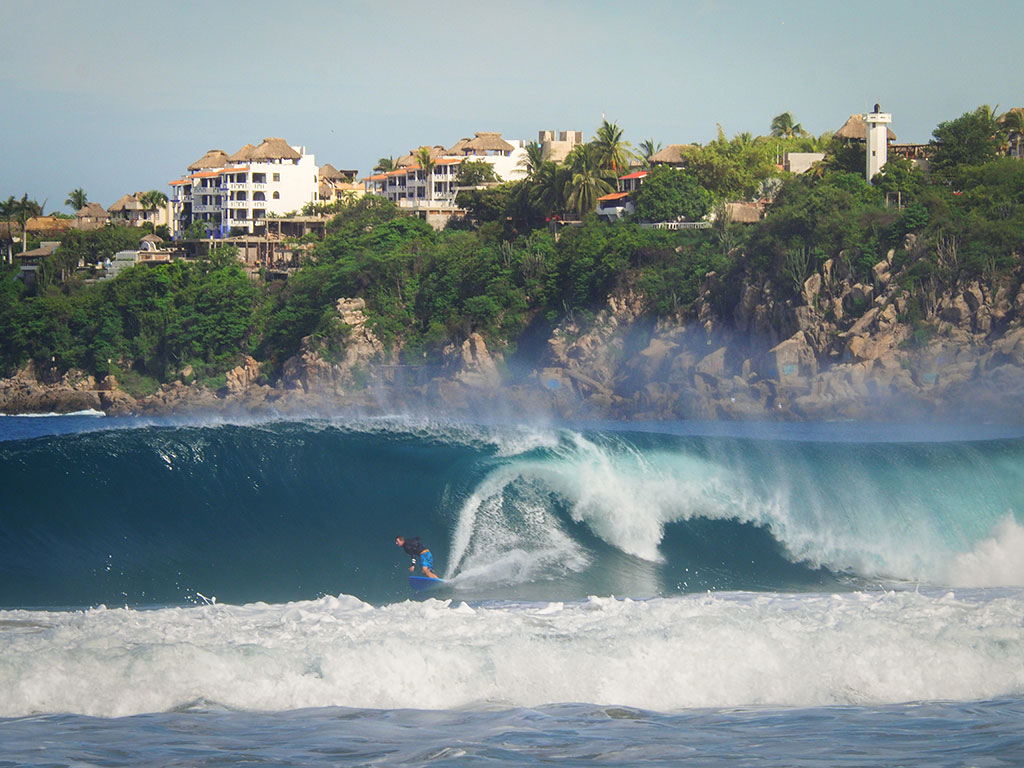 Mazunte, Zipolite, and Puerto Escondido are the three coolest beach towns I've found in Mexico. The Oaxacan Coast (pronounced wa-hah-kah) has a peaceful tropical ambiance, largely because it's a relatively off-the-beaten-track location far from high-traffic international destinations like Cancun or Puerto Vallarta.
The nearby ecotourism hotspot Huatulco does have a big airport but it's nothing like Mexico's more popular "Gringo" resorts. I especially like the town of Mazunte.
If the modern corporate world screwed you up, this is a good place to start healing. I really like Hridaya Yoga academy and the extraordinary El Alquimista resort named after Paulo Coelho's excellent coming-of-age book The Alchemist.
I lived one winter in Puerto Escondido and I've returned numerous times. It is a great launching pad for exploring the beaches of the Oaxacan Coast. It also has some of the best surfing breaks in the Americas.
Budget: $1200+ a month
Wi-Fi: Some places have great wi-fi. Best to rent a house. Or check out Selina.
Best Time of Year: November to April
3. Lago de Atitlan, Guatemala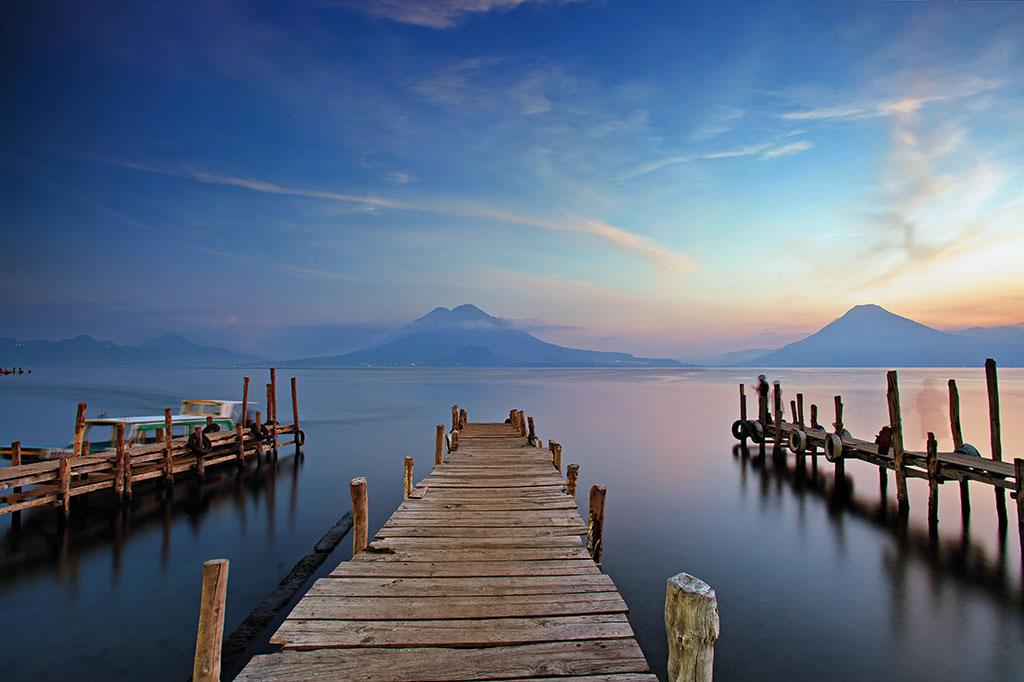 Sitting at 1,562 m (5,125 ft) high in the highlands of western Guatemala, Lago de Atitlan is a little piece of paradise. Surrounded by 3 massive volcanos, traditional Mayan villages, yoga retreats, and coffee plantations mean there is a lot to explore and discover.
I lived for a month one winter at Las Piramides in the mellow village of San Marcos de la Laguna. At this incredible spiritual retreat, you get to live in your own glass-tipped pyramid in the jungle. The beaches here are quite clean and the views are extraordinary.
Across the lake from San Marcos is the notorious village of San Pedro de la Laguna where young backpackers and burn-out expat hippies go to escape reality for a while. This area of Guatemala has a perfect year-round temperate that hovers around 25 degrees Celsius during the day.
Budget: $1000+ a month.
Wi-Fi: Panajachel can be good but is more spotty in the villages.
Best Time of Year: Good weather year-round.
4. Santa Teresa, Costa Rica
The first time I ever spent a winter abroad was in the village of Mal Pais, which sits beside the slightly larger "town" of Santa Teresa.
I had met some fellow Vancouverites while partying in the touristy town of Montezuma who had told me about this legendary surfing mecca down a dirt road to the west. It's changed a lot since but it still offers one of the best surfing beaches in Costa Rica.
The dream digital nomad lifestyle here is to surf the morning high tide, work through the heat of the day in your air-conditioned villa, then surf the evening high tide. If you want a little more hustle and bustle, a few hours north is surfer's paradise Tamarindo and on the Caribbean coast, there is Puerto Viejo for digital nomads who love to surf and listen to lots of reggae.
Budget: $1600+ a month
Wi-Fi: Decent but nothing amazing. Rent a house or use a co-working space.
Best Time of Year: November to March
5. Bali, Indonesia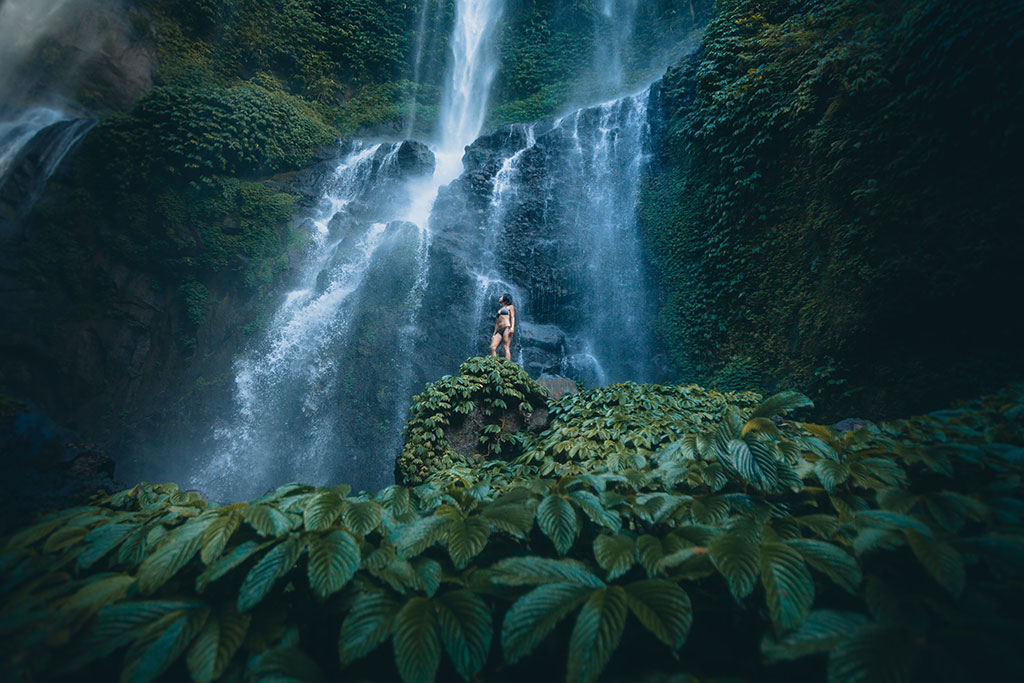 This Vedic island has one of the most distinctive cultures in the world. It's incredibly popular with digital nomads, backpackers, and expats. If you are interested in meditation, yoga and exploring new possibilities, this is the place to live your fairy tale.
Bali is like Hawaii minus the high price tag but major tourist spots like Kuta and Seminyak are regularly overrun by marauding bands of drunken tourists in the high season. With a little exploration, you will find all kinds of hidden gems that are unlike anywhere else such as Pura Ulun Danu Bratan, Candi Dasa and Sanur (or take a boat to the less developed paradise island of Lombok).
The cultural center of the Island (and the expat scene) is the town of Ubud in the interior mountains but Canggu is also a hotspot for digital nomads. If you like spiritual hippies and yogis, you will find your tribe here among the ancient temples, beaches, breathtaking rice terraces, and mist-draped mountains.
Budget: $1200+ a month
Internet: Not super fast. Rent a house or use a co-working space.
Best Time of Year: April to October
6. Goa, India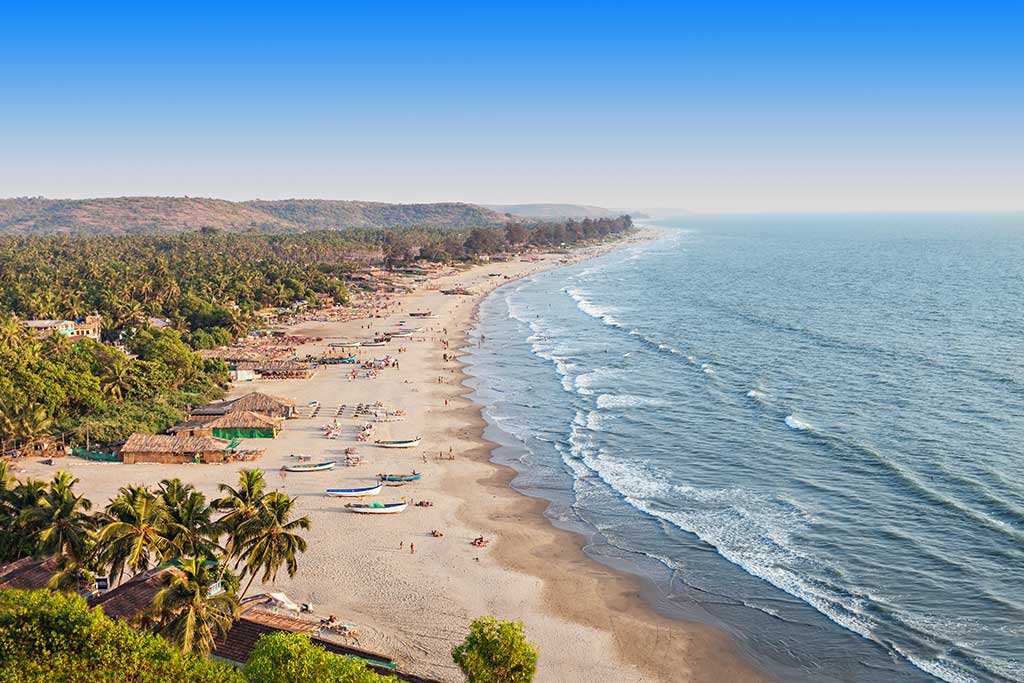 Goa is a state in India with some of the best beaches in the world. India is a place that you either love or hate, there is no in-between. Stepping off an international flight in a big Indian city is probably the most intense "culture shock" you will experience anywhere in the world.
However, if you spend enough time exploring India, you learn to love its ancient culture and the unique charm of the birthplace of so many of the world's religions.
When you want to relax and get some work done then I recommend settling for awhile in a quieter area of Goa. It has become something of a global mecca for hedonists, expat hippies, and psychedelic raver mysticism. If you desire something more laid back and authentic, the beach towns in the state of Kerala to the south are worth exploring.
Budget: $800+ a month
Internet: Pretty good overall.
Best Time of Year: November to March
7. Taghazout, Morocco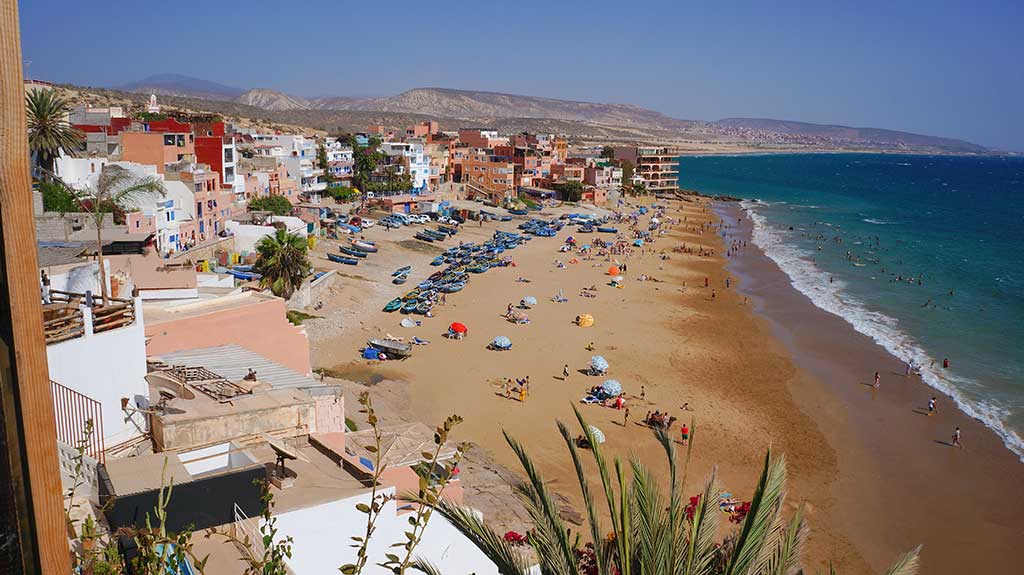 Morocco is a surreal place. Shepherds ride around on camels, old men tame giant cobras in the markets and the whole place feels like a frontier at the edge of the world. It's one of the most mysterious and magical places in the world and the Moroccan people are absolutely amazing with their kindness and hospitality.
This country is also super cheap and the southern coast is a magnet for European surfers and expats looking for a simpler life without going too far from home. The town of Taghazout has a thriving community of startup teams living simply to decrease their burn rate.
You can rent an inexpensive villa on the beach for very little money and still have solid Internet connectivity. The surfing here is world class.
Budget: $1000+ a month
Internet: Remarkably fast (if you rent a villa).
Best Time of Year: October to May
8. Rhodes, Greek Islands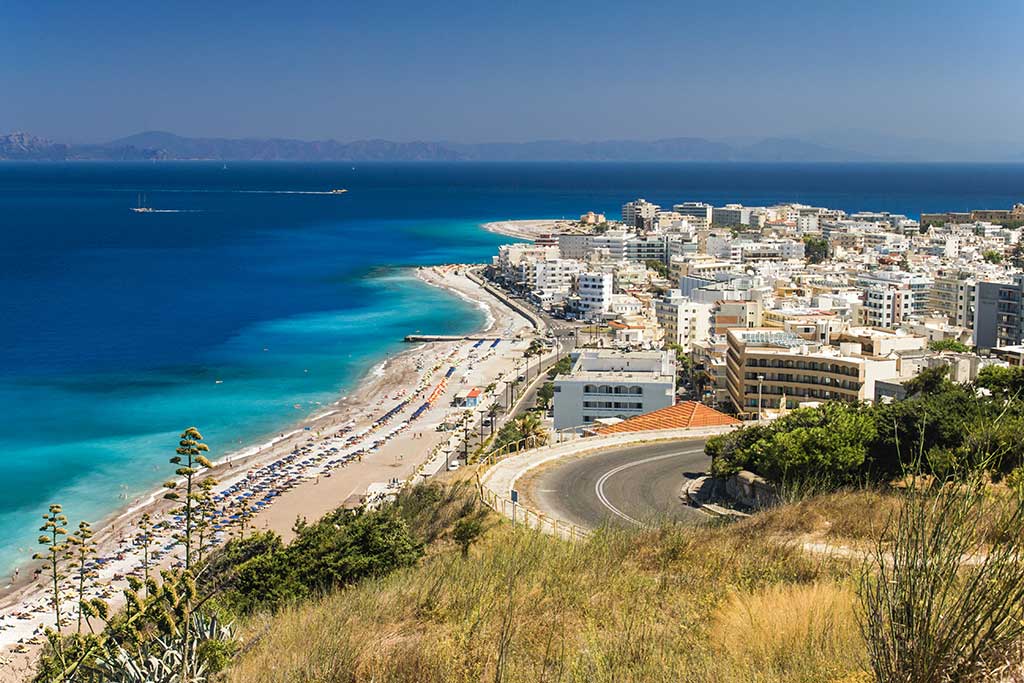 If you ever wanted to live in a place surrounded by ancient history, then Rhodes is the place for you. This touristy island is best known for the Colossus of Rhodes, one of the seven wonders of the ancient world. The medieval old town in the small city of Rhodes is a UNESCO World Heritage Site that will take your breath away.
The Island of Rhodes is one of the most popular beach destinations in Europe so the northern coast of the island is full of touristy resorts but the southern coast offers more peaceful beaches and a slower pace of life. While the island isn't very big in size, you will still regularly stumble across hidden beaches and fascinating archeological sites.
The climate isn't completely tropical but it is pleasant year-round (though very hot in the summer) and the Island boasts over 300 days a year of bright sunshine.
Budget: $1500+ a month
Internet: Reliable (if you rent a villa).
Best Time of Year: May to October
9. Hoi An, Vietnam
In recent years Vietnam has started challenging Thailand's status as the mecca for digital nomads. While many are flocking to cities like Hanoi and Ho Chi Minh City, the beachside town of Hoi An, which translates as "peaceful meeting place", is a relaxing spot.
The old town of Hoi An is a UNESCO world heritage and it features many well-preserved remnants of the town's influence as a spice trading port from 15th to the 19th century.
There is a growing community of digital nomads and expats here. You can easily rent or buy a motorbike to explore the beautiful surrounding beaches and mountains. The food here is delicious and spicy and generally inexpensive.
Budget: $1000+ a month
Internet: Fast wi-fi generally
Best Time of Year: May to September
10. Bocas Del Toro, Panama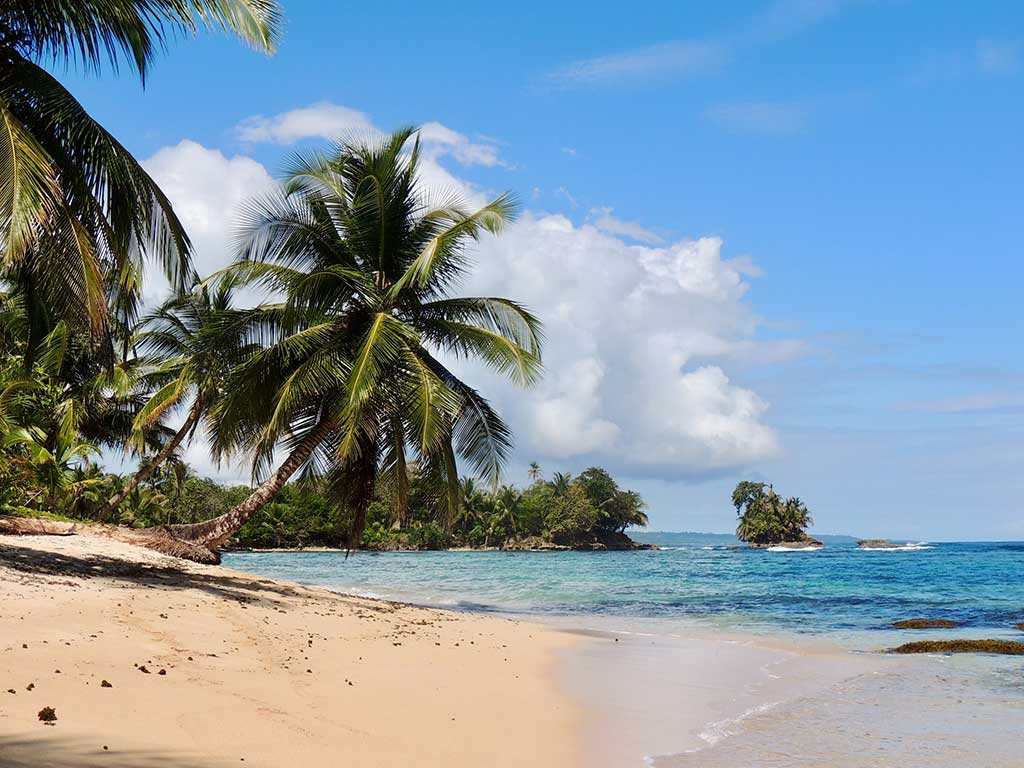 Translated as the "mouth of the bull" this archipelago of islands sits just south of the Costa Rican town of Puerto Viejo where the mighty rivers flow from the tall mountains in Northern Panama's rugged interior Cordillera.
The laid back Caribbean atmosphere in the main town of Bocas Del Toro is seductive and not surprisingly, it has attracted its fair share of adventurous digital nomads and long-term expats.
This is a great place to work hard and still enjoy lots of time to play in the local surf, explore the nearby mountains, relax on the white sand beaches and dive on the coral reefs.
Budget: $1,200+ a month
Wi-Fi: The main island has great wi-fi. Most islands have no connectivity.
Best Time of Year: November to April
That's my list of digital nomad hotspots! There are a lot of other excellent beach towns and tropical islands to explore but these particular locations are excellent choices for digital nomads and expats.
If you have any questions about these digital nomad hotspots please feel free to join the conversation in the comments.