Imagine for a moment that you are trying to explain your iPhone to someone in the 1970s who lived in a time before the Internet, personal computers and smartphones.
I'm sure they would be completely awestruck.
In the early 1970s, a mainframe computer was the size of a house. Today, the iPhone that fits comfortably in your pocket is a million times cheaper, a thousand times more powerful and a hundred thousand times smaller than the typical mainframe computer 4 decades ago.
That's the power of human ingenuity combined with the exponential growth principle of the law of accelerating returns.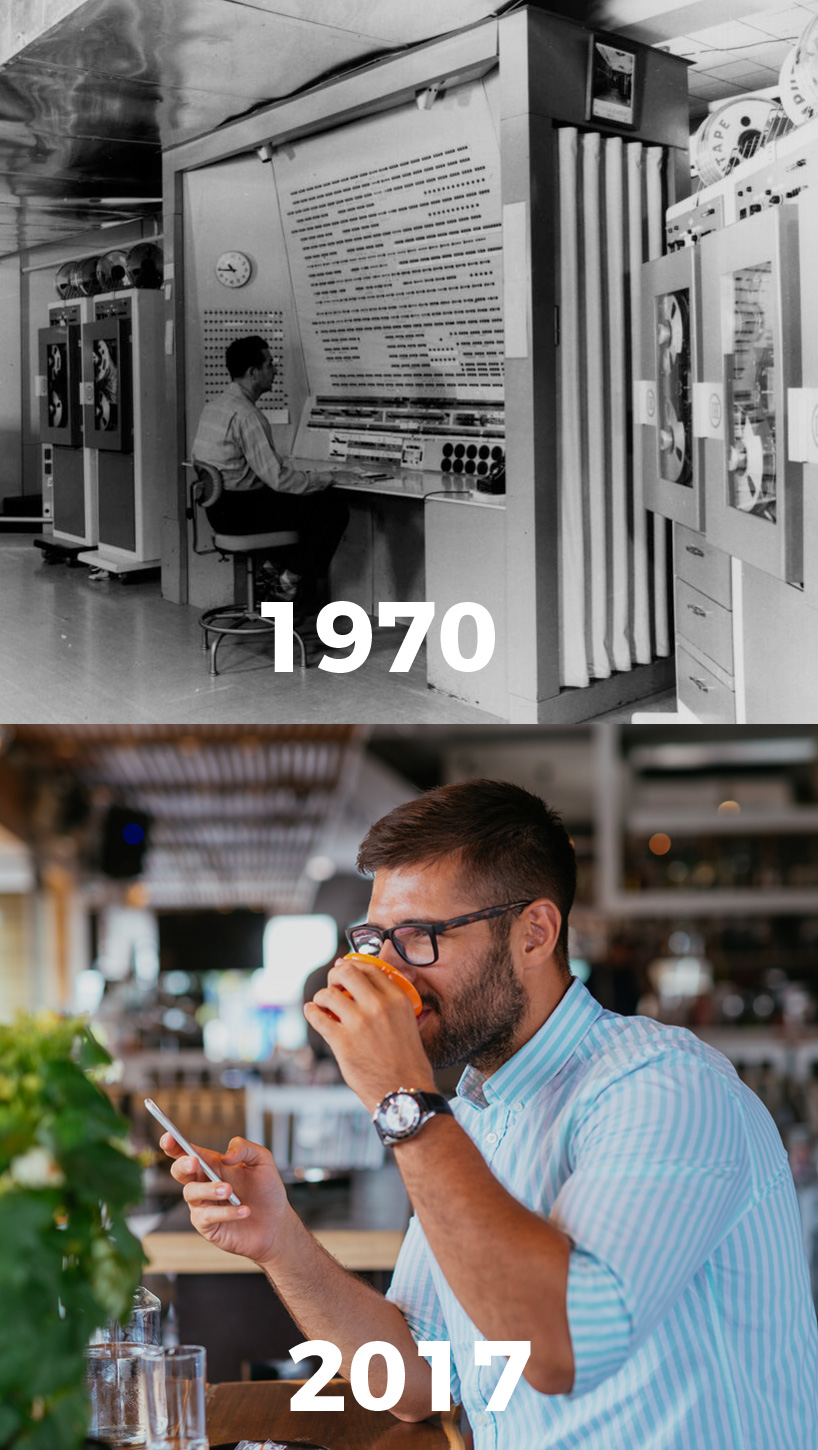 The iPhone Is The Ultimate Learning Tool:
Let's face it, the progress of technological innovation is amazing.
The smartphone in your pocket that can instantly access the Internet anywhere is the most revolutionary learning tool that has ever been invented. You have access to a limitless abundance of information, videos, tutorials, ebooks and courses at your fingertips.
In this guide, I'm going to show you some of the best educational apps for iPhone that you can use to create your own Pocket University for lifelong learning.
I recommend choosing at least 9 of your favorites to create a folder on your iPhone dedicated to learning. Then you can set aside focused time to learn, create and explore with your smartphone.
Online Learning:
1. Coursera – The world's largest massive open online course (MOOC) platform with over 10 million students taking courses from the best professors at 140+ of the best colleges and universities in the world.
2. EdX – Take online courses from Ivy League Universities in computer science, engineering, history, psychology, nutrition, big data, statistics and hundreds more.
3. iTunes U –  The iTunes U app gives you access to complete courses from many universities and technical schools. I find the educational content is much better on Coursera or edX.
4. Khan Academy – Catch up on all the stuff you missed (or forgot) from high school (and University) in subjects like biology, history, physics, mathematics, economics and computer science.
Organize Yourself:
Get better organized, schedule your learning sessions each week and create a structure for your self-directed studies.
1. My Study Life – Everything your paper planner is and more. The ultimate tool for creating a learning schedule and making sure you stay on top of assignments, exams, important deadlines and collaborative group work.
2. StudyBlue – Find and study online flashcards and class notes. StudyBlue is a massive crowdsourced platform for learning guides and sharing your notes.
3. TinyCards by Duolingo – Memorize anything while playing a game using Duolingo's brilliant new flashcards app.
4. Brainscape – A clever mobile education platform that helps you learn anything as efficiently as possible, based on solid cognitive science.
Ebooks:
Collect ebooks and store them in the cloud so they are accessible anywhere.
1. Free Books – Browse 23,469 free books in this iOS app or export to read them in the Kindle and iBooks apps too. Supports notes, highlighting, bookmarks and quick dictionary lookup.
2. Acceleread – The best speed reading app that I've found for the iPhone and iPad. I find this app helps me read more efficiently on the smaller iPhone screen.
3. Free Audiobooks – Browse over 4,728 audiobook classics that you can download and listen to for free.
4. Overdrive – Borrow ebooks, audiobooks, and streaming video from your local library using OverDrive. They support more than 30,000 libraries worldwide.
5. Goodreads – A social network for avid readers. Share the books you read and quickly find new book recommendations from the community.
Audiobooks:
Listen to audiobooks and learn from your favorite authors while you're on-the-go.
1. Free Audiobooks – Browse thousands of classic novels and Enjoy unlimited access to thousands of free audio books that you can search by author, title or narrator
2. Audible – Amazon's audiobook subscription service for reading the latest best-sellers in audiobook format. Get a free 1-month trial, then $14.95/month.
3. Blinkist –  Get summaries of the best non-fiction books in bite-sized audio summaries that distill the key insights into actionable 15-minute summaries.
Podcasts:
Learn from listening to interviews and informative talks with entrepreneurs, authors and all kinds of interesting people.
1. Overcast – The best podcast player that is completely free.
2. Pocket Casts – The podcast app that I use each day. The UI rocks and it's jam-packed with amazing features. $3.99
3. Downcast – Another really popular choice for podcasting power users. $2.99
Note Taking: 
Collect your ideas and take notes that are stored in the cloud and accessible on every device.
1. Evernote – Evernote is the place to collect inspirational ideas, write meaningful words, and move your important projects forward. Hands down the most versatile note taking tool.
2. MarginNote Reader – Annotate on page margins, organize your notes in mindmaps and sync up with your Evernote account.
3. SoundNote – Tracks what you type while also recording the audio of meetings, lectures and interviews. During playback, just tap a word and you will jump to the proper time in the audio. $4.99
4. Summarize – A beautifully designed app that gives you a good structure for summarizing the books you are reading.
The News:
The best iPhone apps to get your daily scoop on what's happening in the world.
1. Flipboard – Find interactive content from the web's best sources and curate your own digital magazine of the websites, articles, videos and photos that inspire you.
2. Feedly – Subscribe to your favorite blogs and read them offline in this RSS feed reader.
3. Pocket – Save the best articles you read on the web for later and read them offline.
4. SmartNews – This app uses artificial intelligence to analyze millions of articles every day to deliver the top trending stories to you, tailored to your interests.
5. Reddit – The official app of Reddit, the frontpage of the Internet.
Learn To Code:
Can you learn to code on your touchscreen iPhone or iPad? It sounds a bit crazy but you can actually do it.
1. Swift Playgrounds – Start learning to code in Apple's programming language Swift by navigating Swift Playgrounds 200+ interactive lectures (iPad only).
2. Codeacademy Go – Learn to understand the basic structure of code behind the apps on your iPhone and the websites you visit with this free app from Codecademy.
3. Tynker – Play fun puzzle games to learn the basics of coding and then create your own amazing games using Tynker's excellent coding tutorials.
Virtual Reality:
Take your experience to the next level with a virtual reality headset or an inexpensive tool like Google Cardboard.
1. Within – Extraordinary stories in virtual reality. VR content from the world's finest VR creators.
2. Discovery VR – Explore the world's most fascinating places, animals, people and ideas on this Planet in virtual reality like never before.
3. Google Expeditions – A world expeditions app that takes on immersive, virtual reality learning journeys.
Augmented Reality:
With iOS 11, Apple's new ARKit is going to kickstart the augmented reality learning revolution.
1. Localscope – Discover new places and local stories around you using geo-tagged data from multiple local search engines, social networks, media sharing services and other apps.
2. Augment – A window into future possibilities for augmented reality.  Allows you to visualize your 3D models in augmented reality, integrated in real time in their actual size and environment.
Math:
Improve your mathematics skills and use these math tools to solve complicated problems.
1. Math Ref – Browse over 1,400 formulas, figures, and examples to help you with math, physics, chemistry and more. $1.99
2. Numblr – Imagine scrabble with numbers instead of letters and you can get an idea of how addictive Numblr can become. $0.99
3. Photo Math – Uses innovative character recognition capabilities to help you solve math problems. Just point your iPhone's camera and PhotoMath will instantly display the answer. Doesn't work 100% of the time.
4. Free Graphing Calculator – A powerful, flexible graphic calculator that is completely free.
5. Math by YourTeacher – The most comprehensive math education app for iPhone and iPad. Browse over 50 courses for elementary, middle, and high school math; community college and college math; and standardized test prep.
6. Mathway – This handy app will solve problems for you in basic math, algebra, trigonometry, calculus, statistics and finite.
7. Mathemagics – Learn mental math tricks that will help you do calculations at lightning fast speed. Highly recommended if you use complex math in your job. $2.99
8. DragonBox Algebra – Turns algebraic concepts into a game that makes learning fun. $4.99
9. Next Numbers 2 – A simple brain game that trains concentration, reaction speed, and attention.
10. PhotoMath -Simply point your camera toward a math problem and Photomath will magically show the result with detailed step-by-step instructions. It actually works!
Science:
Explore the fascinating world of scientific discovery.
1. Journeys of Invention – Browse the fascinating history of science and technology from past to present. iPad only. $9.99
2. DIY Nano – Learn about nanoscale science, engineering and the future of nanotechnology. The iPad version is here.
3. Essential Anatomy 5 – Uses cutting edge 3D technology to help you explore the human body. The best anatomy app I have found. It is used extensively by doctors and medical students. $24.99
4. Just Science – Explore the warming of the Earth from 1800 to 2009 in an easy-to-understand video map of climate change.
5. Science360 – Explore fascinating science and engineering images and video from around the globe. iPad only.
6. NASA Earth As Art – Browse awe-inspiring satellite images of our Planet that celebrate Earth's aesthetic beauty in the patterns, shapes, colors, and textures of the land, oceans, ice, and atmosphere. Highly recommended. iPad only.
7. 3D Brain – Discover each brain region and their functions by navigating the human brain in 3D.
Astronomy:
Massively increase the level of awe and wonder in your life by getting away from the city lights and exploring the stars in their full sparkling glory.
1. SkyView – Use the free SkyView app to identify stars, constellations, satellites, and more.
2. Sky Guide – A star and constellation guide has never been more beautiful and easy to use. Just hold it to the sky to automatically find stars, constellations, planets, satellites and more. $1.99
3. Sky Walk 2 – The most extensive guide to the night sky for identifying stars, planets, meteor shower and constellations. $3.99
4. NASA App – Few things stimulate our sense of wonder and awe more than the studying our gigantic Cosmos. The NASA app has over 11,700 incredible images of outer space and 9,200 videos from NASA's space exploration missions.
5. Exoplanets – Exoplanets are planets orbiting stars beyond our own Solar System. Explore what we know about these mysterious planets and whether they may have life like we enjoy on Earth.
6. DIY Sun Science – Dozens of easy to use, hands-on activities to learn about incredibly beautiful sphere of blazing glory we call our Sun. Includes an amazing set of photos and videos.
7. Outland – Space Journey – Take a mind expanding journey through space exploring nebulas, timelapse from the International Space Station and the geographical wonders of Planet Earth from above. $0.99
8. Spacecraft 3D – An augmented reality app where you deploy a variety of spacecrafts to explore the Universe.
9. Earth Now – A fascinating way to visualize recent global climate data and learn more about Planet Earth.
Learn a Language:
One of the best way to improve your memory, sharpen your social skills and challenge yourself to learn a new language (ideally while traveling).
1. Duolingo – Duolingo is my favourite tool for language learning. They make the difficult process of learning vocabulary and grammar fun and engaging using learning gamification. They currently support English, Spanish, French, German, Italian and Portuguese.
2. Memrise – Use "mems", which are fun and imaginative ways to remember a word or phrase to learn whatever your heart desires. This app will help you make those new words stick in your memory banks.
3. Learn Chinese (Mandarin) – Want a real challenge? Try learning Mandarin. A billion people can't be wrong! You should also use Skritter to master the unique pictogram style of writing on your iPhone or iPad screen.
4. Google Translate – The world's best offline translator. Supports 52 different languages.
Explore The World:
Learn more about geography and the world's different countries, ecosystems and animals.
1. Google Earth – Fly around the planet with a swipe of your finger using Google Earth.
2. Learn World Geography – Learn more about the world's countries, capitals and geography through flashcards.
3. The World Factbook – Browse an extensive database of maps and information on the world's 250 countries and territories. $1.99
4. WWF Together – An award-winning interactive experience that brings you closer to the stories of elephants, whales, rhinos and other endangered species. iPad only.
History:
1. The Pyramids – Explore in exquisite 3D detail the only ancient wonder of the world that still stands: the Pyramids of Giza. iPad only.
Music:
Learning to play a musical instrument such as an acoustic guitar is a great way to improve your focus on the learning process.
1. Songsterr – A massive catalogue of 500,000+ tabs and chords. Excellent visual guitar engine for learning and playing.
2. Video Guitar Lessons – An excellent free app for learning to play guitar through guided instructional videos.
3. Guitar Jam Tracks – Learn to play guitar scales and practice by jamming along with 5 different styles: rock, acoustic blues, humbucker blues, jazz and reggae. $3.99
Edutainment:
Watch inspiring talks, find educational documentaries and test your knowledge and skills in interactive games.
1. TED Talks – The annual conference that brings leading academics, business leaders and innovators together under the banner of "Idea Worth Spreading". They have an excellent app with all their talks on iPhone and iPad.
2. Catena – A challenging word game that will challenge you to expand your vocabulary.
3. QuizUp – The biggest trivia game in the world. Over 700 topics to choose from. Play against friends or complete strangers in real-time.
4. Trivia Crack – Another great trivia game for challenging your friends and playing online with strangers.
5. Sudoku – Solve Sudoku puzzles in this gamified Sudoku puzzle app.
6. Chess – Learn to play chess and play with more than 10 million players around the world. Highly recommended.
Solve Puzzles:
Increase your brain's gray matter and exercise your pattern recognition skills by solving complex puzzles.
1. Elevate – A personalized brain training app designed to improve focus, speaking skills, processing speed, and more. I like this brain training app the best.
2. Peak – Improve your cognitive skills and build healthy training habits with fun and challenging games and mental workouts.
3. Monument Valley – A surreal exploration through stunning architecture and impossible geometry. $3.99
4. The Room Two – An award-winning puzzle game where you follow a trail of mystery and exploration inside a beautifully tactile 3D world. $2.99
5. Device 6 – A surreal thriller in which the written word is your map, as well as your narrator. $3.99
6. 80 Days – Choose your own route around a 3D globe, traveling by airship, submarine, mechanical camel, steam-train and more, racing other players and a clock that never stops. $4.99
7. Windosill – Explore a dream-like world of eleven beautifully constructed environments. Equal parts puzzle game, physics toy, and living picture-book. $2.99
8.  Har•mo•ny 2 – An immersive puzzle game of beautiful color palettes and beautiful music… blended in perfect harmony. $1.99
9. Lyne – Deceptively simple. Infinitely complex. LYNE is a minimalist puzzle game that will knot your brain as it calms your soul. $2.99
10. Limbo – The puzzle game sensation of 2016. A way to challenge yourself in your spare time.
Quick Reference:
Access all the reference information you need at your fingertips using these essential reference apps for iPhone and iPad.
1. Wolfram Alpha – A computational search engine. Wolfram Alpha's excellent app gives you access to the world's facts and data and calculates answers across a wide range of topics. $2.99
2. Dictionary.com – The best English dictionary and thesaurus with over 2,000,000 definitions, synonyms and antonyms. Most content works with offline access and there are great features like audio pronunciations, example sentences, word origin and history.
3. PCalc – The best scientific calculator app hands down. $9.99
4. WikiWeb – A visual Wikipedia reader for your iPhone and iPad that allows you to explore Wikipedia in style and visualize the connections between articles so you can generate unexpected insights. $4.99
Adventure Learning:
Play more outside and bring your iPhone with you to use its augmented reality, GPS, optical image recognition capabilities.
1. Geocaching – Go on treasure hunts with your friends. You'll be amazed that there are geocaching hidden everywhere around you.
2. iNaturalist – Learn about the plants, trees and fungi in your local ecosystem and all over the world.
3. The Outbound – Discover the best local spots for adventure in this incredible community of mobile adventurers.
4. Cairn – An indispensable tool for outdoor adventurers. Keep your loved ones updated, get maps offline and know where you'll have cell coverage.
These educational apps should help you turn your iPhone into the ultimate learning tool.
If you have any personal favorites, share them with everyone in the comments.