The internet isn't just a place for bots and memes, it's also a gateway to a high-end education thanks to the development of online learning platforms.
While online courses have been around for a while, they're growing fast—the E-learning market is predicted to reach $375 billion by 2025, almost twice what it was in 2019.
As prestigious universities continue to partner with these platforms, and individual leaders in their fields create their own courses, it's now possible to earn respected credentials from the best minds in the world, on virtually any subject.
The time is ripe for career development in the digital space. So what are the best options for upgrading your skills?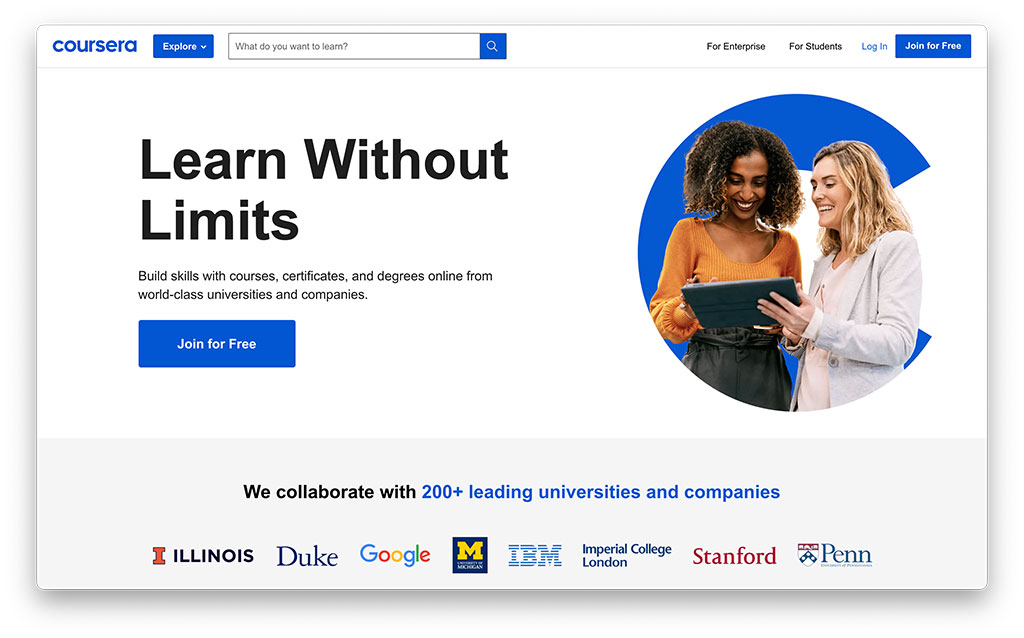 Launched in 2012 by the computer scientists Andrew Ng and Daphne Koller, Coursera offers over 4000 courses, giving you the chance to earn accreditation from universities like Harvard and Stanford and companies like Google.
Some of their most popular courses include the Science of Wellbeing, Machine Learning, Learning How to Learn and Programming for Everybody. Courses can be taken at your own pace but each syllabus is organised into weekly modules.
Who is Coursera best for:
Those looking for a potential career change but new to online learning platforms.
Pricing:
Audit courses for free, or earn a certificate by upgrading for around $49

Unlimited access to all their courses, guided projects, specialisations for $399 a year

Mastertrack certificates are accredited and can count towards a university degree—depending on the program it will range from $2000 – $6000

Full degree programs which can cost upwards of $20,000—still significantly cheaper than most on-campus degrees.
Pros:
✅ Full, accredited online degrees from Universities
✅ A wide range of pricing structures make it accessible to anyone
✅ Self-paced and available to download for offline learning
Cons:
❌ Some instructors read to the camera which can be a bit dull
❌ Peer-grading in certain certificates can lead to poor quality feedback
❌ Pricing structures can be confusing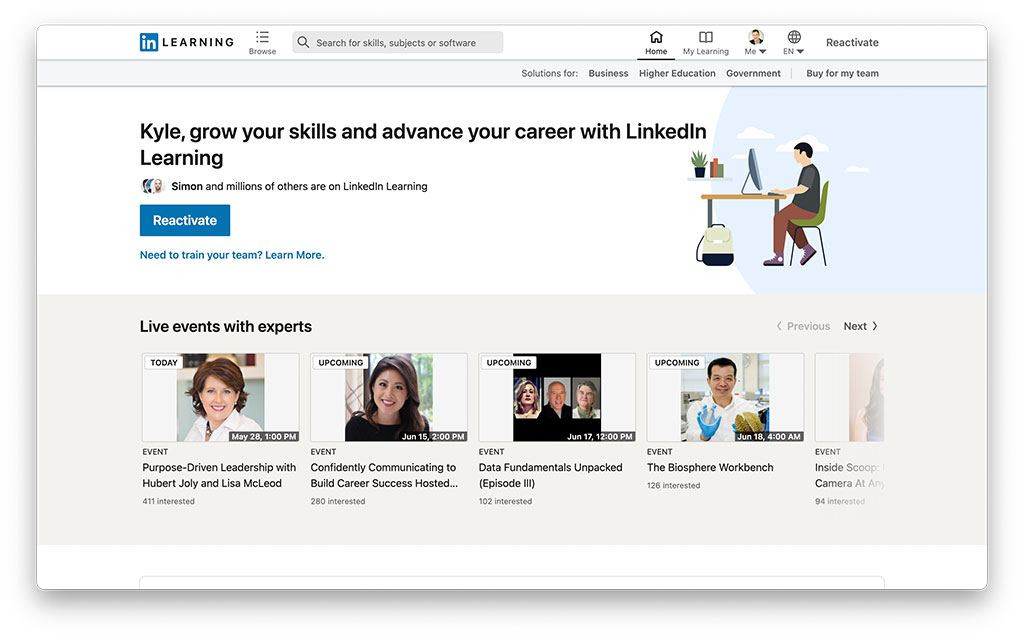 LinkedIn purchased lynda.com in 2015 for $1.5 billion, at which point it became LinkedIn Learning. Given that the social network is geared towards career development, naturally the same can be said of their online learning platform.
They offer nearly 17,000 courses predominantly on business, technology, and design, all of which can all be had through a monthly subscription. Courses are generally very short, usually between 45 minutes to 4 hours, making it easy to pick and choose what interests you.
Who is LinkedIn Learning best for:
Those who to build career-advancing skills without a large time commitment.
Pricing:
After a 1-month free trial, a subscription will cost you $30 per month though you can get it lower if you buy a full year.
Pros:
✅ Doesn't require a heavy workload or investment
✅ Great for introductions into a wide range of topics
Cons:
❌ No accredited courses
❌ Only a subscription model
❌ Lack of advanced courses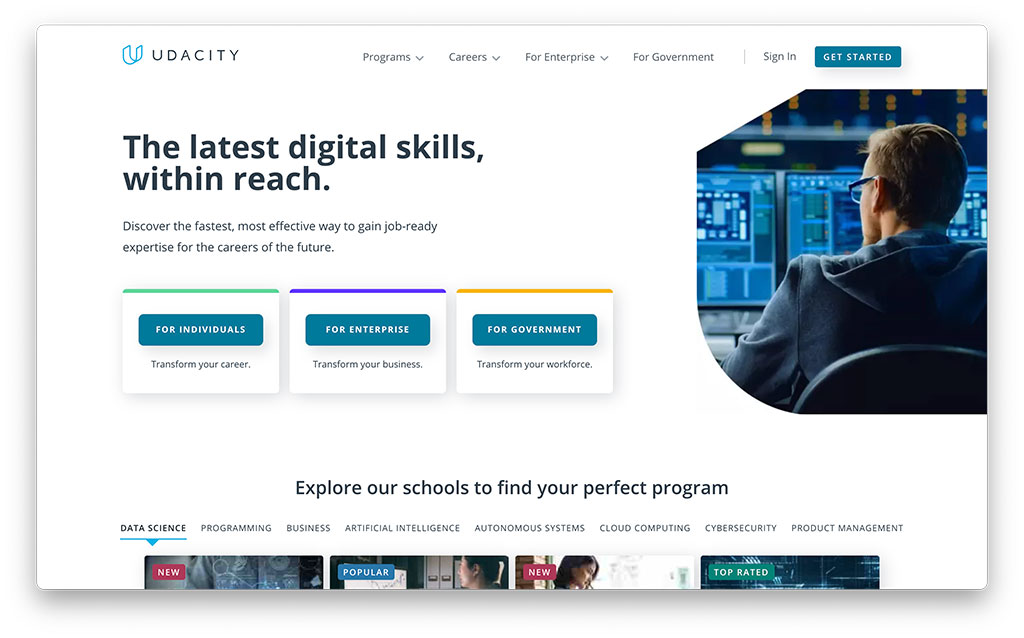 Udacity started in 2011 as a spin-off of free computer science classes offered by Stanford University. With a focus on computer science, Udacity has partnered with companies such as Google, Facebook, Nvidia, and Amazon.
Courses are about 3 – 4 months long and provide for all skill levels, beginner's through experts. While they're not accredited, their certificates are respected by many tech companies.
Who is Udacity best for:
For beginners and experts looking for career development in computer science and technology fields.
Pricing:
You can take many courses for free, or opt for a nanodegree which will vary depending on the course, but start from around $399 per month.
Pros:
✅ Courses for all skill levels
✅ Very high-quality courses
✅ Self-paced
Cons:
❌ Not accredited
❌ Limited variety of topics
❌ Lacks a good sense of community
4. Edx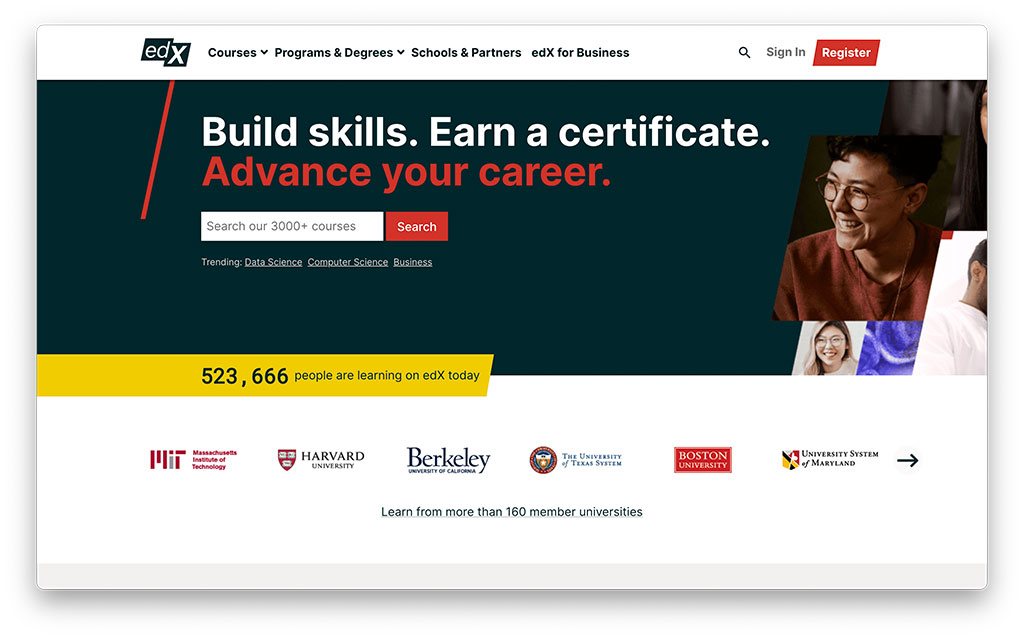 Created in 2012 jointly between Harvard and MIT, edX offers over 3,200 courses on many topics, though mostly geared towards technology. Courses are self-paced but will often take somewhere from several weeks to months to complete.
Some of the most popular are CS50's Introduction to Computer Science from Harvard, a 12-week course taken by over 2,700,000 other students; and Introduction to Computer Science and Programming Using Python, a 9-week MIT course with over 1,300,000 enrolments.
Who is edX best for:
Those with a serious interest in IT, science, or business, and are willing to put in the time for a comprehensive program.
Pricing:
It's free to audit courses or $25 – $199 for a verified certificate

MicroBachelors are $166 per credit

MicroMasters vary but start at around $1000 and up

Master's Degrees range from $10,000 to $25,000
Pros:
✅ Many courses are accredited and can count towards a degree
✅ MicroBachelors and up include personal coaching and support
✅ Self-paced
Cons:
❌ Courses can be rather expensive
❌ Discussion forums can be confusing to use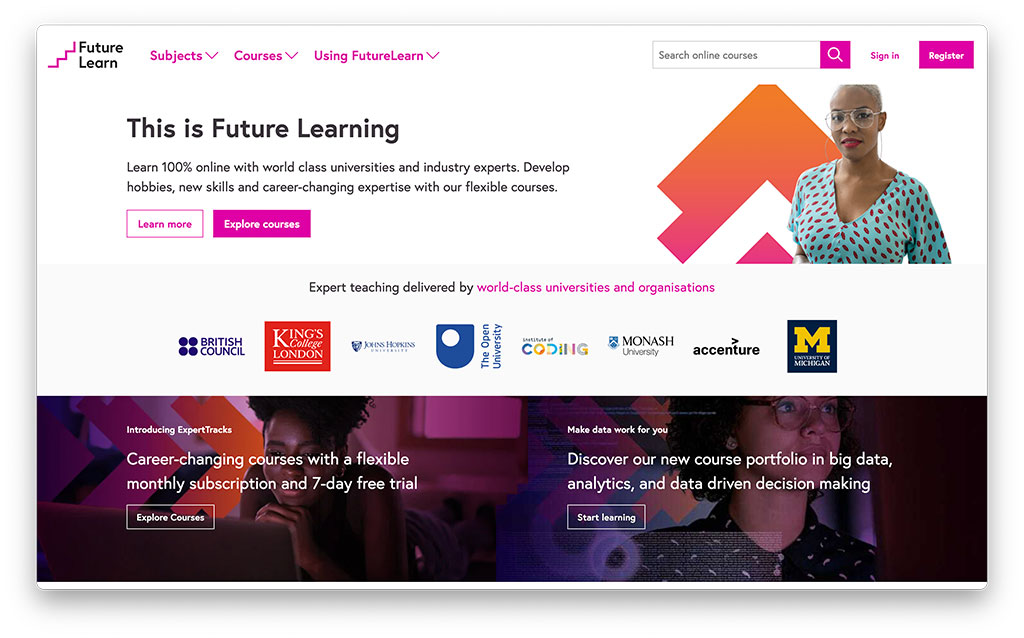 Another 2012 creation, FutureLearn is a British online learning platform that covers topics beyond the common computer science and business fields—some of their most popular options are in the environment, healthcare, and teaching fields.
They have short courses of a couple of weeks, ExpertTracks and Microcredential programs which will take a few months, and online degrees of a year or two in length, depending on whether you can commit full or part-time.
Who is FutureLearn best for:
Those looking to earn credentials in subjects beyond the tech and business realm.
Pricing:
Courses are free to audit or upwards of $39 for a certificate

The Unlimited option for $280 per year gives you access to hundreds of courses plus their certificates.

Microcredentials vary around $800 – $1,100

Degrees are generally over $15,000
Pros:
✅ Accredited certificates
✅ Good range of high-quality courses
✅ Sense of community and active discussion boards
Cons:
❌ No smartphone app
❌ On the expensive side
❌ Smaller catalogue than edX and Coursera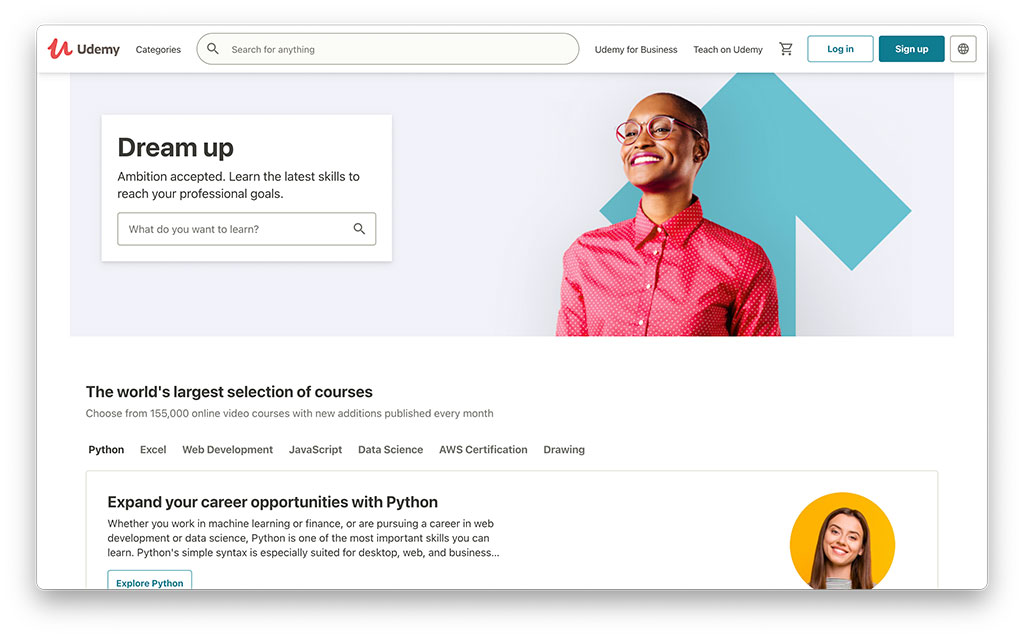 With an incredible selection of over 155,000 courses across 65 different languages, Udemy is the most popular online learning platform, boasting over 40 million students spread across the globe.
Udemy also makes it easy for instructors to create their own courses and upload them to the site. However, this also means the quality of each course can vary substantially, and feedback will depend on each instructor rather than Udemy representatives.
Thankfully their review and rating system can point you towards courses of a higher standard.
Who is Udemy best for:
Anyone with wide-ranging interests looking to dabble in new knowledge areas, and those who want to publish their own courses.
Pricing:
They have a range of free courses, with paid options ranging from $12.99 to $200.
Pros:
✅ Massive variety of courses in different languages
✅ Affordable, with plenty of heavy discounts on popular courses
✅ You can create and upload your own courses
Cons:
❌ Quality varies
❌ No accreditation
❌ Feedback from instructors can be lacking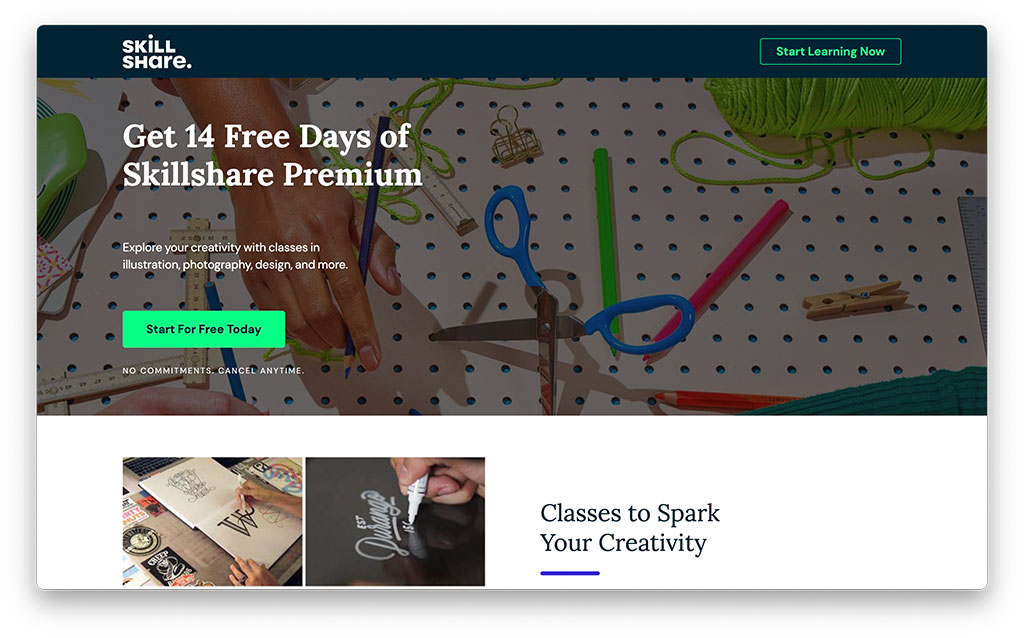 Skillshare is focused on creative fields like film, animation, design, and music.
Similar to Udemy, Skillshare makes it possible for people to create their own courses, and while this does lead to some variation in quality, the fact Skillshare operates on a subscription model means there is nothing lost by abandoning a course mid-way through to find a better one.
They also have an active community and groups you can join around certain subjects, and encourage people to upload their work to get valuable feedback.
Who is Skillshare best for:
People looking for career development in the arts and crafts.
Pricing:
There are plenty of classes you'll get with the free plan, or you can get complete access to all courses by subscribing for $8 per month, less if you pay for the full year.
Pros:
✅ A lot of free classes
✅ Active community
✅ The subscription model makes it easy to change classes without cost
Cons:
❌ No certificates
❌ Quality can vary