A Creative City Guide To Vancouver:
1. Vancouver Startup List
2. Local Startup Accelerators
3. A Tech History of Vancouver
4. Vancouver's Startup Scene
Vancouver is a young, vibrant and incredibly beautiful city that attracts people from all over the world. With over half the population born outside of Canada, the city is very multicultural and open to newcomers. Located on the west coast of Canada, the city is a booming metropolis of 2.4 million people set between British Columbia's Coast Mountains and rugged coastline of the Pacific Ocean.
The city is Canada's Pacific Gateway with the largest port in the country and the city's business community is developing strong trade ties to China, Japan and other Asian economies. The local economy is largely driven by the booms and busts of the natural resource sector, with resource extraction industries like lumber, fishing, agriculture, mining and natural gas bringing in wealth from British Columbia's vast interior (BC is 944,735 km², an area larger than France and Germany combined).
The city is experiencing strong growth in tourism, high technology, film, animation, video games and biotechnology industries. However, there are few large companies in Vancouver's technology sector, which is small and fragmented compared to neighboring Seattle. The upside is that because of the lack of high-paying jobs, smart people are pushed to start their own businesses, giving Vancouver a thriving atmosphere of digital entrepreneurs, technology startups and enterprising small business owners.
The city's inspiring natural setting, laid back lifestyle, walkable and extremely safe neighbourhoods and the easily accessible mountain wilderness is a huge draw for active people and conscious-minded entrepreneurs from all around the world. Vancouverites are generally liberal, tolerant and highly-educated.
Pros:
1. One of the most beautiful cities in the world.
The geography of Vancouver is simply astounding, surrounded by the beautiful Fraser River Valley, a spectacular and sheltered natural harbor on the Pacific Ocean and snow-capped North Shore Mountains so close you can almost touch them. Nearly every neighbourhood in the city has excellent views of the mountains.
2. Multicultural, polite and tolerant population.
Over 50% of the city's population has been born outside of Canada and the city is very open to immigration. Vancouver is consistently ranked as the most liveable city in the world and one of the easiest cities for new immigrants to integrate into civil society.
People are generally honest and polite and there is a strong activism community. There is also a long tradition of independence, libertarianism and resistance in British Columbia against the encroachments of large corporations and the Canadian government.
3. The city plans to become the greenest city in the world by 2020.
The Green Capital initiative of Mayor Gregor Robinson claims to have put Vancouver on track to be the "greenest" city in the world by 2020. There is definitely something in the air here. Regardless, Vancouver's tight fusion with the natural environment makes the city a haven for sustainable businesses that are re-defining the relationship between mankind and the natural world. The rainfall, lakes, rivers, glaciers and mountains of British Columbia provide cheap and clean hydroelectricity that provides nearly 93% of Vancouver's power needs.
4. The healthiest city in North America.
Exceptional community centers, recreation facilities, parks and the healthiest and most active people in Canada. Vancouver boasts the best biking infrastructure in Canada with special bike lanes throughout the city and a 32 kilometer seawall around downtown Vancouver, Stanley Park and the beaches area of the West Side. Nearby Whistler and the North Shore Mountains offer some of the best skiing, hiking and mountain biking terrain you will find anywhere. The borough of Richmond boasts the longest lifespan in the entire world at 83.4 years.
5. A perfect blend of urban and natural environments.
Few cities in the world provide a more harmonized blend of liveable, urban settings on the doorstep of mountain wilderness. Vancouver is a basically heaven for people who love nature, outdoor recreation and adventure sports. In the summer, you have exceptional mountain biking, hiking, beaches, kayaking, sailing, skimboarding, camping, lakes for swimming, zip trekking, bungie jumping, whitewater rafting, sky diving, paragliding, kiteboarding and offroading. In the winter, you have exceptional skiing, snowboarding, snowmobiling, snowshoeing, scuba diving, fishing and hiking.
6. Extremely safe by big city standards. You can safely walk around after dark.
Extremely safe and low crime (apart from property theft which is high by Canadian standards because of the large number of drug addicts). You can walk around in nearly any neighborhood after dark without a problem. The worst part of town is referred to as the Downtown Eastside and despite the large number of crack and heroin addicts, it is still relatively safe to walk through, although it can be a disturbing experience for people not used to seeing open drug use and sometimes aggressive panhandlers.
7. Walkable urban neighbourhoods and no American-style freeway system.
Over 70,000 people live in the downtown core of Vancouver, giving it lively, walkable neighborhoods around the city center. Vancouver has the distinction of being the only major city in Canada and the United States that lacks a freeway system. This has helped the city maintain strong urban neighborhoods and given the city a unique high-rise urban development model known as Vancouverism that is studied by cities all over the world.
Cons:
1. Most Vancouverites can barely afford to live in their own city.
High cost of living and income taxes, although taxes for small business and startups are lower than in the United States. A decent one-bedroom in downtown or the beach area Kitsilano will cost you a minimum of $1200. Houses are too expensive for most families while young people and students struggle to make ends meet. Those with lower incomes and less education are increasingly being pushed away to the suburbs.
2. A service-based economy floating on an ocean of debt.
Vancouver is the second most unaffordable housing market in the world. The typical Vancouverite pays an astronomical 85% of their income to their mortgages and they hold the highest levels of mortgage and credit card debt in Canada. There is a strong likelihood of a sustained economic slowdown and a uniquely Canadian-style mortgage debt meltdown as interest rates in Canada rise and the inflation-based prosperity induced by the 15-year long commodities supercycle goes in reverse.
3. Very few large blue chip companies and wages are low.
Wages are very low by Canadian standards and there are few large corporations, big marketing departments and executive-level jobs. The upside of this is you can find creative talent for 30-50% less than you would pay in the Silicon Valley. Vancouver's economy remains overly dependent on the service sector and traditional industries like construction, real estate, tourism and natural resources.
4. Canadian content laws are out-of-date and holding back innovation.
Out-of-date CanCon Canadian content laws hinder companies in the mobile and digital media space. Popular services like Pandora, Spotify, Hulu and Netflix are all either barred from the country or offered with ridiculous content limitations. Nearly all Canadian startups in this space are forced to locate outside of Canada.
5. Very little real competition in the Canadian mobile telecommunications sector.
5. Canadians pay some of the highest mobile rates in the world, due to the artificially low domestic competition and the monopolistic nature of many large industries in Canada. Government-controlled monopolies are consistently privatized into private-controlled monopolies in Canada, rather than creating an open free market for the benefit of consumers.
6. Winters in Vancouver are long, gloomy and depressing.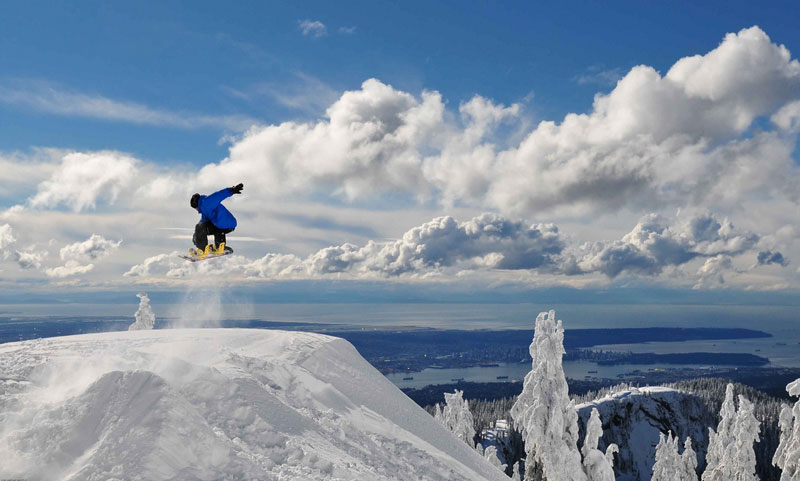 While the climate is temperate by Canadian standards, brace yourself for a minimum of 6 months of constant rain and gloomy overcast skies during the long winters. Vancouver can be very tough on people who are used to living in sunny climates. Cheerful locals will counter that every raindrop is a snowflake in the mountains during the winter months, providing the conditions for some of the best powder skiing in the world at nearby ski resorts such as Whistler Blackcomb and Cypress Mountain.
Explore Vancouver:
This video was made for the 2010 Winter Olympics showcases the rich culture, stunning natural beauty and excellent recreation possibilities in Vancouver and the Coast Mountains.