If you want to get discovered on LinkedIn then you need to optimize your profile for LinkedIn's search algorithm.
With over 500 million users on LinkedIn so far in 2019, LinkedIn is replacing traditional resumes, cover letters and references.
If you want the best opportunities to find you by getting noticed by job recruiters, other business professionals and potential customers when they're searching then you need to make sure your LinkedIn Profile is 100% complete with the right keywords that define your skillsets.
When someone searches for other people on LinkedIn, they only directly search their personal network and up to 3 degrees of connections beyond the people they know.
This means that in order for your professional LinkedIn profile to appear in more search results, you need to be in as many relevant LinkedIn networks as possible.
LinkedIn profiles are also highly optimized for Google's search algorithm so having a strong LinkedIn profile is crucial for personal branding as it will rank highly when people inevitably search for your name on Google before hiring you.
My LinkedIn Profile Optimization Recommendations: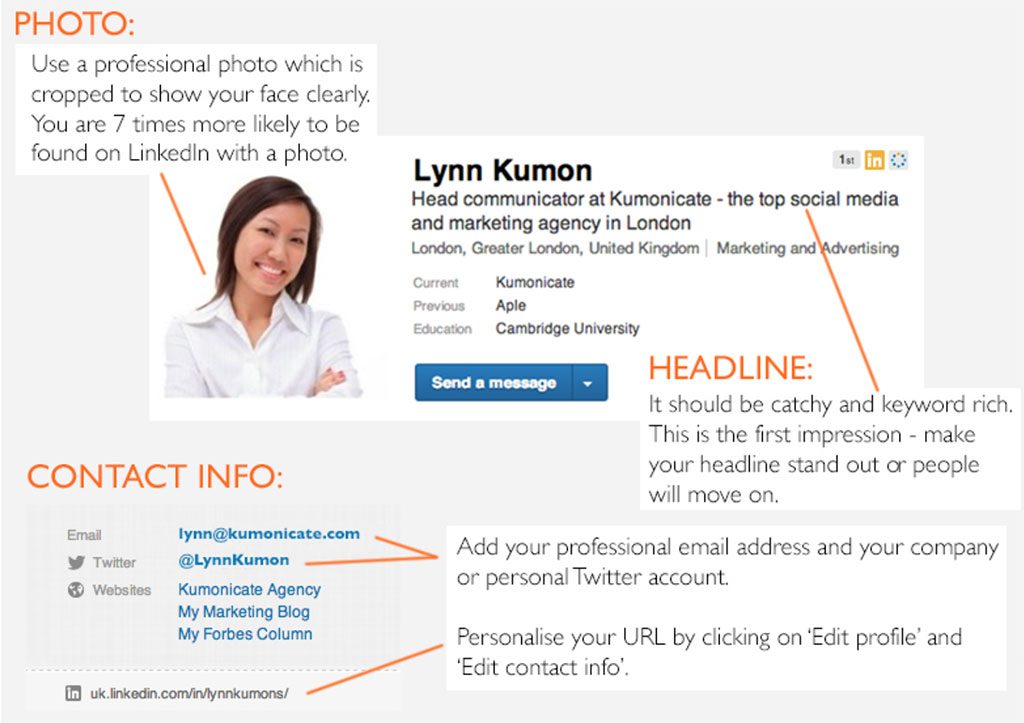 I recommend following these recommendations to maximize your search visibility on  LinkedIn:
1. Start with a professional headshot and a really strong headline.
Your headline should be much more than just your current (or last) job title.
The length that LinkedIn allows for headlines is up to 120 characters so use it all to describe your unique skillsets and grab people's attention with something unique.
Keep in mind that when your name appears in LinkedIn's search results it will be with your photo and headline.
2. Fully utilize the summary section and include your contact details.
The summary section is an excellent place to tell your story, describe your unique attributes, talents and capabilities.
If you're looking for a job or for more clients in your business, it is a good mention this in the summary section and use a call-to-action to encourage people to contact you before they get distracted.
People outside your network can't see your contact details so make sure to put them in your LinkedIn summary.
3. Keep things fresh by adding regular updates.
Use a social media dashboard tool like Content Studio to simultaneously update LinkedIn along with other social networks such as Facebook and Twitter.
Share your thoughts, use Canva to make images of your favorite quotes, comment on your connection's noteworthy status updates and regularly ask your network for advice.
It's also a good idea to occasionally post when you find content that is particularly interesting and useful on the web.
4. Maximize your LinkedIn group membership.
You can join up to 50 LinkedIn Groups. Join all the relevant industry groups for your skillsets and if you're really a go-getter then start posting, providing value and interacting with people in these groups regularly.
Being apart of industry groups will help improve your search visibility because it allows all of the group's members to more easily find you in search and then contact you.
5. Blog and post content directly on LinkedIn.
When you blog directly on LinkedIn your entire network (1st level of connections) will be notified that your post was published.
LinkedIn posts are highly optimized for SEO (search engine optimization) both on LinkedIn and Google. If you want to start creating your first post, here's what you can post directly on LinkedIn from the web and their iOS or Android apps:
Use Start a post to share posts and articles.
Use the Camera icon to share photos.
Use the Video icon to share videos.
Use the Document icon to share documents.
6. Include useful digital media on your profile.
Add useful or instructional content that demonstrates your expertise on your LinkedIn profile.
Try to post a variety of different formats like documents, videos and Slideshare presentations.
Also, if you're looking for a job then I'd recommend including a 30-60 second pitch for potential recruiters by embedding a YouTube video.
7. Get out networking and add everyone you meet on LinkedIn.
The more connections you have the more likely you are to appear in LinkedIn's search results. Adding connections with influential people that have large networks will help your search visibility the most.
Find and attend local networking events on Meetup, use a mobile networking apps like Shapr, and reach out to your personal network and interesting professionals you find on LinkedIn to offer to take them out for a coffee or lunch.
8. Claim your LinkedIn Vanity URL.
Include your full name in the URL and then link to your new LinkedIn Profile URL from your website and some of your social media accounts.
To claim your vanity URL you will need to have your profile 100% complete first then you will prompted to add it.
9. Get recommendations for every position.
Ideally, you will want to get at least 10 recommendations to increase your search visibility on LinkedIn.
Try to get recommendations from your direct supervisors. If you're a student get recommendations from your professors.
If you're self-employed, get glowing testimonials from your clients directly on LinkedIn for everyone to see.
10. Don't keyword stuff but use them liberally throughout your profile.
The keywords you use on your LinkedIn Profile should be based around your skillsets, industry and talents.
Think of what you would search for if you were a potential customer or recruiter looking to hire someone like you. I recommend listing your major skillsets in your summary as a bullet list.
So there you have it, some of the best LinkedIn profile tips that you will find anywhere.
Whether you're a job seeker or an entrepreneur, optimizing your LinkedIn Profile for search can mean that more good opportunities will find you.