The ability to use social media to regularly engage people, build an audience and express your personality is becoming an essential digital skill for everyone. It can help you find a job because it shows businesses and organizations a window into your personality, interests and how savvy you are with new social technologies.
If you're interested in improving your social media skills or building a career in social media these online courses and certifications can help you learn the ropes. The demand for people with "social media marketing" skills has risen 47% in the past year and is projected to continue growing at a fast clip as more business move marketing spending from paid advertising into content marketing and social media engagement.
Where social media really becomes valuable in a business context is when you can use these social networks to raise brand awareness and also get new customers, leads and sales for a business. This is where inbound marketing comes in. Inbound marketing is about creating and sharing valuable content designed to appeal to customers and attract qualified prospects to a business.
Surprisingly, there aren't many structured MOOCs (Massively Open Online Courses) for learning social media and inbound marketing online. I'm sure this will change and there will be many more social media, blogging and inbound marketing MOOCs in the coming year because all these skills are becoming must-haves for the job market.
Did you know? Over 80% of jobs are now found in the informal job marketing (meaning they are not advertised) so having a social media presence and regularly networking (online and offline) is more important than ever.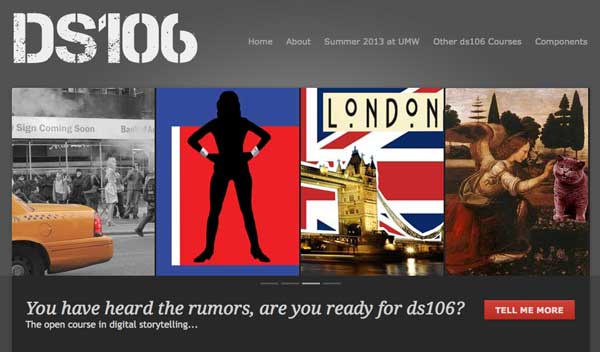 There is an interesting story behind DS106. It begins in the spring of 2010 when University of Mary Washington professor Jim Groom wanted to re-imagine how storytelling could be taught in the digital age.  There was so much interest in the course that in the Spring of 2011, Groom opened the digital storytelling course to allow online participants to join.
In the spring 2012, a Kickstarter crowdfunding campaign was launched that raised over $12,000 to bring DS106: Digital Storytelling to an even bigger online audience as a full-fledged social media MOOC. The course has spawned a radio station, a TV station, an assignment bank with over 400 contributions, over 18,000 blog posts from active participants and a lively  conversation on the #ds106 hashtag on Twitter.
In the course you get to design and build your own online identity (if you don't have one already) and develop skills in using digital storytelling and social media for networking, sharing and your own creative self-expression.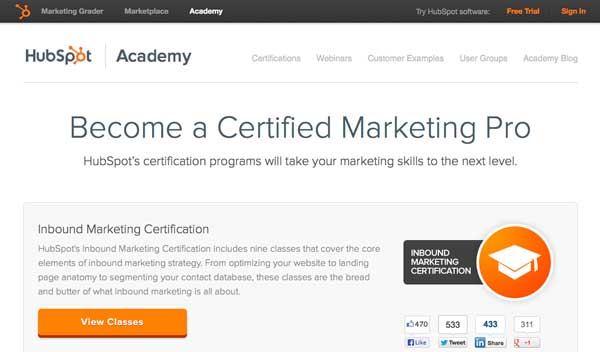 Inbound marketing pioneer Hubspot offers an excellent free Inbound Marketing Certification Program. While the course is aimed at people in digital marketing and social media industries, anyone can improve their knowledge of inbound and content marketing by following the 11 free classes and completing the reading assignments and optional homework assignments.
You can watch the videos at your own pace and when you complete all the courses you can take an Inbound Marketing Certification Exam to get a certificate from Hubspot. The courses was recently re-designed and updated for 2015!
Essentials of an Effective Inbound Strategy
Optimizing Your Website
The Fundamentals of Blogging
Amplifying Your Content with Social Media
Creating Content with a Purpose
The Anatomy of a Landing Page
Perfecting the Conversion Process
Sending the Right Email to the Right Lead
The Power of Smarketing
Taking Your Sales Process Inbound
Cultivating Happy Customers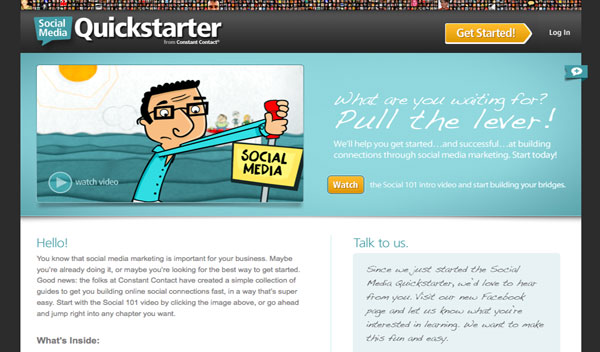 This fun video course from email marketing provider Constant Contact shows you how to use social media to get business results. You can learn the basics of social media 101 and how to use platforms like Facebook, Twitter, LinkedIn, Blogging and YouTube.
Here is a breakdown of the topics covered in the course:
Social Media 101 (4 chapters)
Facebook (17 chapters)
Twitter (17 chapters)
LinkedIn (13 chapters)
Blogging (3 chapters)
YouTube (9 chapters)
Ratings and Reviews (6 chapters)
Location-Based Services (7 chapters)
QR Codes (3 chapters)
Email Plus Social Media Marketing (4 chapters)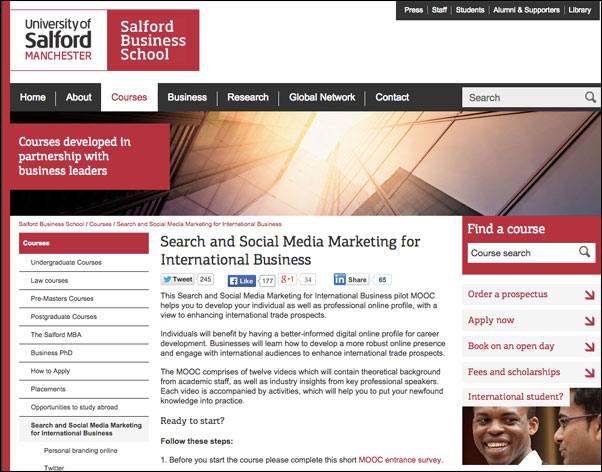 This brand new MOOC from the University of Salford in Manchester, England helps you develop your professional online profile and use search engine optimization and social media marketing tactics and strategy to improve your online presence. This course has a lot of great information!
Personal branding online
Twitter
Search Engine Optimisation (SEO)
Use of social media for international business development
Facebook
YouTube
LinkedIn
Google+
Copywriting online
Legal implications of social media
Monitoring and reporting
Blogging

Get a "diploma" in Social Media Marketing in just 15-20 hours with this free course provided by online course provider ALISON. It explains the use of email marketing, affiliate marketing, using social media tools such as Twitter, podcasting and blogging, and how to create a successful Facebook page.
Introduction to Web sites
Introduction to autoresponders and eBooks
Using autoresponders to build a list
Affiliate marketing and increasing Web site traffic
Email and Affiliate Marketing Assessment
Introduction to Social Media Marketing
How to use Twitter
Audacity for Recording Podcasts
Podomatic – Publish Your Podcasts to the Web
Blogging on the WebSocial Media Tools
Assessment Module
Facebook – Create your Personal Profile
Facebook – Creating your Facebook page
Facebook – Increasing traffic to Facebook pages
Marketing with Facebook Assessment
Final Assessment
6. Study Social Media Presentations and White Papers

Studying social media presentations and white papers can really helpful. Here are some freely available white papers from top social media businesses:

GFC provides short, well-structured courses on popular topics in social media and how to better use technology. These courses are a bit rudimentary but are great if you're an absolute beginner and you need to get up to speed on the basics of setting up a profile, finding people and sharing content.
Twitter 101
Facebook 101
LinkedIn Basics
Pinterest 101
Skype
Beyond Email
Blog Basics
Networking Basics
Chat
Google
Apple
Digital Lifestyle
Information Savvy
Internet Basics

The foundation of making money online for many bloggers and social marketers is to leverage SEO, social media followers and inbound marketing content to build an e-mail list. This course from top blogger Glen Allsopp shows you how to build and monetize your audience with e-mail marketing.
Introduction to Cloud BluePrint
The CloudBluePrint Core
Choosing A Niche
Choosing A Domain
Finding Web Hosting
Squeeze Pages
E-Mail Marketing
A/B Split Testing
Attracting Traffic
Follow Up Content
Generating Income
CloudBluePrint Overview
Glen also has a very useful guide for growing your blog audience that details how he grew his blog to 10,000 subscribers in one year. He writes some of the longest, most engaging marketing-related blog posts and routinely receives 100s of comments on each post so he's an excellent person to learn from.
The 4 key elements to growing a popular blog
Why most blog marketing tactics are a waste of time
The one strategy you need to explode your blog traffic
My extra traffic sources and stats figures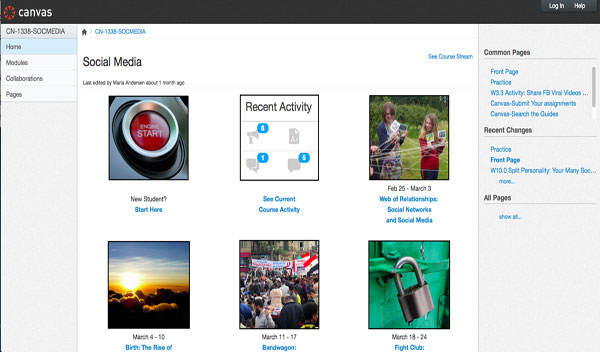 This online course from MOOC course platform Canvas Network is a beautifully structured course with regular e-mail updates, activities, assignments and collaborative online study groups. Unfortunately, the most recent session has ended but you can sign up on the page to get notified when the course is offered again and in the meantime you can self-study the material at your own pace.
In this course you get to learn how emerging social media platforms are being used by people and businesses to build an audience. You also get hands-on experience with popular social media tools like blogs, microblogs, podcasts, RSS feeds and more.  The focus of this course is on how to use available social media platforms to monitor conversations online, engage online communities, identify influences and establish your thought leadership.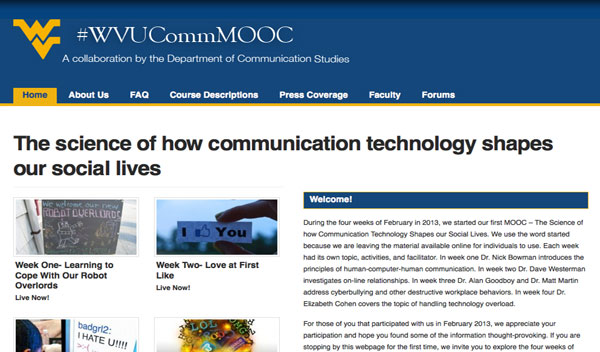 Another one of the social media MOOCs available online, this course is provided free by the Department of Communications Studies at West Virginia University. As can be expected from a University, this online course is more heavily focused on theory, inquiry and learning how to ask the right questions to improve your understanding.
Social media is revolutionizing communication, business and government so I think it's important to explore the philosophy implications and impact of these changes to deepen your understanding of online communication. The course is 4-weeks but there is a lot of material packed into each week of studies.
Learning to Cope With Our Robot Overlords
Love at First Like
Cyberbullying: The Dark Side of Online Communication
This is Your Brain, This is Your Brain on Media: Understanding and Conquering Technology Overload
Another Resource For Learning Social Media:
While these free courses are a good start, you can only learn to be good at social media by making sharing your creative talents and passions a daily habit. This way you can develop a distinctive personal brand around your areas of expertise and interest.
The key with social media is having social proof. It doesn't matter what certificates you have or the courses you have taken, what matters is that you can demonstrate that have built an online audience that wants to follow and engage with you.
Once you have tried one of these free introductory courses, you may decide you want to invest in learning to use social media at a more advanced level for your business or your career.
In Social Creators, you learn how to craft a distinctive personal brand and an online portfolio that demonstrates you are a creative leader in your industry. This is what you need to get hired today at innovative companies and it's also a necessary starting point for offering your own products or services as an entrepreneur.
Social Creators gives you step-by-step online courses to help you clearly and concisely tell your brand story and build your distinctive personal brand through visual storytelling with engaging images and video that can captivate your target audience and motivate them to share.
Social Media and The Connection Economy:
We are now living and working in what marketing guru Seth Godin calls the connection economy. With automation and outsourcing eliminating most routine work, the most highly paid jobs of the future will require a high level of creativity and social intelligence. Ultimately, the ability to inspire and connect with other people.
What's important in the new connection economy is that you craft a distinctive personal brand using social media and a professional looking website that tells the story of who you are, what you can do and what makes you different. This is the only way to stand out in the competitive marketplace.
With these social media courses, you will be able to learn more about the importance of social media and harness its power to build your own online audience.