The ability to use social media to get people's attention, build an engaged audience and provide valuable educational content is becoming essential to thrive in today's fast-growing and highly-competitive digital economy.
Whether you are looking for a better job, freelancing for other businesses, or building your own business you're going to need social media marketing skills to build your personal brand and leverage social media to attract a bigger audience.
If you're ready to start improving your social media marketing skills, the free online courses in this guide will help you learn faster without having to go back to school.
Today's Most In-Demand Social Media Skills
If you want to stand out from the crowd of other job seekers, freelancers, or entrepreneurs then you should start by building a professional-looking website and an active social media presence that showcases your talents and skills.
If you're not sure which social media marketing course is right for you, I have put together a 5-minute video where I talk about the different social media skills that are in high demand today.
Did you know?
Over 80% of jobs are now found in the informal job market (meaning they are not advertised). Having a personal website, an active social media presence, and a professional network to leverage for recommendations is more important than ever.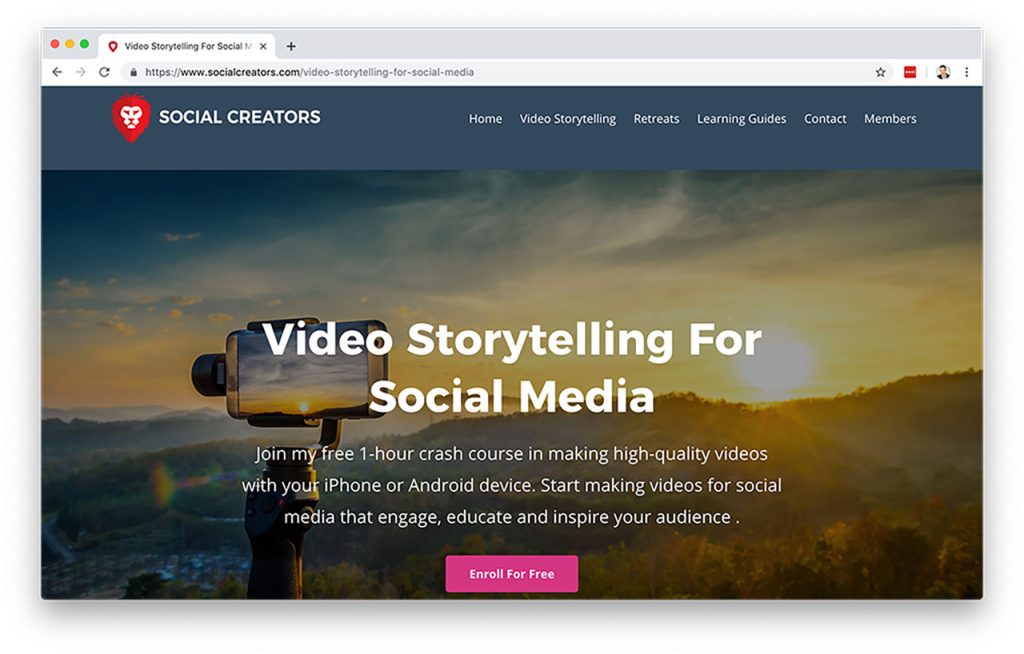 A short training for covering how to make high-quality videos with your iPhone or Android smartphone. Learn the basic fundamentals of video storytelling and creating videos that hook people at the beginning, educate and provide value in the middle and end with a strong call-to-action
Video is a powerful medium to build relationships with your audience members and engage short attention spans on social media networks. This short training and guide cover everything you need to make high-quality videos anywhere using your smartphone.
1. Why Make Videos, Basic Story Structure and Acting Natural
2. Improving The Sound, Stabilization and Lighting
3. Filming and Editing High-Quality Videos On Your Smartphone
4. Video Storytelling Apps For Getting Started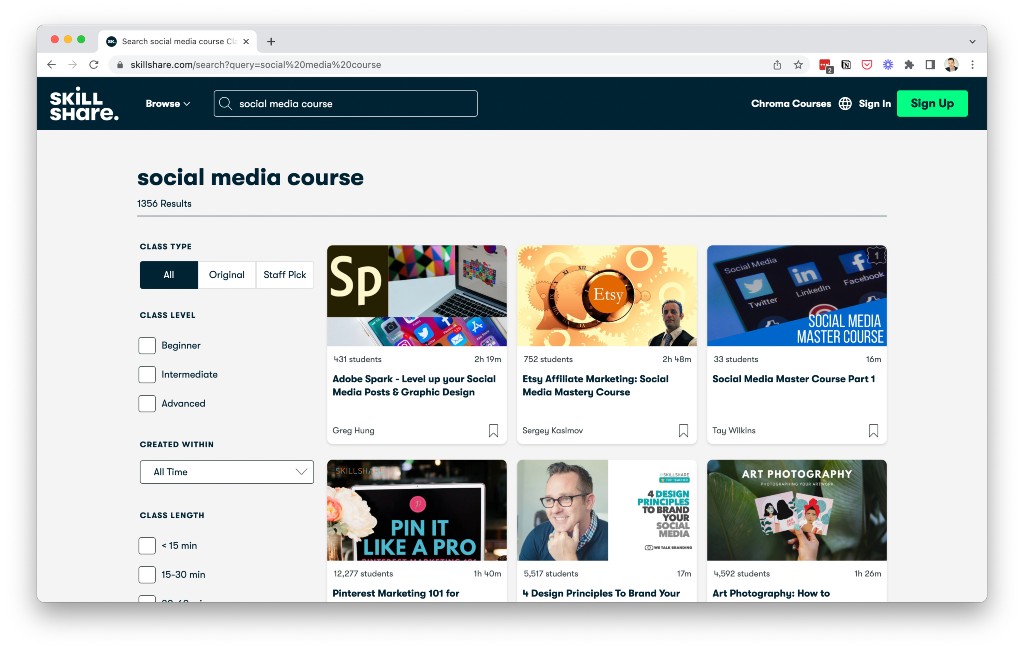 One of the best places to learn social media marketing online is through the course platform Skillshare.
They offer hundreds of short, do-it-yourself courses and workshops by social media creators to help you learn key social media skills like designing social media posts, analytics, photography, caption writing, monetization, advertising — as well as specific courses for Facebook, Instagram, YouTube, Pinterest and Tiktok.
In their integrated course communities you can easily ask questions, exchange feedback and learn alonside other students. Many of their bite-sized online courses are taught by some of the most successful creators online.
And the best thing about Skillshare is that it's very inexpensive and they offer generous free trials where you can learn as much as you want with a free trial for 30 days.
1. Facebook Marketing
2. Google For Business
3. Instagram Marketing
4. Twitter Marketing
5. Yelp Marketing
6. Search Engine Optimization
7. Email Marketing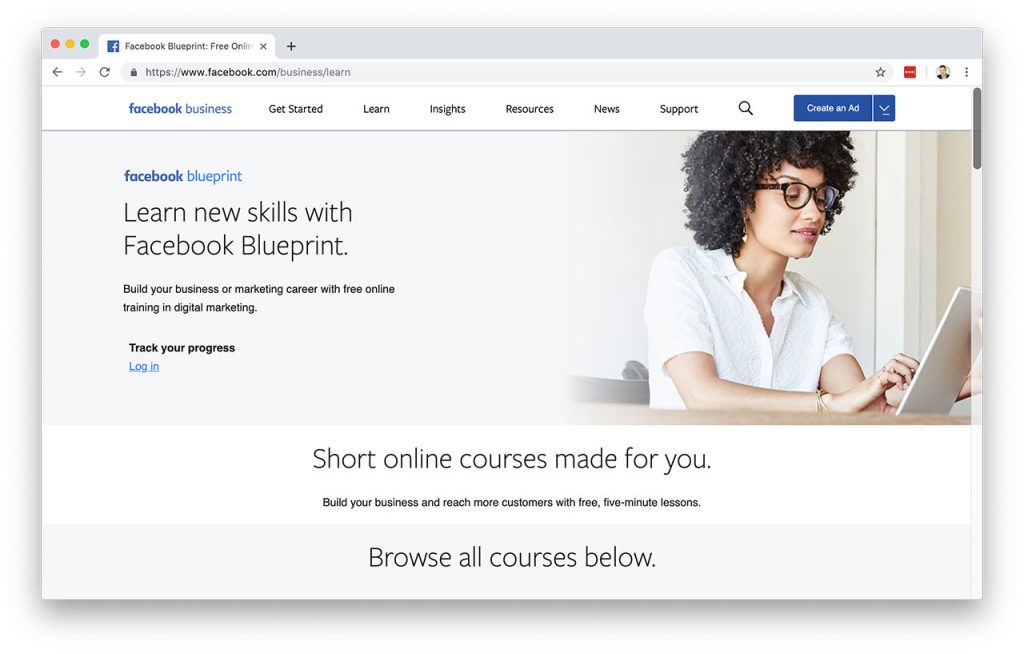 With over 2 billion users (plus another 1 billion on Instagram), Facebook is one of the best advertising platforms for businesses. The social media company wants to make it easy for content producers to spend money on its advertising but many people struggle to successfully run ads that deliver results.
That's why Facebook launched Facebook Blueprint a couple of years ago to help people become more skilled at setting up Facebook Advertising campaigns. They provide valuable training for setting up, managing, and optimizing Facebook Ads.
1. How To Create An Ad On Facebook
2. Beyond Likes: Create Ads That Meet Your Goals
3. Instagram For Business
4. How To Set A Budget and Schedule For Your Facebook Ads
5. A Beginner's Guide to Finding Images For Your Ads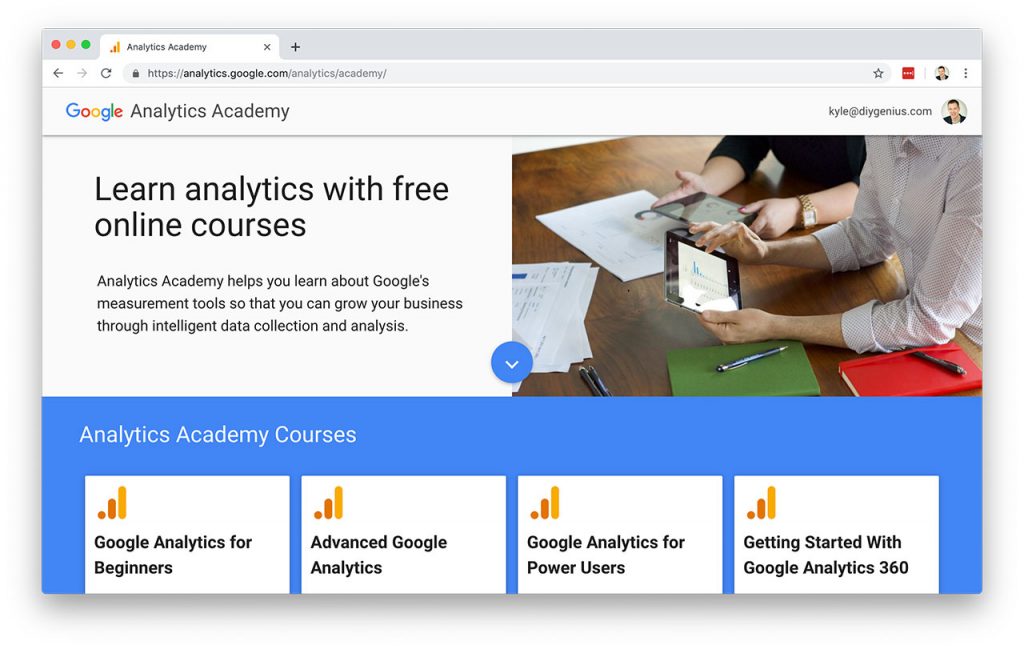 Google Analytics is an indispensable free tool to track online advertising spending. It's also important to know how to set up conversion tracking goals to see which social media channels and pieces of content are leading to the most leads and sales.
While it can be quite technical to master the Google Analytics platform, a basic knowledge of Google Analytics is necessary for anyone who manages websites or social media for businesses.
1. Google Analytics For Beginners
2. Advanced Google Analytics
3. Google Analytics For Power Users
4. Getting Started With Google Analytics 360
5. Introduction To Data Studio
6. Google Tag Manager Fundamentals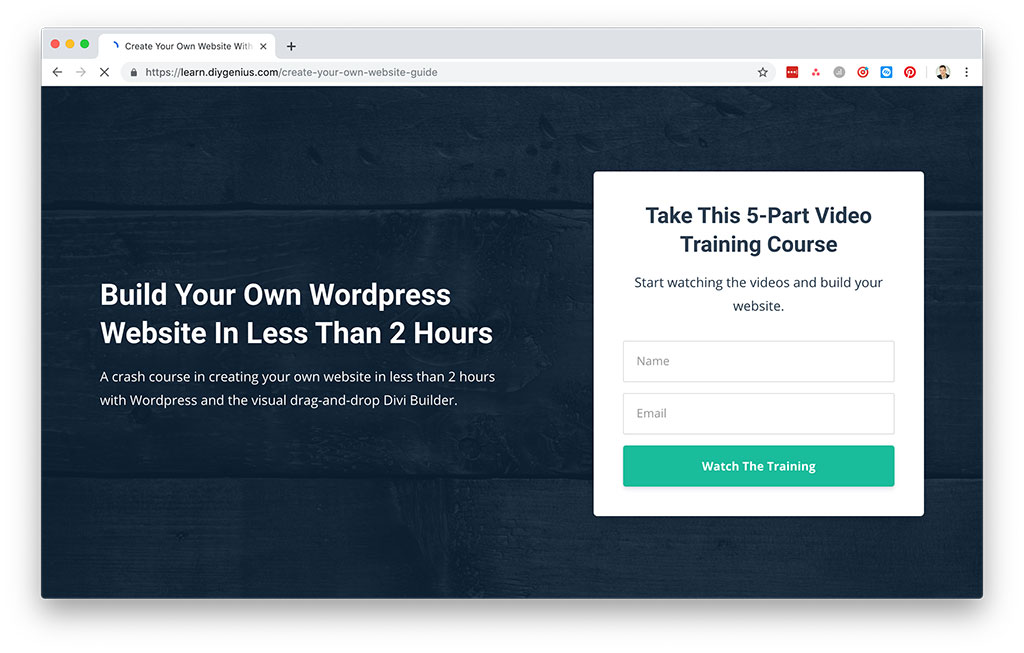 If you want to differentiate yourself in a competitive market, then you need a professional-looking website that tells your story. You also should focus on building a digital portfolio of your work with case studies that demonstrate the business results you have generated with your knowledge and skills.
In this online training, you will go through the process of setting up a WordPress website and building your digital portfolio with case studies. The case studies framework is 3-part: the business problem, the solution you designed and implemented, and the business result in terms of quantifiable metrics.
1. Setting Up WordPress and Install Third-Party Themes
2. Using A WordPress Theme Framework and Drag-And-Drop Visual Builder
3. Creating Blog Posts and Pages That Are Optimized For Search Engines
4. Building Your Email List So You Can Communicate Directly With Your Audience
5. Setting Up Google Analytics and Basic Conversion Goals For Your Website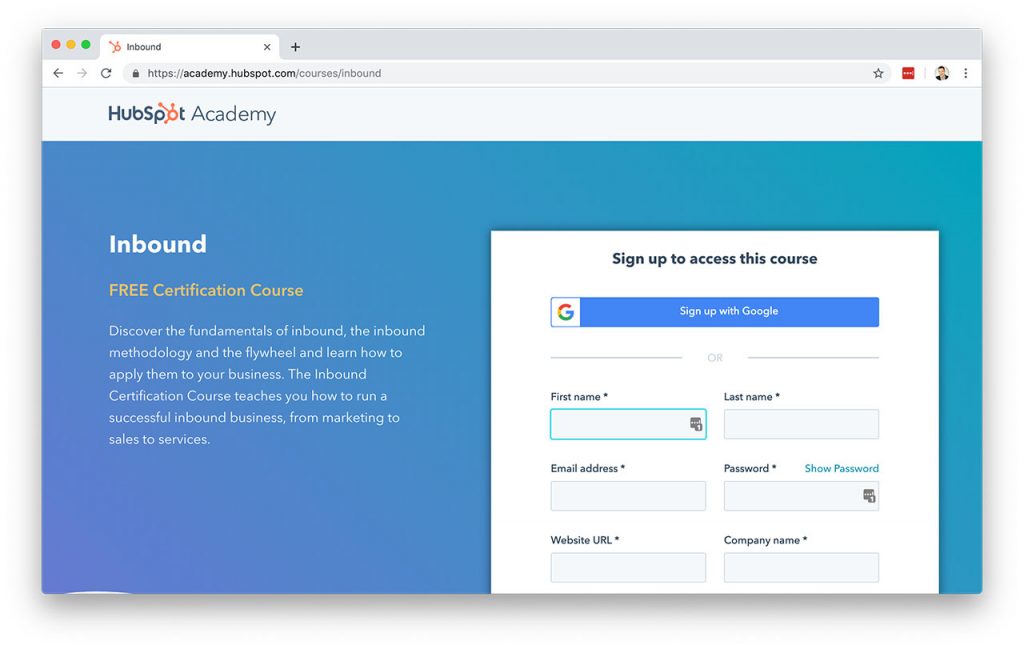 Marketing automation platform Hubspot offers a free Inbound Marketing Certification Program. While their courses are aimed at professionals in the digital marketing and social media industries, someone at any level of understanding can learn a lot about content marketing here.
In the Hubspot Academy, you can watch the videos at your own pace and follow the course frameworks. When you complete all the online courses in the program you can take an Inbound Marketing Certification Exam to get certified.
Essentials of an Effective Inbound Strategy
Optimizing Your Website
The Fundamentals of Blogging
Amplifying Your Content with Social Media
Creating Content with a Purpose
The Anatomy of a Landing Page
Perfecting the Conversion Process
Sending the Right Email to the Right Lead
The Power of Marketing
Taking Your Sales Process Inbound
Cultivating Happy Customers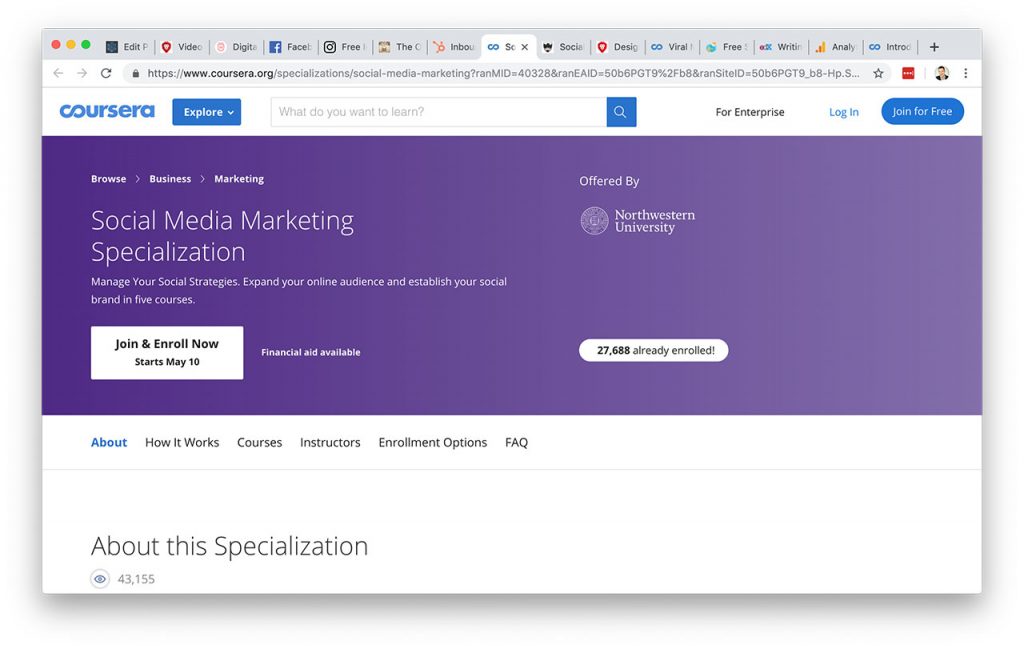 This social media marketing specialization from Northwestern University is designed for freelancers, executives, and marketing professionals who want to develop more knowledge of social media strategy.
It consists of 6 social media courses along with a creative project. If you complete all the required online courses, you can get a certificate from Northwestern University to highlight your new skills on your resume or LinkedIn.
The full specialization costs $49/month to write the tests and get the certification but you can choose to the option to "Audit The Course" and get access to all the instructional content for your own self-directed learning.
1. What is Social Media?
2. The Importance of Listening
3. Engagement & Nurture Marketing Strategies
4. Content, Advertising & Social IMC
5. The Business of Social Media
6. Social Marketing Capstone Project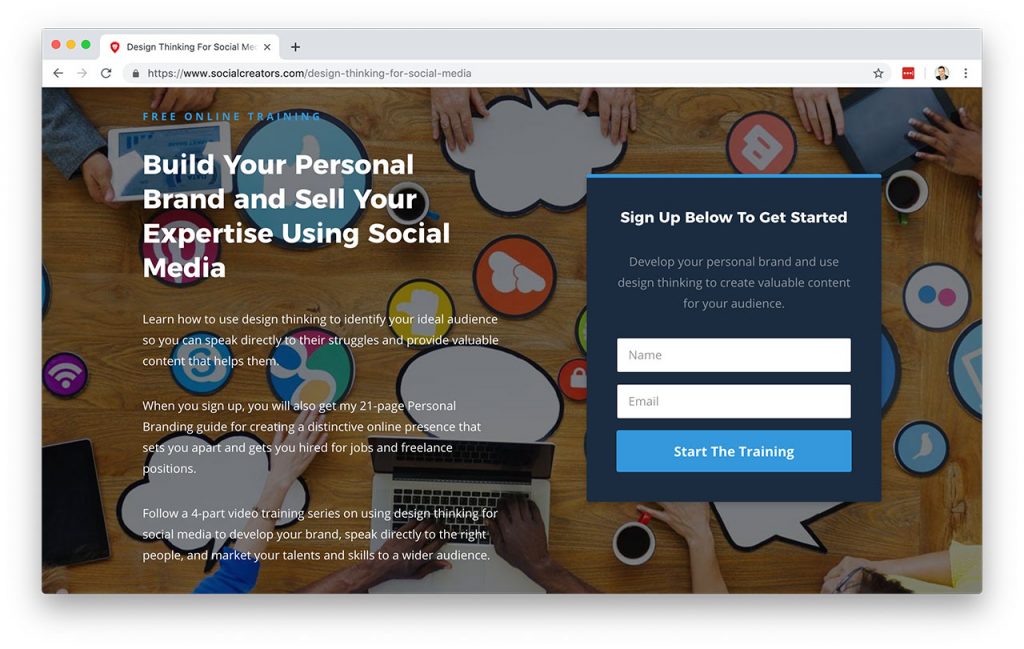 What comes up when someone Googles your name? That's your personal brand and it's much more important for today's high-paying jobs than a resume and cover letter.
Ideally, if you're in a competitive market you need a professional-looking personal website, active social media accounts where you are engaging your audience, and a professional network on LinkedIn you can leverage for recommendations.
In this 4-part online course, you develop your personal brand and apply design thinking principles to get clear about who you want to help with your social media content. By the end of the course, you will be able to rapidly prototype your ideas and create a new brand-driven website.
1. Empathize: Getting To Know Your Ideal Audience
2. Define: Defining Their Problem and Your Unique Value Proposition
3. Design: Ideation and Creative Brainstorming
4. Prototype: Rapidly Prototyping Your Offer On A Website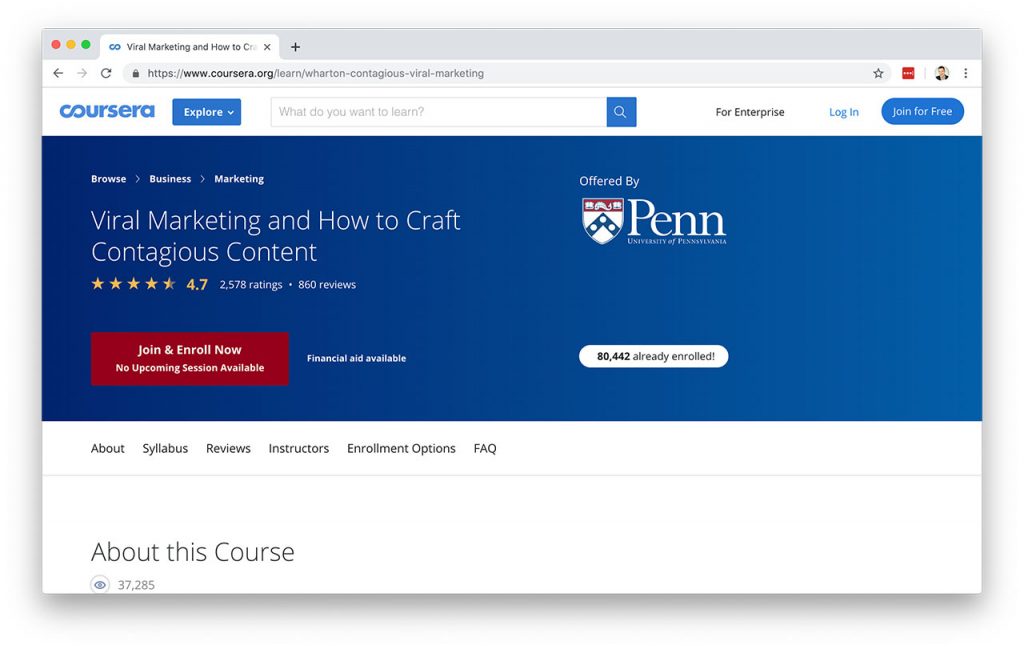 This new social media course taught by Wharton Professor Jonah Berger and author of the best-selling book "Contagious: Why Things Catch On" teaches you some of the key ideas and concepts behind viral marketing and crafting content that inspires people to share.
You have the option to audit the course for free or you can purchase the online course and get a certificate from the University of Pennsylvania's Wharton School of Business.
1. What Makes Ideas Sticky?
2. How Social Influence Shapes Behavior
3. The Power of Word of Mouth
4. Social Networks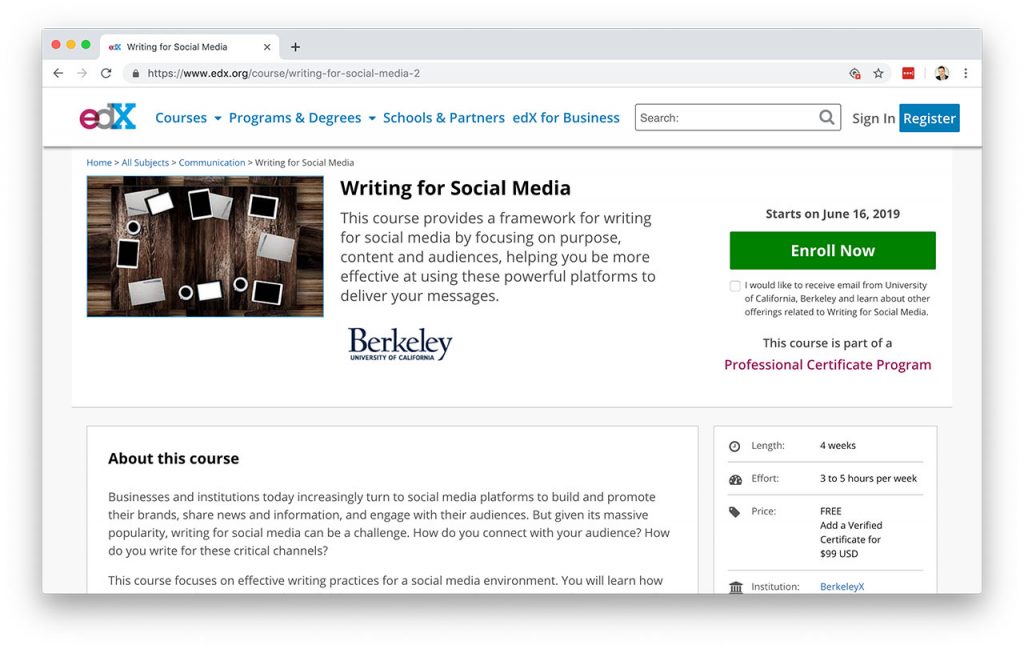 With attention spans getting shorter by the day, social media requires a special talent for copywriting that grabs people's attention. This free online course provides a framework so you can write effective copy that leads to clicks and eventually sales.
This 4-week online course from the University of California Berkeley seeks to answer these questions: How do you connect with your audience? How do you write for these critical channels? How do you get heard on social media networks?
1. Know the audience you are writing for
2. Customize content by audience and delivery method
3. Utilize effective social media writing strategies
4. Communicate effectively in a noisy digital environment
Building Your Personal Brand Using Social Media
While these free social media courses are a good start, you can only get good at social media by regularly creating and sharing your own stories and content through blogging, photography, and videos.
Most people just consume and share other people's content but when you start making your own content you can really build a powerful social media platform for your brand.
The key to social media is building social proof for your expertise. It doesn't matter what certificates you have or which online courses you have taken, what matters most is that you can demonstrate that you can build engaged social media audiences.
I hope you find one of these social media courses right for your needs and it becomes a catalyst for building your personal brand and help businesses grow with social media marketing.