Imagine for a moment that you are trying to explain your Android smartphone to someone in the 1970s who lived in a time before personal computers, the Internet and smartphones.
I'm sure they would be completely awestruck.
In the early 1970s, a mainframe computer was the size of a house. Today, the Android device that fits comfortably in your pocket is a million times cheaper, a thousand times more powerful and a hundred thousand times smaller than the typical mainframe computer 4 decades ago.
That's the power of human ingenuity combined with the exponential growth principle of the law of accelerating returns.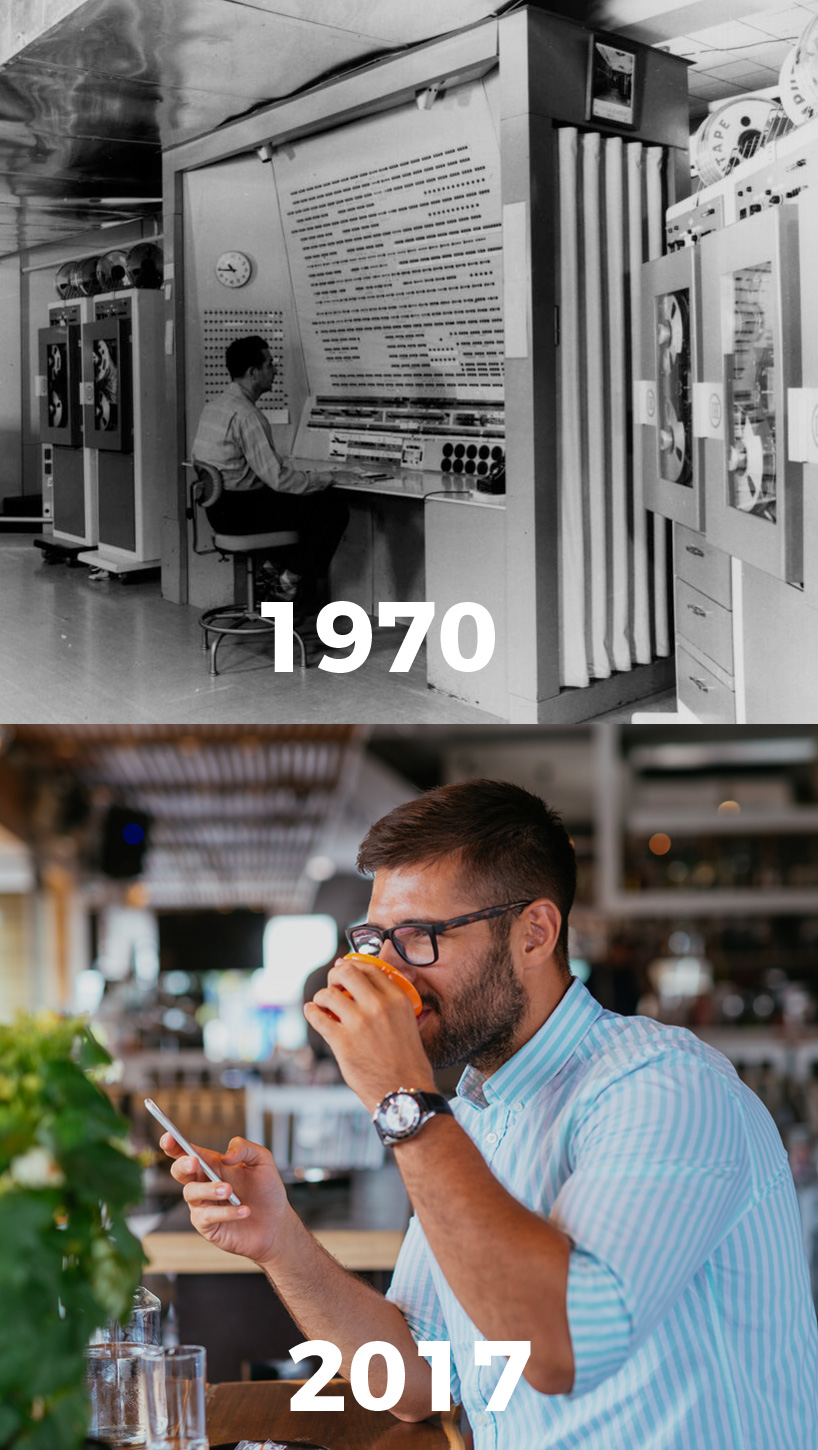 The Ultimate Learning Tool:
Let's face it, the progress of technological innovation is amazing.
The smartphone in your pocket that can instantly access the Internet anywhere is the most revolutionary learning tool that has ever been invented. You have access to a limitless abundance of information, videos, tutorials, ebooks and courses at your fingertips.
In this guide, I'm going to show you some of the best educational apps for Android that you can use to create your own Pocket University for mobile learning.
I recommend choosing at least 9 of your favorites to create a folder on your Android device dedicated to learning. Then you can set aside focused time to learn, create and explore with your smartphone.
Online Learning:
1. Coursera – The world's largest massive open online course (MOOC) platform with over 10 million students taking courses from the best professors at 140+ of the best colleges and universities in the world.
2. EdX – Take free online courses from Ivy League Universities in computer science, engineering, history, psychology, nutrition, big data, statistics and hundreds more.
3. Khan Academy – Catch up on all the stuff you missed (or forgot) from high school (and University) in subjects like biology, history, physics, mathematics, economics and computer science.
Get Organized:
Get better organized, schedule your learning sessions each week and create a structure for your self-directed learning.
1. My Study Life – Everything your paper planner is and more. The ultimate tool for creating a learning schedule and making sure you stay on top of assignments, exams, important deadlines and collaborative group work.
2. StudyBlue – Find and study online flashcards and class notes. StudyBlue is a massive crowdsourced platform for learning guides and sharing your notes.
3. GoConqr –  View, play and discover mind maps, flashcards, quizzes and notes to help you learn easier.
4. UnLockYourBrain – A micro-learning app that helps you learn languages, math and trivia.
Ebooks:
Store your ebook collection in the cloud and read them anywhere.
1. Free Books – Browse more than 50,000 free ebooks in this app export to read them in the Kindle app.
2. Speed Reader – The best speed reading app that I've found for Android. Use this app to read more efficiently on the smaller Android phone screen.
3. Overdrive – Borrow ebooks, audiobooks, and streaming video from your local library using OverDrive. They support more than 30,000 libraries worldwide.
Audiobooks:
Listen to audiobooks from your favorite authors while you're on-the-go.
1 Free Audiobooks – Browse 0ver 2,800 audiobook classics that you can download and listen to for free.
2. Audible – Amazon's audiobook subscription service for reading the latest books in audiobook format. Get a free 1-month trial, then $14.95/month.
3. LibriVox – Browse over 15,000 free audiobooks in the LibriVox catalog.
4. Blinkist – Get summaries of the best non-fiction books in bite-sized audio summaries that distill the key insights.
Podcasts:
Learn from listening to interviews and informative talks with entrepreneurs, authors and all kinds of interesting people.
1. Overcast – The best podcast player that is completely free.
2. Pocket Casts – The podcast app that I use because the UI rocks and it's jam-packed with amazing features. $3.99
3. BeyondPod Podcast Manager – Another popular choice for finding and listening to podcasts.
Note Taking: 
Collect your ideas and take notes that are stored in the cloud and accessible on every device you use.
1. Evernote – Evernote is the place to collect inspirational ideas, write meaningful words, and move your important projects forward. Hands down the most versatile note taking tool.
2. Google Keep – Keep is simply the quickest way to offload ideas, thoughts, and to-dos without losing focus.
3. Omni Notes -An open-source note taking app that is designed to be lightweight and simple.
4. Lecture Notes – An Android app for note-taking by handwriting on the screen, in particular with a stylus.
Learn To Code:
1. SoloLearn – A free app for people interested in learning the basics of software programming and coding. Start with any of 12 programming languages supported, including Python, HTML, CSS, Javascript and PHP.
2. Encode – Learn to code or make webpages with bite-sized lessons in HTML, CSS and Javascript.
3. Lightbot – A fun way to get kids programming by solving puzzles in a videogame.
Virtual Reality:
Take your experience to the next level with a virtual reality headset or an inexpensive tool like Google Cardboard.
1. Titans of Space – A short guided tour of our planets and a few stars in virtual reality.
2. Discover VR – Find exclusive clips from behind-the-scenes of your favorite shows, heart-pounding adventures and stunning celebrations of our incredible planet.
3. In Mind VR – Take a journey into a patient's brain in search of the neurons that cause mental disorder. Submerge into the microworld and experience the miracles of the human mind.
4. Mars Is A Real Place – A musical slideshow of over 50 stereoscopic 3D photos of the surface of Mars.
5. Sites In 3D – Take virtual tour experiences of famous landmarks on every continent.
6. Egyptian Mysteries – Solve the mysteries of Ancient Egypt in this virtual reality investigation game.
7. Google Expeditions – An world expeditions app that takes on immersive, virtual reality learning journeys.
Augmented Reality:
Learning experiences designed with augmented reality are soon going to be available everywhere.
1. Layar – Overlay digital content onto the real world with Layar. This augmented reality app has a lot of promise.
2. Google Goggles – Instantly search objects in your environment to learn more about them.
3. Elements 4D –  Part educational story, part game. A new, fun way to experience augmented reality and learn about real-life chemistry.
4. Augment – A window into future possibilities for augmented reality.  Allows you to visualize your 3D models in augmented reality, integrated in real time in their actual size and environment.
The News:
The best Android apps to get your daily scoop on what's happening in the world.
1. Flipboard – Find interactive content from the web's best sources and curate your own digital magazine of the websites, articles, videos and photos that inspire you.
2. News360 – A personalized news reader. It tailors a unique news feed and uncovers quality content from around the web.
3. Feedly – Subscribe to your favorite blogs and read them offline in this RSS feed reader.
4. Pocket – Quickly save, discover, and recommend the best, most interesting stories on the Web.
5. Relay For Reddit – The best Android app for reading Reddit, the frontpage of the Internet.
Language Learning:
There are few better ways to exercise your memory recall than by learning a new language.
1. Duolingo – Duolingo is my favorite tool for language learning. They make the process fun and engaging using learning gamification. They currently support English, Spanish, French, German, Italian and Portuguese.
2. Memrise – Use "mems", which are fun and imaginative ways to remember a word or phrase to learn whatever your heart desires and make it stick in your memory banks.
3. Learn Chinese (Mandarin) – Want a real challenge? Try learning Mandarin. A billion people can't be wrong!
4. Learn English, Speak English – One of the better Android apps for learning English.
Astronomy:
Increase the awe and wonder in your life by getting away from the city lights and exploring the stars in their full sparkling glory.
1. Star Walk – A star and constellation guide has never been more beautiful and easy to use. Just hold it to the sky to automatically find stars, constellations, planets, satellites and more. $2.99
2. Google SkyMap – Use SkyMap to identify stars, constellations, satellites, and more.
3. NASA App – Few things stimulate our sense of wonder and awe more than the studying our cosmos. The NASA app has over 11,700 incredible images of outer space and 9,200 videos from NASA's exploration missions.
4. Exoplanets – Exoplanets are planets orbiting stars beyond our own Solar System. Explore what we know about these mysterious planets and whether they may have life like on Earth.
5. ISS onLive – Watch realtime video of earth from International Space Station.
6. Hubble Space Center – Browse through the Hubble photo gallery, read latest Hubble news, learn some interesting facts about Hubble Space Telescope.
7. Heavens Above – Provides you with precise location predictions for the ISS, visible satellites, Iridium flares and radio satellites.
Science:
1. Complete Biology – An advanced biology app that covers 35 important topics with tutorials, formula, possible exam questions, biology practical and a useful dictionary.
2. Chemistry Lab – A fun game where you learn about organic chemistry as you play your way through actual reactions.
3. Pocket Physics – Covers most of the physical formulas you will need to learn with great descriptions and images.
4. Science Journal – Use the sensors in your phone or connect to external sensors to conduct experiments on the world around you.
5. Sea Hero Quest –  An epic culmination of science and gameplay that will change the way dementia research is done forever.
Math:
1. Math Tricks – This genius app is designed to help you learn interesting mathematical tricks to speed up your mental calculating skills.
2. Math Workout – Do their 7-day challenge, which uses an advanced training heuristics algorithm to train your brain through solving math problems.
3. Math Duel – A two player math game that test the speed of math processing skills.
4. Pocket Mathematics – Covers most mathematical formulas you will need to know with good descriptions and images.
5. Mathway – This handy app will solve problems for you in basic math, algebra, trigonometry, calculus, statistics and finite.
6. Photomath – Simply point your camera toward a math problem and Photomath will magically show you the result with a detailed step-by-step solution.
7. Brilliant – Brilliant helps you understand concepts through examples and problems contributed by a community of mathematicians, scientists, and engineers.
Explore The World:
Learn more about geography and the world's different countries, ecosystems and animals.
1. Google Earth – Fly around the planet with a swipe of your finger with Google Earth.
2. Verne: The Himalayas – Explore Google Maps' beautiful 3D imagery of the
Himalayas alongside a 500-foot Yeti named Verne.
3. World Citizen – A quiz game that will help you learn countries, capitals and flags of the world
4. World Factbook – And Android mobile version of the popular CIA World Factbook. Browse an extensive database of maps and information on the world's 250 countries and territories.
5. WWF Together – An award-winning interactive experience that brings you closer to the stories of elephants, whales, rhinos and other fascinating species.
6. BioInteractive EarthViewer – A time machine for exploring Earth's deep history. Based on the latest scientific research, it lets you scroll through the last 4.5 billion years with your fingertips.
Music:
Learning to play a musical instrument like a guitar is one of the best ways to improve your sense of learning mastery.
1. Gibson Lean & Master Guitar – A fully interactive guitar app featuring a standard and traditional chromatic tuner, metronome, chord chart and plenty of guitar lessons
2. Learn Guitar Chords – Learn to play the important chords on your electric or acoustic guitar.
3. Yousician – A fun way to learn, play and master the Piano, Guitar, Bass or Ukulele.
Edutainment:
Watch inspiring talks, find educational documentaries and test your knowledge in an interactive trivia game.
1. TED Talks – The annual conference that brings leading academics, business leaders and innovators together under the banner of "Idea Worth Spreading".
2. QuizUp – The biggest trivia game in the world. Over 700 topics to choose from. Play against friends or complete strangers in real-time.
3. VLC Media Player – Watch any video file format on your Android device.
4. 3D Brain – Visually explore each brain region and it's functions and what happens when it's injured or affected by mental illness.
5. YouTube – You can waste a lot of time on YouTube but you can also learn a lot of useful things too.
6. Chess – Play chess with more than 10 million people around the world.
7. Sudoku – Solve Sudoku challenges on your Android at 4 difficulty levels.
Solve Puzzles:
Increase your brain's gray matter and exercise your pattern recognition skills by solving complex puzzles.
1. Elevate – A personalized brain training app designed to improve focus, speaking skills, processing speed, and more.
2. Peak – Improve your cognitive skills and build healthy training habits with fun but challenging games, goals and mental workouts.
3. NeuroNation – Another excellent brain training system that is exclusively on Android.
4. Monument Valley – A surreal exploration through fantastical architecture and impossible geometry. $3.99
5. The Room Two – An award-winning puzzle game where you follow a cryptical trail of mystery and exploration inside a beautifully tactile 3D world. $2.99
6. 80 Days – Choose your own route around a 3D globe, traveling by airship, submarine, mechanical camel, steam-train and more, racing other players and a clock that never stops. $4.99
7. Aptitude & Logical Reasoning – Helps in improving problem-solving skills by focusing on logical reasoning questions.
8. Dreii – A puzzling game about skill, logic and friendship. It subtly connects players in real-time across the world, to help one another in a battle against gravity.
Quick Reference:
Access all the reference information you need at your fingertips using these essential reference apps for Android.
1. Wolfram Alpha – A computational search engine. Wolfram Alpha's excellent app gives you access to the world's facts and data and calculates answers across a wide range of topics. $2.99
2. Dictionary.com – The best English dictionary and thesaurus with over 2,000,000 definitions, synonyms and antonyms. Most content works with offline access and there are great features like audio pronunciations, example sentences, word origin and history.
3. RealCalc – The best scientific calculator app hands down. $9.99
4. Wikipedia – Explore Wikipedia's massive human-powered encyclopedia on your Android.
5. InstaGrok – An educational search engine that lets you research any topic with an interactive concept map, which you can customize and share.
Adventure Learning:
Play more outside and bring your Android with you to use its augmented reality, GPS, optical image recognition capabilities.
1. Geocaching – Go on treasure hunts with your friends. You'll be amazed that there are geocaching hidden everywhere around you.
2. iNaturalist – Learn about the plants, trees and fungi in your local ecosystem and all over the world.
3. AllTrails – Discover the best local hiking and biking trails near your community.
4. PlantNet – Identify plant species using your Android camera and this app's visual recognition software.
These educational apps should help you turn your Android device into the ultimate mobile learning tool.
If you have any personal favorites, share them with everyone in the comments.