It's never been easier for businesses, artists, and personalities to build authentic relationships with their fans and customers. An online community is a great way to develop a glowing reputation and grow your audience.
In this hyper-connected world, there's no shortage of online community platforms to help you create and manage memberships and relationships, and everyone from big brands to solo creators are taking notice.
If you have a brand, product, service, or idea, it's well worth considering whether providing a place for people to interact, network, and engage with each other will expand your influence and foster a sense of belonging among the members.
Of course, the platform for you will depend on why you want to build a community and what your goals are—do you want to sell a product? Monetize access? Encourage discussions? Host events? Coach people? Only you know the answers to those questions.
An Online Community Building Overview:
The platforms all range from simple to complex, free to pricey, with many unique features, advantages, and drawbacks. Beyond what the purpose of your online community will be, here are 3 important features that you'll want to consider:
1. User Experience For The Community
Some platforms are more intuitive, easier to pick up and start using without too much effort. Others have a steeper learning curve, meaning you'll have to invest time figuring out what everything does and how to do the things you want.
While it's often the case that the platforms with more features will be the ones that require more learning time, that's not always true. Some designs are better than others, and some rather feature-rich platforms are still simple to use.
While you might be willing to invest the time, the designs will also—and more importantly—influence the community. A muddled and confusing interface will cost you members.
It's for this reason you'll find most of the community management platforms mimic social media sites. Most people are already very familiar with them, so there's little trouble making sense of new additions.
Consider what you want people to see and do within your community. Most platforms will offer news feeds; the ability to create posts with text, video, sound or other files; to create private or public groups; and allow members to message each other.
Less common, some platforms allow you to create subgroups or secret groups within your main community, add your own branding, build an app, or to give live streams or organise events, among other things.
2. Analytics For Tracking Key Metrics
Data and insights about your community will help you ensure that people are engaged, or figure out why they're not. It'll also help you discover ways to attract new members.
Different platforms take analytics to different levels, and just as in the user experience section above, some will be easier to make sense of than others.
But at a very minimum, you'll want to know how many members you have and how often they're signing up. It'll also help to know when they're most active, what the top posts are or where the most engaging discussions are happening, and who the most active members are.
There's plenty more to be found, and the specific features of the platform will allow for different categories of analysis.
Some platforms offer analytics within the app or program, others require a plugin or integration with another analytics app. The latter option can add difficulties or at least effort, but sometimes a plugin or integration with that purpose exceeds what the community app could do itself—and it's still better than no options at all.
3. Monetization With Membership Subscriptions
If you just want a place for people to engage in interesting conversations around your brand, then you don't need to worry about what monetization options the platforms have—and there are good options that have no monetization features.
However, if this is something you hope to earn from, then you'll want to find a platform that supports the business model you're after.
Probably the most common for the community platforms is a subscription to access the member area. Generally a recurring fee—though one-off payments also exist—this option suggests the information being shared and the discussions around it are valuable.
It's common for communities to form around a course that you might offer. So people pay for the content of the course as well as being able to talk to you, other students, and people you assign as other admin. Some platforms give you the tools to build a course as well as manage the community.
Another monetization option is to sell digital products, whether that's ebooks or audio or video files. You can also offer your time through live events or tutoring sessions.
Similar to analytics, platforms will offer some services themselves, or they may link up with other plugins and integrations to achieve monetization goals. Others just might not have what you want.
Build Your Group Coaching Membership Community
Because of the large variety of features and pricing models across the community management apps, you'll want to make sure you know what your goals and requirements are beforehand.
While you don't want to pay for features you don't end up using, you also don't want to find yourself desiring a feature you didn't want at first, and that the platform you chose cannot provide.
While moving your community to a different platform isn't impossible, it can prove difficult, more so depending on what platforms are involved, and can end up alienating or frustrating some members.
Spend the time to properly consider what you want, what your members will likely want, and which platforms satisfy those requirements.
If you think that you might need some features down the line, but not right now, look for a platform that has different plans, you might be able to upgrade later, which will be a much easier process than moving.
Now that we have that out of the way, let's start looking at the community management platforms leading the charge. Here are the platforms we'll explore:
Mighty Networks
Circle
Kajabi
Thinkific
Facebook Groups
Tribe
Discord
Overview
Mighty Networks is an all-in-one service for those who want to build a website, create a course, offer a mobile app, live streams for group coaching, and manage a community with different membership options.
Key Features
With Mighty Networks Community Plan you get the tools to build a website and manage a community, while upgrading to the Business Plan includes course creation and analytics.
There's a lot to like about their management features. They provide several ways to filter and organise members—you can create public, private, or secret groups, and sort them by unique categories and locations.
Within groups you can create community polls and questions, live stream a video, or organise virtual or local events.
Members can build profiles and get a personal feed, they can send private messages to other members, and you can designate some members as moderators and admins, granting certain privileges.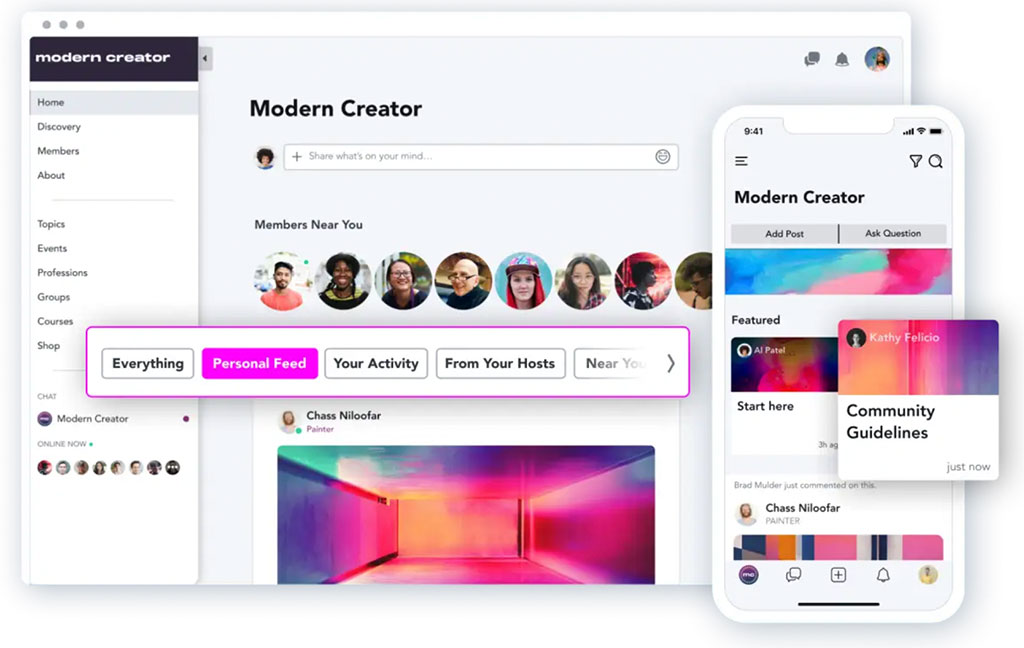 When it comes to monetizing, you have plenty of choices: you can charge one-time payments or recurring subscriptions in most currencies, and you can charge simply for membership to certain groups or for access to a course. You can also offer free trials. But be aware that they charge a small fee on all transactions, no matter which plan you're on.
You can also use their Ambassador program to offer incentives for other members to recruit new members, making your life a little easier.
Mighty Networks also provide a quality analytics dashboard if you upgrade to the Business Plan, with information about members, posts, and activities across both desktop and mobile. You can see metrics for your member retention rate, and how activity is spread across different post types and impressions.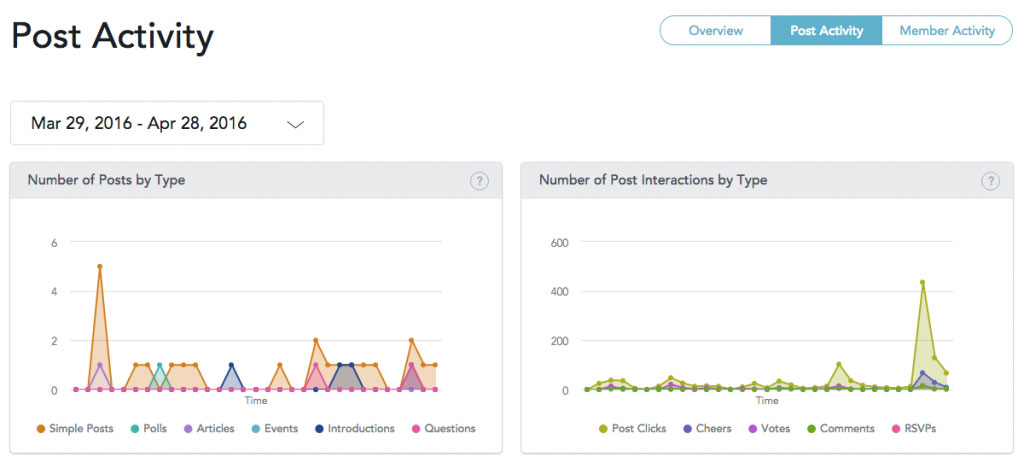 Overall this is a comprehensive option, and if you plan on offering courses it's one of the best—although that requires the Business Plan which doesn't come cheap. If you're looking only for a community management option, the Community Plan is a good option and reasonably priced relative to other platforms.
Pros
All-in-one: web design, course creation, memberships, and community management
Unlimited number of members
Unlimited storage for videos, photos, and files
iOS and mobile apps
Host live events
Cons
Charges transaction fees on all tiers
Limited gamification tools
Can be overwhelming at first
Doesn't offer certificates
Pricing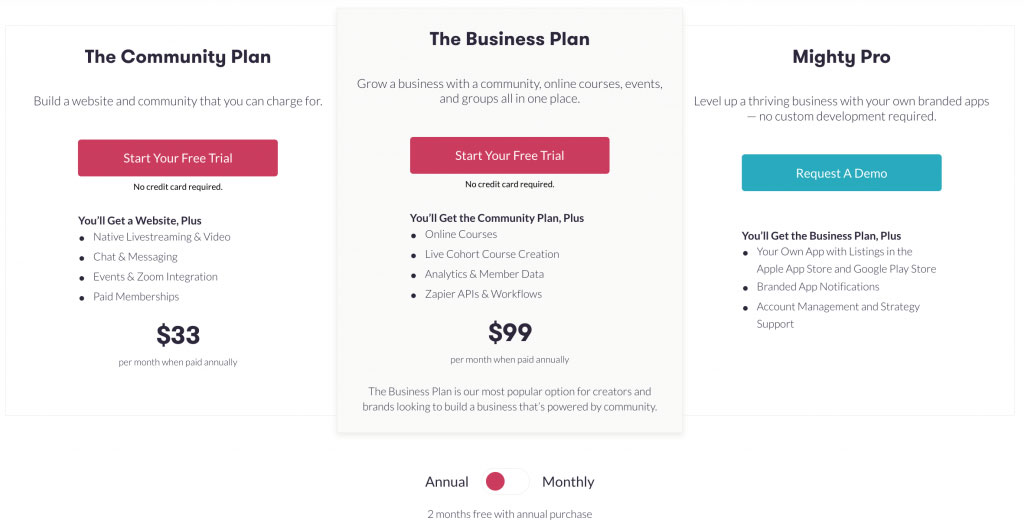 You can try out Mighty Networks with a 14-day free trial.
Overview
Circle focuses on community management and makes it easy to interact and engage with members in a variety of ways.
Circle recently took a step forward with the announcement in September 2022 that they are adding an online courses builder, which along with their live streaming video feature makes it ideal for group coaching programs.
Key Features
Many of the usual features of community management will be found with Circle:
Members can create unique profiles, engage in group or private discussions, take part in online events and share most types of content and media. If you upgrade to the Professional Plan you can host interactive live streams and invite other members to be your co-hosts.
You can create different groups, private and secret spaces, and designate other members as admins or moderators. By using something called Single Sign On (SSO), it's a lot easier for members to log in with credentials from an external system rather than setting up a new account with Circle.
Circle also offer flexible payment schemes from one-time payments to subscriptions of varying lengths, free trials, and you can give out coupons.
Where Circle shines is in its user interface. Everything is clean, clear and intuitive. It's easy to use for both you and your community: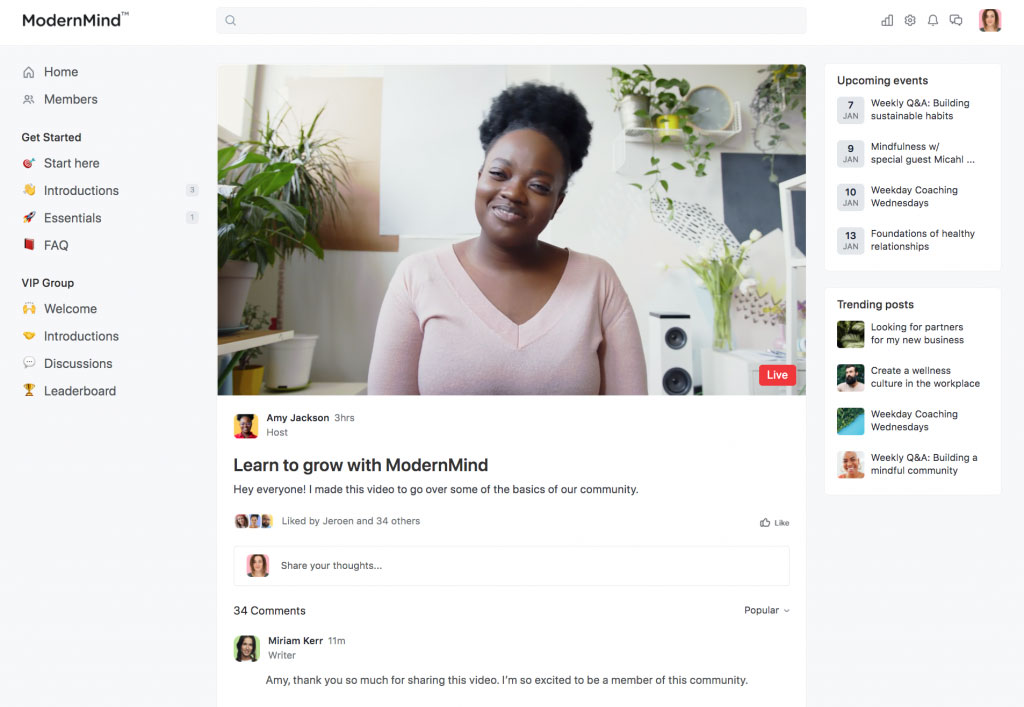 Like Mighty Networks, Circle charge transaction fees. There are also limits on the number of members, admins, and moderators your community can support, with the Basic plan limited to 1,000 members, 1 admin, and 1 moderator.
You'll need to upgrade to the Professional Plan if you want advanced analytics, live streams, and to remove Circle's branding. That will also grant you a max of 10,000 members, 3 admins and 10 moderators.
Circle provides all you need to manage and engage your community, and it does so with style. If you expect your community to be somewhat smaller and exclusive, this is a great option.
Pros
Clean and intuitive user interface
Single sign on (SSO) integration
Embed community widgets on third-party sites
Online courses and live streaming like Zoom
Cons
A limited number of members, admins and moderators
No Android app yet
Transaction fees
Pricing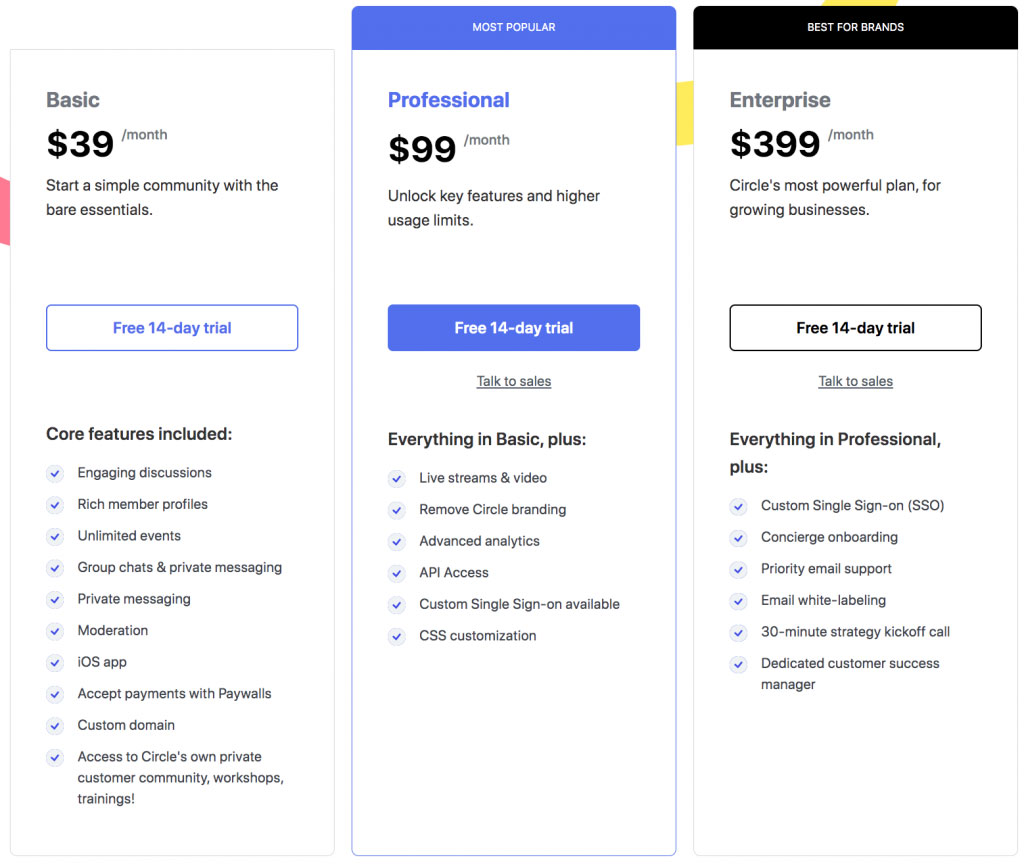 You can try Circle Communities with a 14-day free trial.
Overview
An all-in-one platform for building a website and offering digital products, including courses, membership services, live coaching and more.
Key Features
Kajabi wants to be your online store, handling all of your business needs, from the design of a website, creation of digital products, to marketing your products and managing your community.
The website creation process is easy, with a simple drag-and-drop editor and custom themes, you can make and brand it how you want. They also support your marketing efforts through sales funnels and an email marketing feature.
It's also easy to create an online course, sell digital and physical products, offer a coaching service, or build a community.
Communities in Kajabi are a lot like Facebook groups (more on them below). You can organise members around different topics. Share text posts, images, videos or links to other content, and notify members of the posts.
It's not quite as rich with community features as other platforms, however, and the interface looks rather bland in comparison to Circle.
There are different pricing options, from free to one-time payments to recurring subscriptions. They don't offer native payment options but rely on Stripe or Paypal—and Unlike Circle and Mighty Networks, Kajabi doesn't charge transactions fees (beyond what Stripe and Paypal take).
You'll also find an in-depth analytics dashboard, with a breakdown of how often and where your money is coming from, how people are progressing in your products, subscription metrics and page views: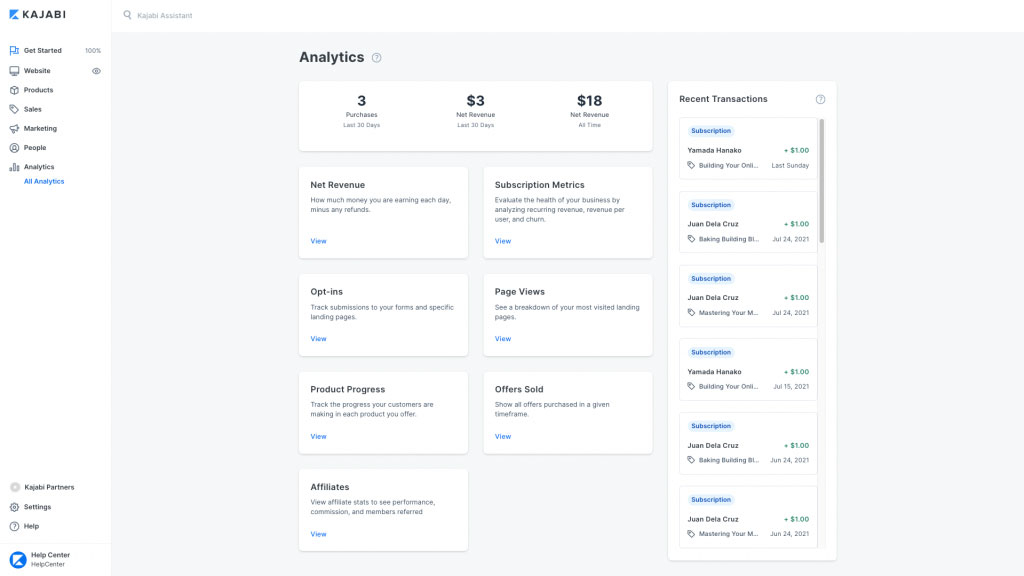 Kajabi is on the expensive side compared to other options. For the Basic plan, you're looking at $119 per month if you pay annually. That gives you one website with 3 products (the community is one), and up to 1,000 Active members.
Kajabi is great for people who offer digital products, particularly courses and coaching services, and want to build a community around that. The community option itself, however, isn't as full-featured as other services, and given the price Kajabi only really makes sense if you want to go beyond the community and include the other features.
Pros
Simple drag-and-drop editor
Great selection of customizable themes
Hero program rewards you for reaching milestones
Access to Kajabi University resources
0% transaction fees (except what Stripe or Paypal charge)
Cons
More expensive than other options
No certificates, need a third-party solution
To edit HTML/CSS you need to pay an extra $99 per month for Kajabi Access
A limited number of products and members
Pricing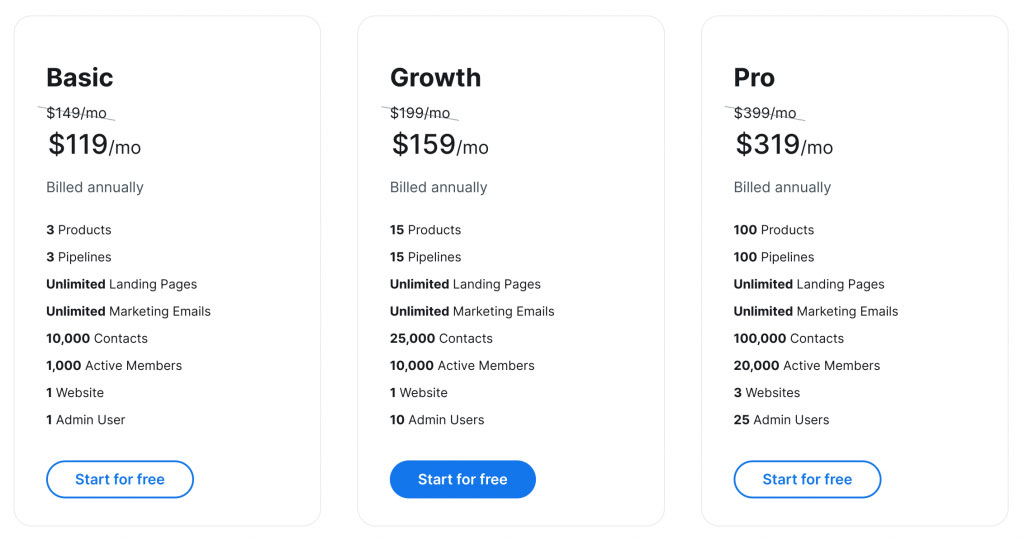 You can try out Kajabi Membership Sites with a 14-day free trial.
Overview
Another platform geared towards online courses, Thinkific stands out for having a quality free version that supports unlimited members—but you'll need to upgrade for a community.
Key Features
Like Kajabi and Mighty Networks, Thinkific features a website builder, a course creator, and a membership manager.
Unlike Kajabi and Mighty Networks—and many other platforms—Thinkific offers a free version, and it's actually rather good:
You can set up a website with a drag-and-drop editor with your own custom branding; create a course with almost any content type, including quizzes and surveys; offer your course across all devices; and invite an unlimited number of students.
However, only once you upgrade to the Pro plan for $79 per month will you get a communities feature. This is a separate entity to your course, a place on your site where students and instructors can interact.
You'll get to say who gets access to the community—it doesn't have to be everyone who has access to the course.
Those with access can create and share posts with text, video, or linked files. They can add comments, and follow the conversations that interest them. You'll also be able to organise members around spaces, where different topics can be discussed.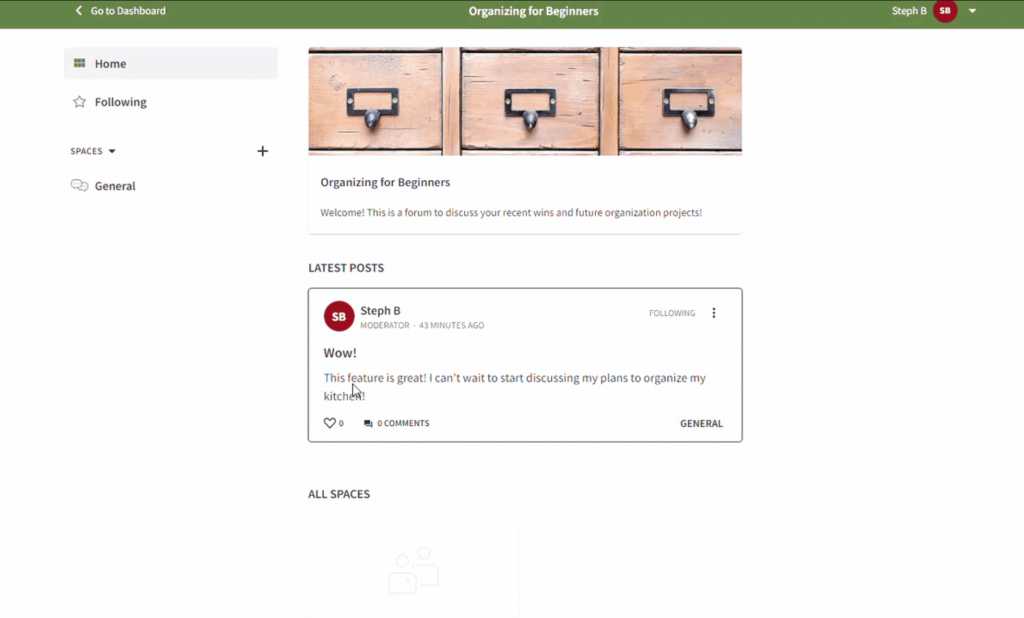 Overall it functions much like Facebook or Kajabi's community pages. It's keeping things simple and to the point, but it lacks the nice design or features of the more community-oriented Circle.
Pros
One of the few platforms to offer a free plan rather than a trial period
Offer certificates and quizzes
Unlimited courses and students
Offer affiliate commissions to students
0% transaction fees (Except what Stripe and Paypal take)
Cons
Communities feature requires upgrading to the Pro plan
Can't add code snippets to the website
No live chat support, only email
Pricing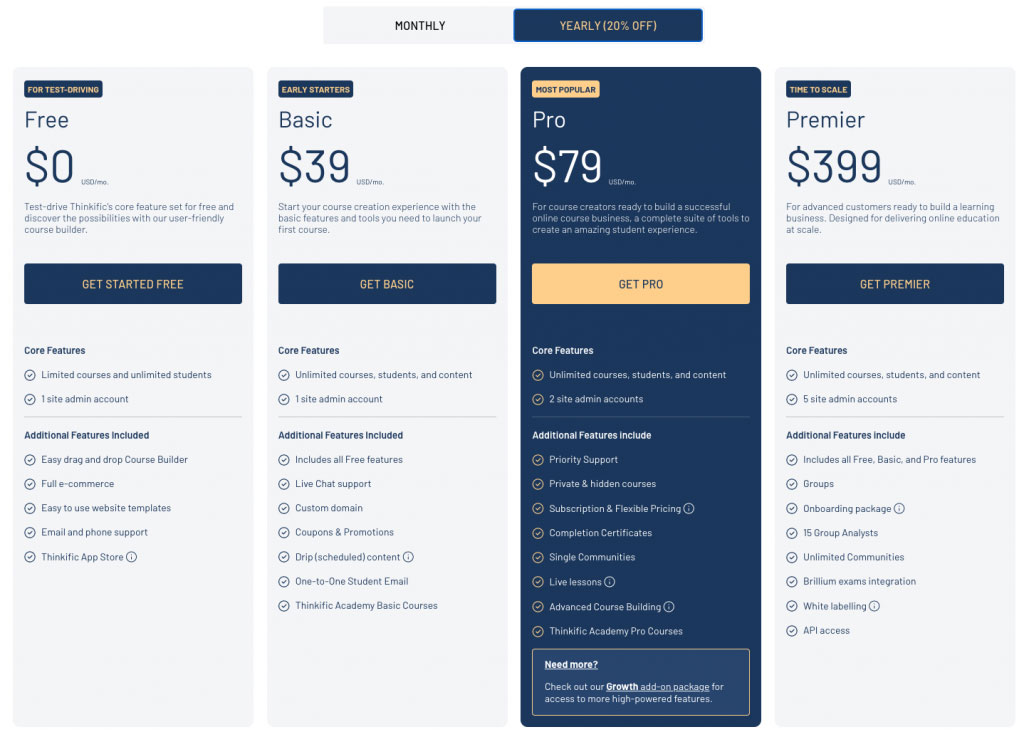 You can try out Thinkific with a 30-day free trial.
Overview
As an incredibly popular social network, Facebook groups are easy to set up and take advantage of an already large user base. But it's not for those who want more control over the design, to create and offer courses, charge for access, or that value privacy.
Key Features
Facebook is already an incredibly popular platform, with almost 3 billion users. Tapping into this, Facebook makes it easy to set up a group and simple for people to join.
Because people often log in daily for checking in on their friends and family, they're an easy click away from your group, and will see posts and notifications in their regular feed.
The group you create will act as another news feed people can access, where they can share and comment as they would the regular feed. Posts can be text, video, images, polls, likes to files, or live streams.
You can set groups as open to anyone, private, or secret (that they don't show up in search results). You can invite members to be Group Experts, people who are given a badge to highlight that they're knowledgeable in a particular domain and can help and share quality info.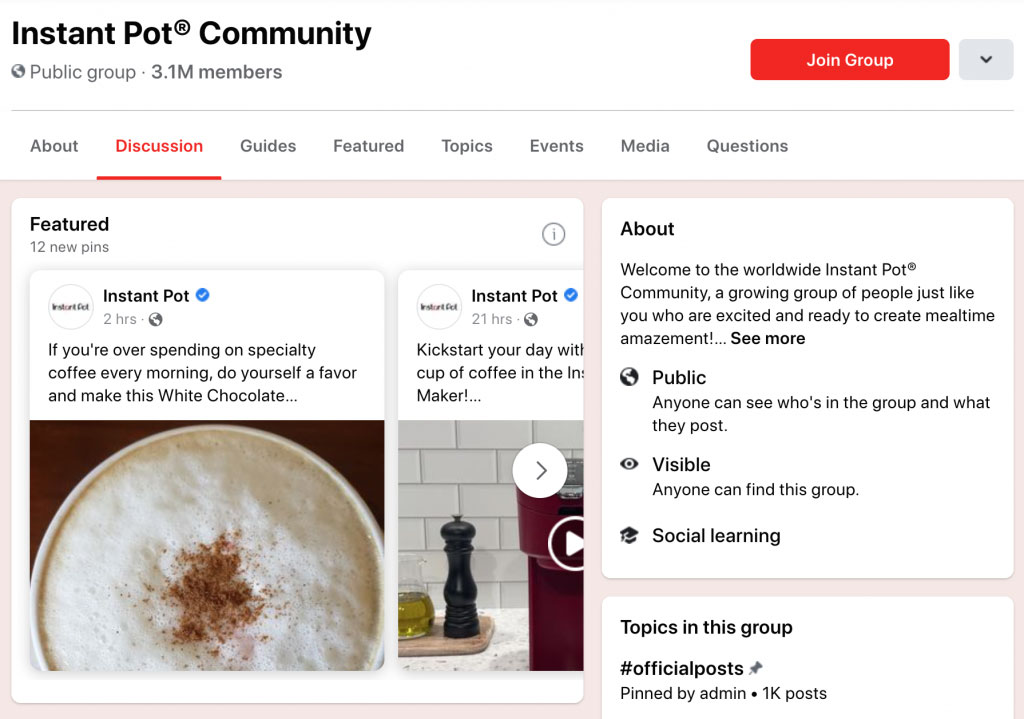 What it lacks is an ability to charge for access, and as a social network there are distraction concerns and well as more worrying privacy issues. You're also at the mercy of Facebook's design tweaks and experiments.
If you want to create a group to share and engage with others, and aren't looking to pay or charge for access, Facebook's massive user base and familiar feed should help you populate your community with active members.
Pros
Free
Nearly 3 billion people already use Facebook
Native Facebook app
Create open, private, or secret groups
Cons
Lack of ownership
Privacy concerns
No way to charge
People are easily distracted
Pricing
You can create a Facebook Group for free with your Facebook Account.
Overview
Good if all you're looking for is community management, with a decent free account with engagement and gamification tools. Not for those looking to sell courses or monetise their community.
Key Features
Similar to Circle, Tribe is only for building and managing communities—you can't create or sell courses with it. And unfortunately, there doesn't seem to be any way to charge for memberships either, so this is much more an engagement platform than an income opportunity.
But it does community engagement very well.
It has a sleek interface and won't be any trouble for you or your members to work your way around. With sections and channels on the left, a news feed in the middle, and tags and guidelines on the right: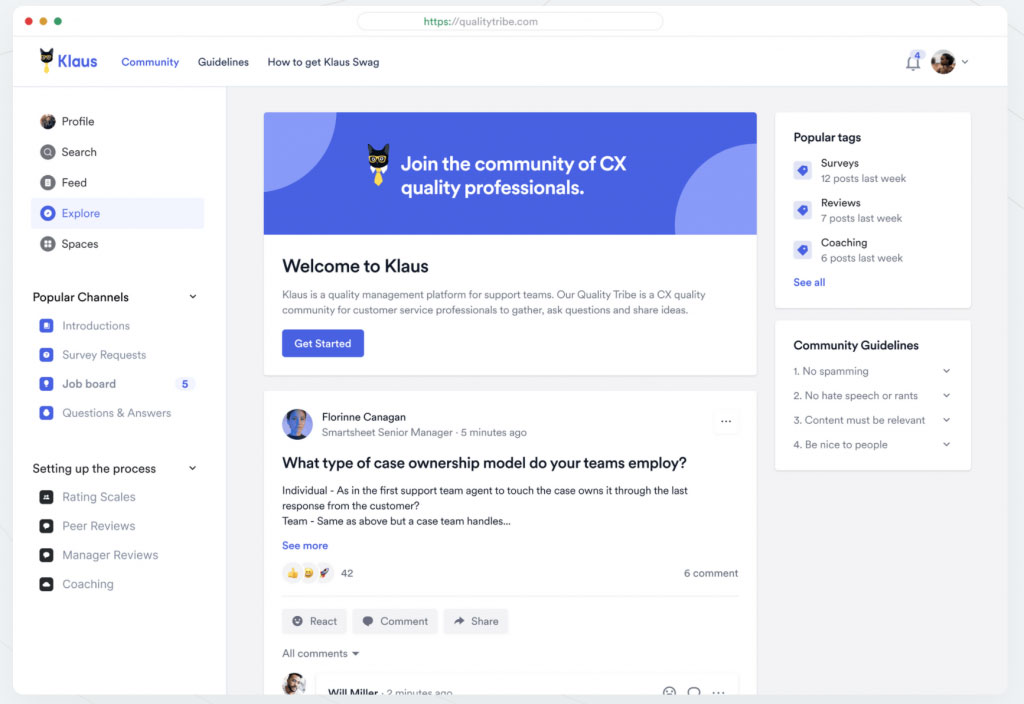 You can create public or private communities, and select a few members for admin seats so they can help moderate content.
Members will get their own profiles, a news feed with posts and updates they can comment on and engage with, and they can share most types of content—though live streaming is missing.
There's also a great selection of gamification options to keep members active and motivated, such as badges, points, virtual currencies and a leaderboard system.
Each plan also offers a custom domain name, and from the Premium account Tribe also offers white labelling—meaning you can remove Tribe's branding and use all your own colours and logos to custom design your communities.
You can integrate the platform with Zapier to take advantage of all the automations they provide. And there's an Analytics dashboard with most of what you could ask for: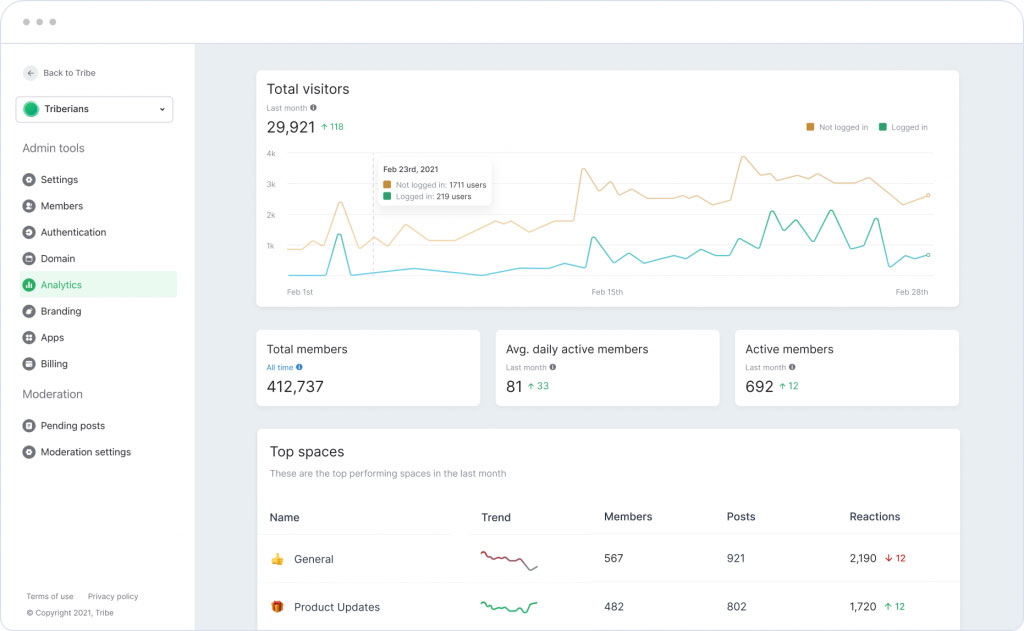 You can use the Tribe Plus plan for free while your community is 100 members or less, which includes 3 admin seats, a custom domain, analytics and Zapier integrations. Once you exceed 100 members it's $59 per month and you're membership limit increases to 2,500—If you exceed that, the Premium Plan will set you back $299 per month.
Like Facebook, Tribe is purely a community management platform, not a way to charge people for exclusive memberships, but it sports a clean interface with great gamification features, offering a great experience that will keep members active and engaged.
Pros
Gamification tools
A free plan for up to 100 members
Clean and easy-to-use interface
Add custom tags and scripts
Cons
Doesn't offer courses
A limited number of members
No mobile app
No built-in monetisation options
No live streaming options
Pricing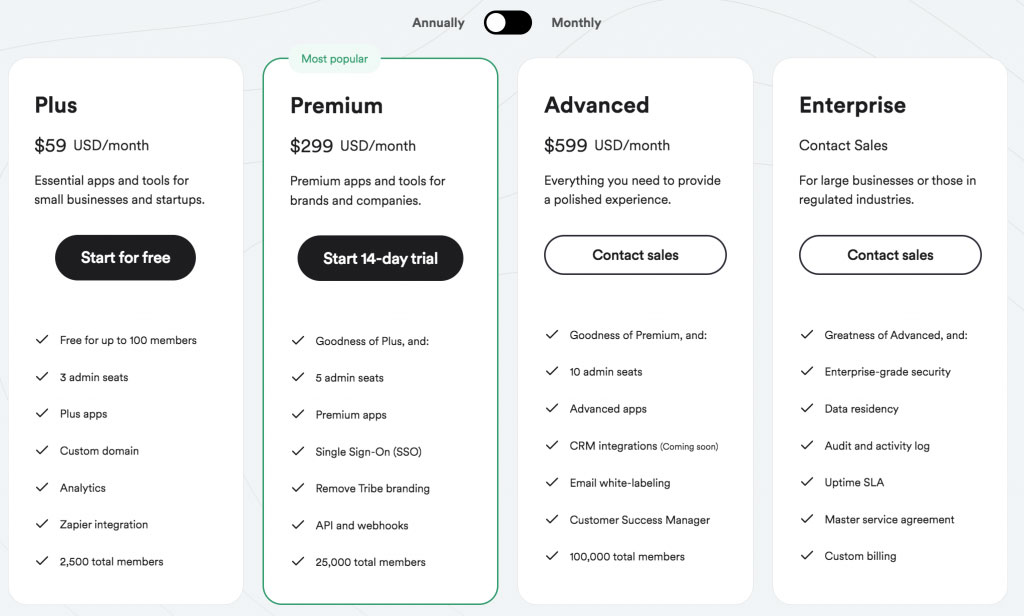 You can try out Tribe's Community Platform with a 7-day free trial.
Overview
Great for fostering conversations across different topics and domains, and shines with its live voice calls. It's mostly free to use and not too difficult to figure out, but lacks options for monetising and limited branding options.
Key Features
Historically an app for the gaming community, Discord is now somewhat similar to Slack and other team communication apps. And don't worry about the name—it's not as chaotic as it sounds.
Your community (called a server) can be open to everyone or invite-only. You can divide it into different channels for everyone to share and discuss relevant ideas, which is an advantage over Facebook Groups. You'll also have moderation tools and can give members unique roles, and grant them access to new channels.
You can integrate with Zapier, which will let you link your server to Google Analytics and take advantage of their insights.
The interface might feel cluttered at first, but shouldn't take too long to figure out. You have different servers (circular icons) and channels (#'s) on the left side. The messages for whatever channel you're in take up most of the space in the middle, and you can see other members on the right.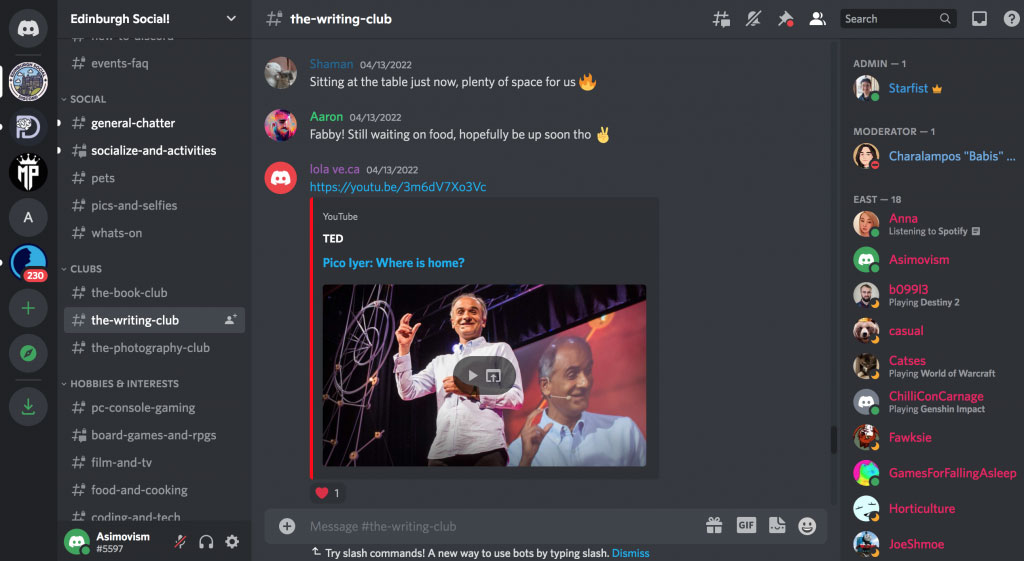 There are options for text posts, but also video and audio conversations. One of the highlights of Discord is creating a low-latency audio channel where members can talk as you would on the phone, but as a group—great for co-working when in remote locations, and of course gaming.
It's basically free—you can upgrade for as little as $10 per month for different emojis and larger upload file sizes. You can upload files up to a size of 8MB on the free plan, which isn't much if uploading files is something you need, the paid plan increases that to 100MB.
There's not really any way to monetize your community—although Discord is currently testing premium memberships, so this could change in the future. It's an advanced chatting and messaging app, but it's good at what it does and feels like a cooler version of Facebook Groups.
Pros
Free
Multiple channels for each topic
Voice channels for audio conversations
Native Discord app
Cons
Limited custom branding
No monetisation options
Pricing
Free, you can upgrade to Nitro for custom emojis and larger upload file sizes for $10 per month or $100 per year.
You can create a Discord Community by downloading their app.
Is Community Management For You?
Building an online community or a membership site will bring together people from anywhere in the world, under the umbrella of your brand, product, or idea. Giving members a place to engage around something they're interested in will strengthen your network and help cultivate trust and engagement.
It can turn customers into fans, make support easier, build trust and commitment, and provide valuable feedback and ideas for improving whatever product you offer.
And now there's no real obstacle to starting an online community, as the platforms available scale widely across price and features.
But they do require effort and engagement on your part. It's not something to start up and then ignore, you have to stay active and encourage communication with others.
For starters, building it will take time—you'll want to add your own branding and personality, and in some cases record or develop the product the community will hover around. You will likely need to moderate some content or enforce certain rules of engagement (beware the trolls), respond to complaints, share new content and have conversations with others.
For this reason, you'll need to consider if you have the time and energy to devote to maintaining it. It isn't always easy, but if you do go for it and invest what is required, your network will thank you—whether that's by paying for your product or with a simple message of gratitude within your new community.