Are you thinking of getting into the digital education industry? Here's a crash course on how to start making digital training programs that you can sell using a knowledge commerce platform that integrates your website, email, marketing funnels, and content delivery.
It's one of the fastest-growing industries in the world but to succeed in this fast-moving industry you've got to be really passionate about what you teach and embrace the challenge of a steep learning curve.
The size of the global digital education and online learning market is massive. In 2015, it was a $165 billion dollar industry, which is projected to grow at over 5% yearly to a market size of $240 billion by 2023, according to research from Global Market Insights.
The future of education means disruption to the rote learning model of traditional Universities beyond academic disciplines and scientific research. To get the skills for the digital economy, people are turning to creative professionals and successful entrepreneurs who are successful in the market economy.
As a result, there is a lot of opportunities in digital education as a new generation of innovative teachers steps up to solve problems and better meet student's needs through experiential learning programs, online coaching accountability programs and group flow experiences like retreats.
Thinking Differently About Online Training:
If you want to build "rocket" and do something that make a big impact with your teachings, my recommendation is if you want to create an online course, don't do it.
Instead, you should relentlessly focus on online coaching, creating accountability systems and experiential learning design to create a framework and testable experimental process to get your students the results you promise them in your marketing and sales.
The world doesn't need another boring and poorly designed online course that barely anyone completes because the reality is even if your first course doesn't suck, online learning takes a lot of focus and discipline that most people don't have.
What people really need and are willing to pay a premium for is the personal support given by teachers, mentors, and coaches that keeps them on track and makes them accountable to their goals.
So, that being said, you're going to have to host your online videos, process the transactions and build your group coaching programs and membership sites somewhere.
So, to understand your different options for doing this I'm going to discuss the best platforms to create and sell your online courses based upon my experience teaching online for the last 7 years.
So, if you're ready to start making online courses, personalized coaching programs and group accountability masterminds then let's get started:
1. Kajabi: A Knowledge Commerce and Marketing Automation Platform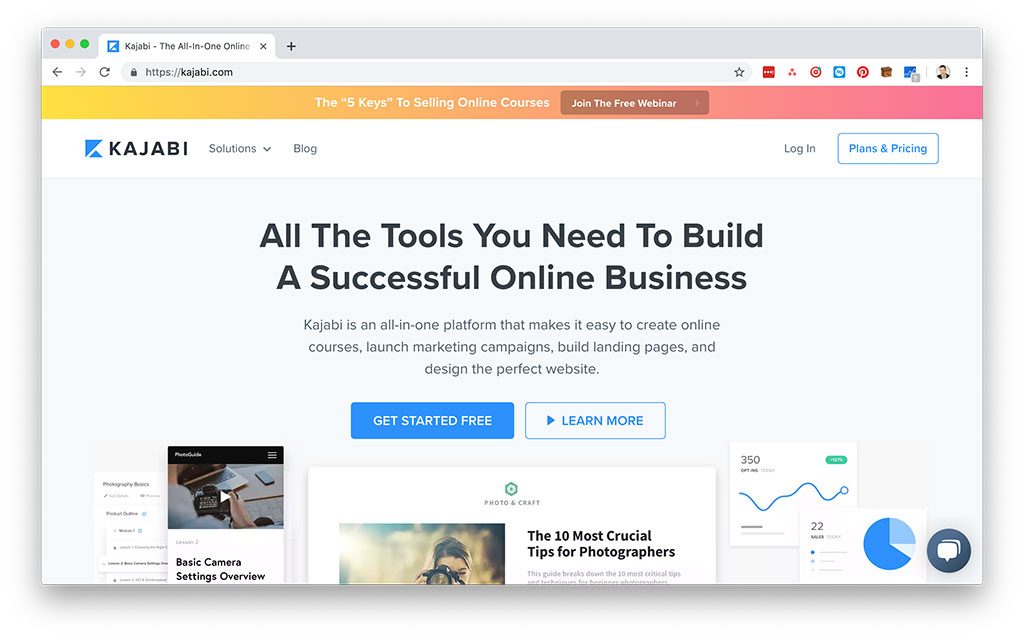 I'm a little biased on this one because Kajabi is the platform that I've been using for the last 3 years.
Previously, I have used Thinkific, Udemy and Teachable (each of which I will cover later in the guide) but what made me move over to Kajabi was their advanced marketing automation features, which are really important for growing and scaling your business without losing your mind!
Kajabi has literally saved me hundreds of hours of time by integrating my landing pages, email lists, automation sequences, user tagging, web analytics, user assessments, and marketing funnels into a single all-in-one marketing automation system.
What makes Kajabi different is they are run by highly skilled marketers and I think they are solving the #1 problem in the online course industry, which is the marketing and selling of the courses (it's easy to make an online course, much harder to sell and scale it).
The drawback to Kajabi is its more expensive than the other online course platform options. Also, to properly harness the power of Kajabi you are going to need to understand digital marketing strategy and advanced tactics and spend some time studying their marketing automation system.
If you're thinking of online teaching and group coaching as a full-time business then I'd recommend investing in Kajabi because the single most important part of making money from your online courses is being able to track and optimize the effectiveness of your marketing and sales funnels.
Pricing:
Starts at $149/month ($119 if you pay yearly) for the Basic plan which is more than enough for anyone getting started with online teaching and group coaching systems.
You test Kajabi out and learn about the online course creation platform's advanced marketing automation capabilities in their 28-Day Online Course Creation Challenge.
Pros:
The best designed online course platform.
A full suite of marketing automation tools
Can host automated webinars directly on Kajabi.
Live chat support when you're building your course.
Integrated email, sales funnels, assessments and more.
Cons:
The most expensive option for delivering online courses.
Marketing automation takes a lot of time to set up properly.
Amount Earned By Online Course Creators: $675 million
Notable Teachers Using Teachable: Brendon Burchard, James Wedmore, Amy Porterfield
Headquarters: Irvine, California
2. Thinkific: The Best Option For A Limited Budget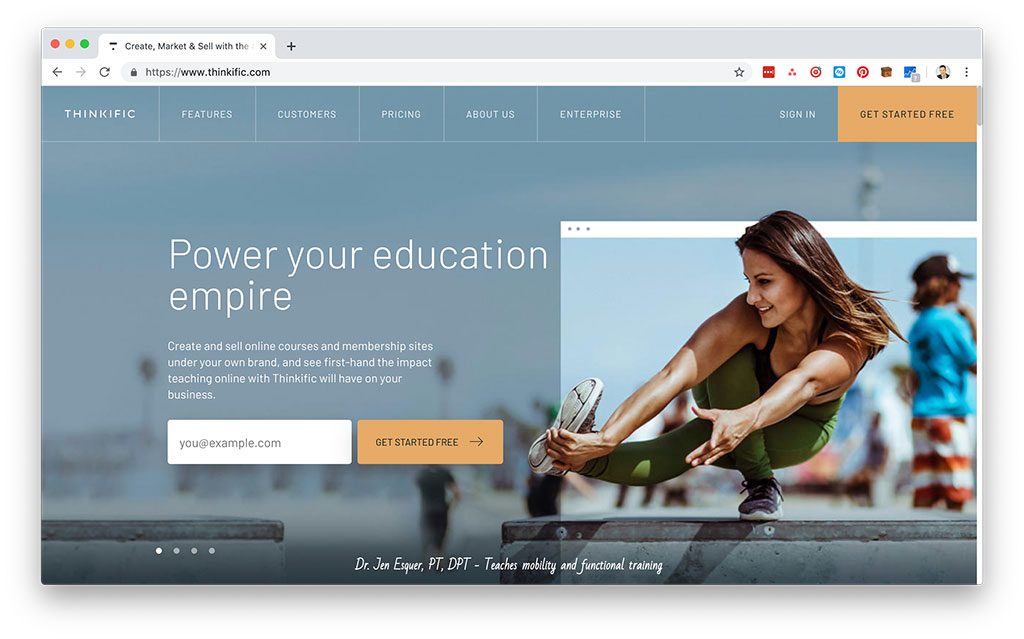 If you aren't skilled in digital marketing or web analytics and you're just getting started with online teaching then Thinkific is probably your best option.
You can get started with their Basic plan and you won't have to pay anything (although they will take 10% of your sales, which will add up fast once you launch).
This can give you some breathing room to start making your online courses without monthly bills piling up but you'll probably have bigger success and waste less time if you invest early and commit yourself to launch in a short time frame.
Thinkific has great support and I personally know the founder Greg Smith (he's a good guy) because we were in the Launch Academy incubator together in 2013 and I started with my first self-hosted online meditation course on Thinkific.
Pricing:
You can test-drive Thinkific's core features for free. Their basic plan starts at $49/month.
Sign up through my affiliate link and get an extended 30-day free trial of their Pro Plan along with a series of bonus guides that will help you plan and sell your online courses.
Pros:
Free to sign up and easy to get started.
Great video player for their courses.
The most third-party integrations.
Excellent support team.
Cons:
More limited marketing automation features.
10% payment processing fee on their free plans.
Not a huge fan of their sales pages.
Amount Earned By Online Course Creators: $675 million
Notable Teachers Using Teachable: John Lee Dumas, Lewis Howes
Headquarters: Vancouver, British Columbia
3. Teachable: Create and Sell Your Own Online Courses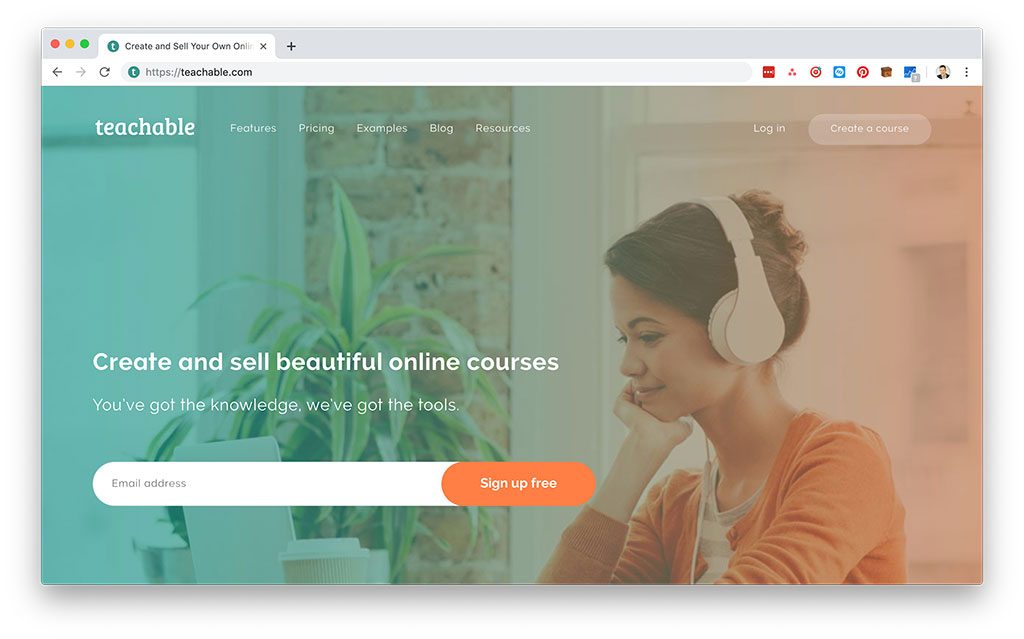 Teachable was actually the third online course platform I used after Udemy and Thinkific.
The reason I started using Teachable was they had a time saving one-click online course importer from Udemy where I hosted many of my early online courses.
Generally, I found their support to be really bad and this poor reputation for support has lingered but I think in the last couple years they must have addressed this.
With Teachable, you have much more limited options to design your website or customize their video player for your online courses.
It's probably best used on a subdomain if you host your main website on a content management system (CMS) like WordPress.
They have good email marketing tools that let you filter and message students based on their actions in your online courses but their marketing automation systems are far behind Kajabi.
Pricing:
Their basic plans start at $39/month with a 5% transaction fee.
You can try it out with a free trial through my affiliate link.
Pros:
One of the best student management and progress tracking systems.
An early player with an established track record in online courses.
Easy to get started and launch your first course.
Cons:
Their integrated payments have high transaction fees.
Their sales pages are not all that great.
Less basic integrations than their competitors.
Amount Earned By Online Course Creators: $338 million
Notable Teachers Using Teachable: Pat Flynn
Headquarters: New York City, New York
---
Watch My Brand Storytelling Masterclass
Learn how to craft your brand story and better communicate the value of your skills and expertise.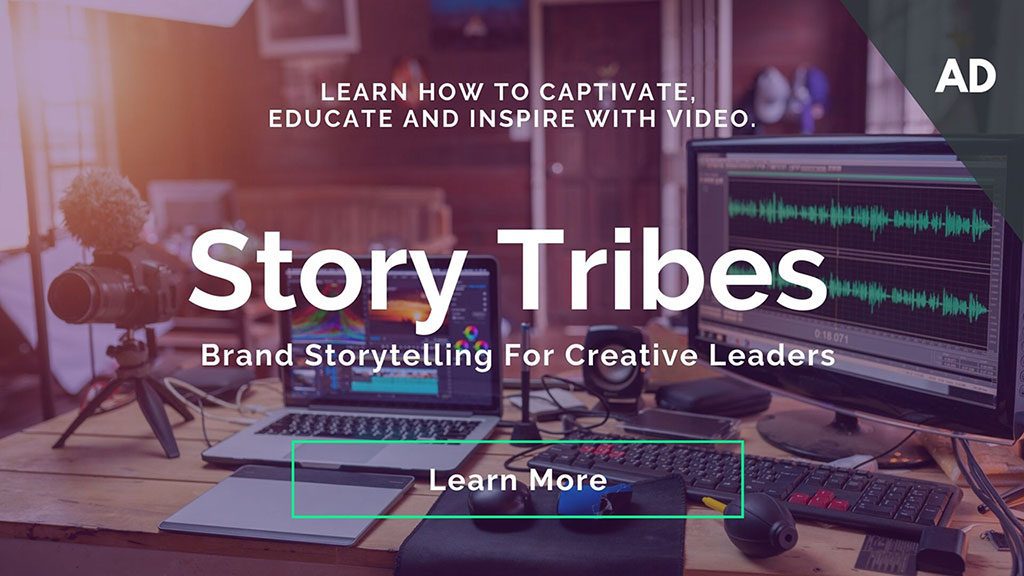 ---
4. Podia: Sell Online Courses, Memberships, and Downloads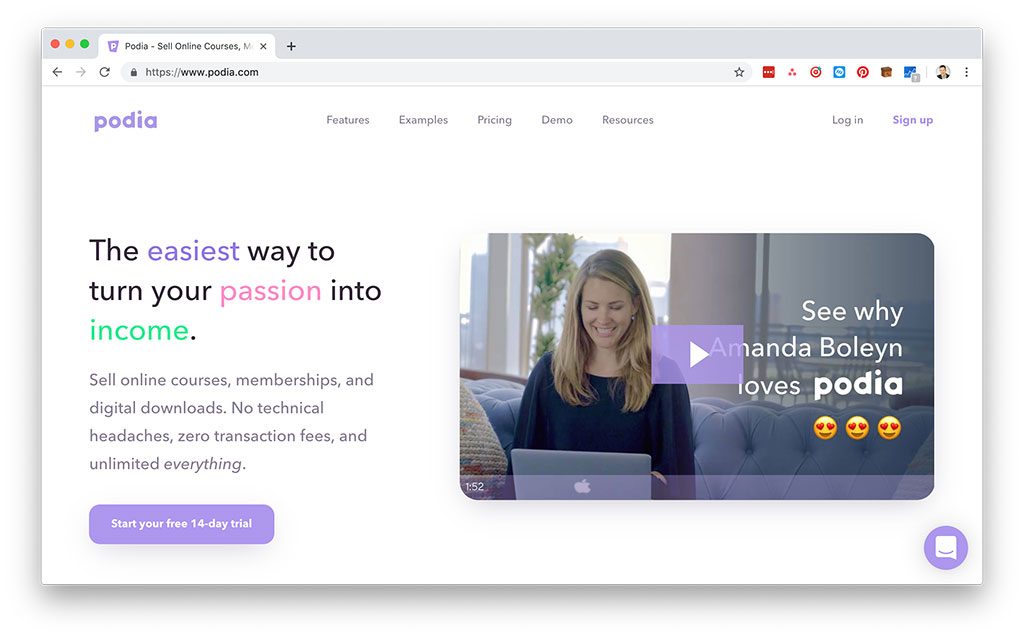 I haven't tested out Podio too much myself but I've heard some good things about it at online education industry conferences.
Podia is designed to help you build an online store for all your digital content. I'm not a big fan of their templates though.
I also haven't heard of anyone in the 7-figure level of making online courses using them but I could be wrong.
Overall, their branding and website are well-designed so they are probably worth checking it to compare with your other course hosting options.
Pricing:
It starts at $39 for their Mover Plan with zero transaction fees.
Pros:
No transaction fees (direct accounts on PayPal or Stripe).
Unlimited users, courses, marketing campaigns.
Good affiliate marketing system.
Cons:
Not as well-known as other online course platforms.
I don't know any successful course creators using it.
Amount Earned By Online Course Creators: Unknown
Notable Teachers Using Teachable: Nobody big
Headquarters: New York City, New York
5. Udemy: An Online Course Marketplace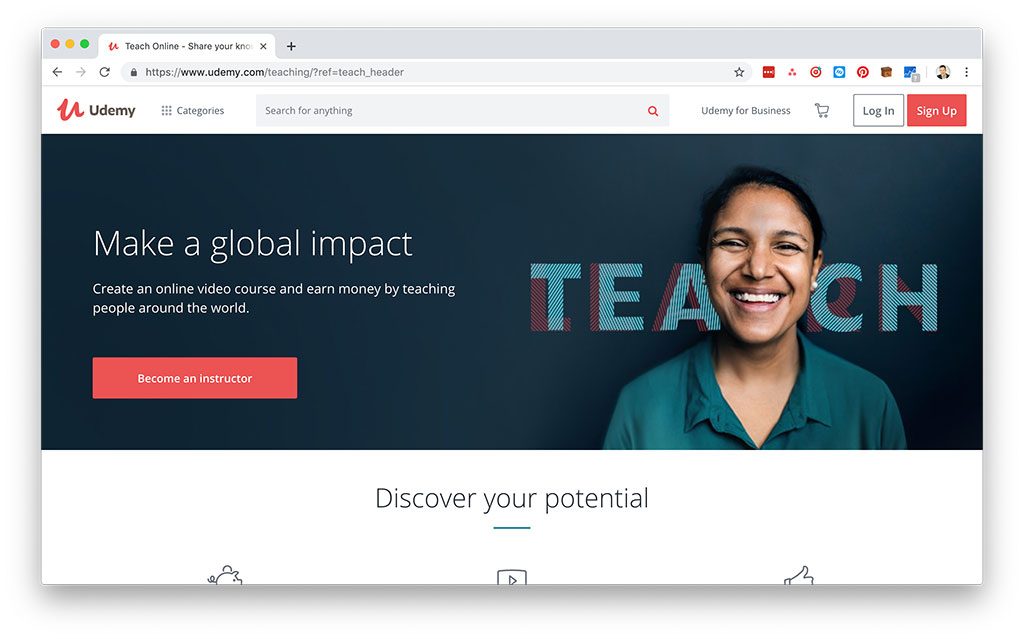 I have mixed feelings about Udemy.
I launched my first online course on Udemy and back in 2013, I made a decent amount of money through people finding my online courses in their online learning marketplace.
Over the years, I've watched them become an online course discounting platform as they try to maintain the high-growth trajectory demanded by their venture capital investors.
Today, the only way to sell lots of your online courses and rank them in the Udemy marketplace is to carefully choose your niche and allow their discount pricing offers of $10-$20 for your course.
I wouldn't recommend building your brand this way.
If you want to build a long-term brand you should learn to market and sell yourself.
You should host your online courses on your own domain where you control everything and provide high-value content to your email list (Udemy will constantly email and retarget your students with other course offers).
However, if you're just getting started Udemy is very easy-to-use and they provide excellent tools for making online courses and their video player is extremely well-thought-out.
Pricing:
Free for selling a paid course. Udemy charges 3% on courses you sell yourself through your own links and 50% revenue share on students who come through organic search on Udemy or search engines.
Additionally, they take 75% on course sales through their paid user acquisition channel (often through retargeting your visitors).
Pros:
The easiest option for non-technical people.
An online course marketplace to sell your courses.
Lots of education and support for new instructors.
Cons:
Your courses will be sold at a massive discount.
You are building Udemy's brand, not your brand.
They constantly email and retarget your students.
Amount Earned By Online Course Creators: Unknown
Notable Teachers Using Teachable: John Purcell, Rob Percival, Victor Bastos
Headquarters: San Francisco, California
Other Options For Delivering Digital Education Programs:
There has to be over 100 different online learning platforms for hosting online courses and delivering instructional educational content.
These online course platform options provided a good balance between creating your online courses but also being able to efficiently sell them online using marketing automation capabilities such as landing page builders, email sequences and detailed sales tracking and web analytics.
Another option I have tried but generally don't recommend is hosting your online courses through a WordPress plugin. I have tried this with a series of different paid plugins but I had nothing but headaches.
You should focus your time on building a unique experiential learning framework and making incredible video content that delivers a great online training experience.