I can just still remember installing my first WordPress website back in 2007. After having struggled with other more complicated content management systems such as Joomla and Drupal, the simplicity and flexibility felt like a breeze.
I started DIY Genius 2011 and since then I've gone through a number of web hosts as my traffic has grown and I have re-designed the website 5 times.
Thanks to the flexibility of Wordpress and its massive creative community, updating this website's design and adding new functionality for my online courses has been easy.
There are many reasons why WordPress is the most popular website and blogging platform (it powers over 25% of the web):
WordPress is an open source framework that is constantly being developed and improved.
 It has a global community of designers and developers who are always creating new themes and plugins.
With the help of 1000s of plugins and widgets, you can get nearly any functionality you want without touching a line of code.
It makes it easier to optimize your content for search engines and social sharing than other content management platforms.
In this step-by-step guide to launching your personal website, I'm going to show you how to the right domain name, get the cheaper self-hosted version of WordPress installed on a web server and then make your new website look professional using plug-and-play professional theme frameworks.
And you can do it all in less than 2 hours if you follow the instructions closely.
Why The Internet Is Your Resume:
What kind of story does a resume tell? It is basically a liner timeline of your life doing what you're told to do to school and being managed by other people.
What it can't do is communicate your personal story, why you do what you do or express the challenges you are passionate about solving in the world.
To set yourself apart, you need to make the Internet your resume and embrace your own digital media platform to tell your story, document your experiences and share your expertise.
Here are some digital media platforms you can use:
1. Blogging
Telling you stories and offer useful educational content that is engaging and highly shareable.
2. Podcasting
Interviewing people in your industry and creative influencers that inspire you. Share your thoughts, stories and philosophy in easily listenable podcast tracks.
3. Video
Start making videos with your smartphone and build your online audience through video storytelling, tutorials and educational videos that you can post on your website, YouTube and Facebook.
4. Images
Build your online audience through visual storytelling on your website and visual social networks like Facebook, Instagram and Pinterest.
5. Case Studies
If you're a freelancer or want to get more highly paid in your industry, you need to make case studies that demonstrate the results you have achieved for businesses in the form of case studies.
I'll cover more on case studies in the digital portfolio section at end of the step-by-step guide below.
Create Your Personal Website and Digital Portfolio:
Having your own personal website shows initiative and it sets you apart by giving you a platform to share your knowledge and expertise with people who can benefit from it.
A professional-looking website with interesting content allows you to take control of your personal brand by building your email list and social media audience.
In a nutshell, your personal brand is the story that others tell about you when you're not in the room.
It's your reputation and in a world where anyone, anywhere in the world can learn and work online from their laptop, reputation is everything.
Ready to create your website? Let's get started…
How To Quickly Launch Your Personal Website:
In this guide, I'll walk you through the process of how to launch your personal website:
1. Choose a domain name for your personal website or side hustle.
2. Get your first website online by signing up for web hosting.
3. Install WordPress and setup everything you need to create content.
4. Choose a WordPress theme builder made by a professional designer that is easy to modify and customize without being a designer.
5. Use a value creation mindset to create digital media content that tells your story, educates and offers value to your audience.
If you get stuck at any point in this guide, I'm more than happy to help you. You can get in touch with me on Twitter or via email if you get stuck.
I recommend some specific products and services in this guide because part of how I make money from this website is through affiliate links.
These aren't your only choice; they're simply what I have used personally used, I recommend them to my students and you can get a small discount when you buy through my affiliate links.
Also, if you would prefer to follow instructional videos, I have a free video training that covers the process of building your WordPress website and digital portfolio.
1. Choose your domain name.
The first step can often be the hardest simply because most brand-able domain names are already taken.
The process of finding a domain name you will want to stick with can be frustrating, especially if you're determined to have a top-level domain like .com.
Here's what I recommend you do if the .com you want isn't available. If you're making a personal website, I recommend using your full name as the domain and then choosing a domain using .me or .co instead of .com. If you are launching a website for a side hustle, I would go with .co if .com isn't available.
Next, if you know the domain name you want you can usually get the domain for free when you first sign up for web hosting.
In the second step, I'll show you how to get a basic version of your WordPress website online in less than an hour with a web host.
2. Get web hosting for your website.
WordPress is powered by an open-source community of designers and developers that are spread all over the world.
Without any advanced technical or design skills, you can choose from both WordPress theme frameworks that follow the latest design standards and a wide range of third-party plugins that allow you to extend the functionality of your website to do almost anything.
If you already have a web host, you can download the WordPress installation files and then upload them through an open-source FTP client like Filezilla and then initiate the creation of a MySQL database.
If you're not technical and you don't have a web hosting account yet, I recommend starting with Bluehost's WordPress Hosting to get started quickly.
I have tried many shared web hosts over the years and I like Bluehost for several reasons:
Easy to set up a new website with no technical skills in 20 minutes.

WordPress users get a special discount pricing through my link.

You get a free domain name of your choice.

1-click WordPress install and you're ready to go.

24/7 support by chat.

A 30-day money back guarantee. 
Affiliate Disclosure: If you choose to use the theme and hosting options I recommend in this guide and click my links to get to it, I'll earn a commission (though there is no extra cost to you – it will actually be cheaper since I'm able to offer you a discount code through the link).
If you do choose to use my links and support this website's educational content, thank you!
3. Sign up for WordPress web hosting.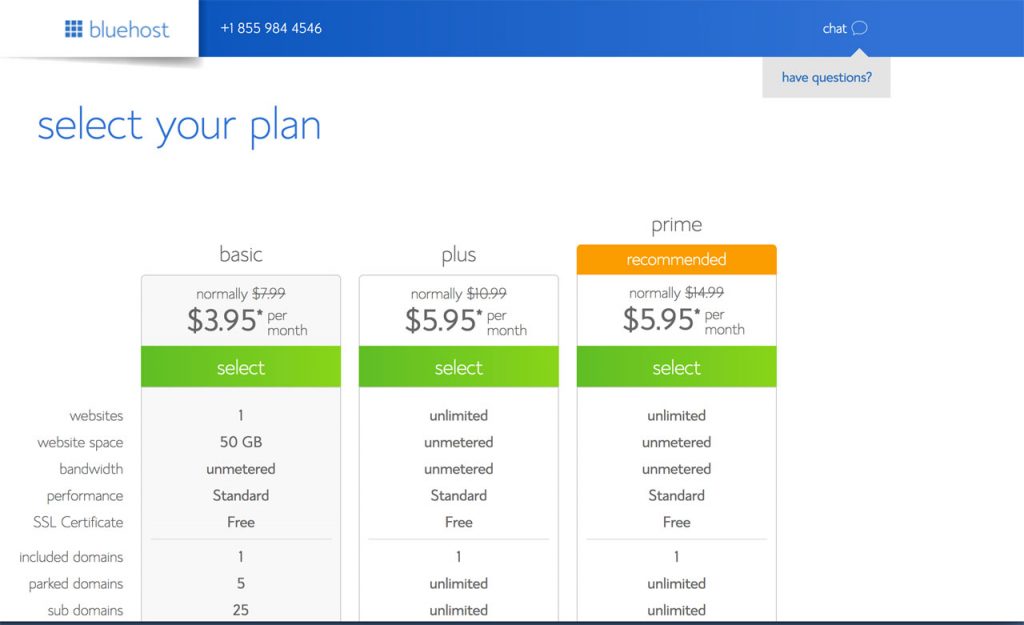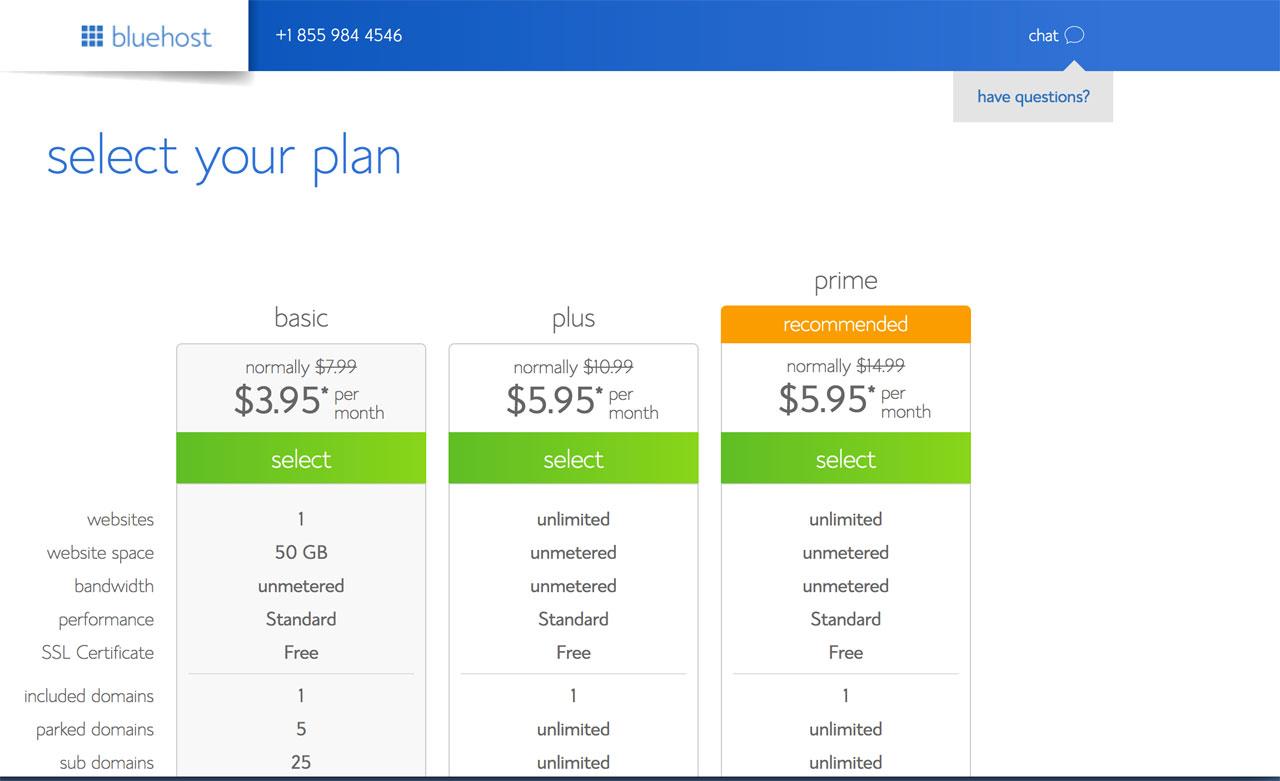 To get started with Bluehost, follow these steps on their website and you'll be up-and-running in less than 20 minutes:
1. Sign up through my Bluehost link to get a significant discount off their regular prices.
2. I recommend starting with the Basic Package, which costs $3.95/month if you sign up for a year because it will give you everything you need. 
3. This starter package comes with 50 GB of space (more than enough), unmetered bandwidth and a free domain name. If you decide to create more websites in the future, you can easily upgrade your account but stick with the cheapest option to get started.
4. The Bluehost website guides you through a quick step-by-step process of choosing your domain name and installing WordPress. After you have completed your purchase, they send you an email with a username and password that will allow you to log into your new web hosting account.
5. They will also let you set a username and password to access your WordPress dashboard directly on your website.The WordPress admin panel will be located at www.yourdomain.com/wp-admin/ and you can login with your username and password.
Once, you have setup WordPress, read on to watch my video tutorial for navigating your new WordPress creator dashboard.
4. Choose a customizable WordPress theme framework. 
Once you have WordPress installed on the web server, you will probably want a professional-looking theme to stand out from the crowd. You can get a free theme through WordPress' Free Themes Directory.
However, if you want to develop a distinctive brand, you should also purchase a premium theme that follows the latest HTML5 and CSS3 design standards. You want to buy a theme framework that is well-supported and gives you complete flexibility to fully customize the look and feel of your website in the future.
I recommend using the Divi Builder because it's a drag-and-drop visual builder that is inexpensive and it comes with 100s of built-in templates designed by some of the best web designers in the world.
Once you have WordPress installed on your web server and live on your own domain, you're going to want to log into your new WordPress administrator account and set up a few important things first.
In this quick WordPress video tutorial, I'm going to take you through the process of:
1. Navigating and customizing your new WordPress website.
2. Knowing the difference between Posts and Pages.
3. Uploading media and answering comments.
4. Customizing your theme and the look and feel of your website.
5. Adding new plugins for social sharing, SEO and more.
6. Updating your bio in your user profile.
7. The essential WordPress settings to update.
8. Updating your own custom permalinks
9. Publishing your first WordPress blog post.
10. Seeing your first blog post live on the web.
6. Build Your Digital Portfolio With Case Studies
In the Divi Builder, you will find a digital portfolio module. It allows you to quickly created examples of your work with embeddable videos, case studies and testimonials from your clients or previous bosses.
I find this 3-step case study framework works great:
1. Problem
The business problem encountered.
2. Solution
Your solution and the business strategy you developed and implemented.
3. Result
The business result in terms of quantifiable metrics and ROI (return on investment).
7. Create A Content Schedule
If you really want to differentiate yourself in a competitive industry I'd recommend regularly creating your own content schedule using a social media dashboard like Content Studio and building your own online audience with an email list on a platform like ActiveCampaign.
You should now be the proud owners of WordPress website that looks good and gives you a creative platform to learn, create and share your talents.
If you want more extensive training for building your WordPress website and digital portfolio, I also have a free video training for that.