Virtual reality is going to everywhere in the next couple years. VR has the potential to transform how we interact with our Internet-connected devices and become the next big learning platform that allows us to learn in immersive 3D environments that engage all of our senses.
The possibilities of virtual reality are endless and current technologies are only scratching the surface. The best way to learn about the possibilities of virtual reality is to experience it for yourself.
You can take a peek at the future of virtual reality right now using Google Cardboard, a low-cost, DIY virtual reality headset that uses your iPhone or Android smartphone to give you a 360° VR experience. You can order Google Cardboard starting at only $10.
Once you have your Google Cardboard device, you'll want to test it out with the best VR apps. When I searched the App Store, I found that the best VR apps were buried so I put together this learning guide to help you find the most amazing VR apps to test out Google Cardboard.
Google Cardboard is just the beginning. The highly anticipated next stage of this VR technology is coming soon in the form of Google Daydream. There are other VR platforms that are coming of age such as HTC Vive, Oculus Rift and PlayStation VR but they are still very expensive.
Virtual reality and its cousin augmented reality is poised to be the next wave of technological innovation for consumer devices, so if you want to stay on the cutting edge you will want to learn how to surf this wave now!
Here are the best VR apps for iPhone and Android to help you get started:
1. GoPro VR
Practice base jumping for the first time, see a concert from the stage, watch a movie making-of with a private guide: with GoPro VR, turn your smartphone into a VR device and be in the middle of the action!
Get GoPro VR on iPhone or Android.
2. Discovery VR
Watch Discovery Channel shows like Gold Rush, Survivorman and MythBusters in 3D VR. You can also experience extreme sports like you're participating in them and explore many of the most beautiful places on Planet Earth using the Google Cardboard viewer.
Get Discovery VR for iPhone and Android.
3. Jaunt VR
Get up close as personal with musical legend Sir Paul McCartney as he perform his classic song "Live and Let Die" in 360 degrees, with stereo 3D and immersive audio. Jaunt VR also offers a wide range of other fascinating immersive VR environments to delight your senses.
Get Jaunt VR for iPhone and Android.
4. InMind VR 
Take a journey into the human brain in search of the neurons that cause mental disorder. InMind VR is a fascinating way to explore the depths of the human brain in an immersive 3D learning environment.
Get InMind VR for iPhone or Android.
5. Google Cardboard
The official Google Cardboard app. It includes a number of games, immersive learning tools and I really enjoy being able to view major world landmarks like the Eiffel Tower in 360° virtual reality.
Get Google Cardboard for iPhone or Android.
6. Proton Pulse
Get ready for Classic Arcade Brick-Breaking Action from a whole new perspective! One of the best immersive 3D games currently available for Google Cardboard.
Get Proton Pulse for iPhone and Android.
7. NYT VR
Experience incredible stories reported by award-winning journalists, all told in an immersive, 360° degree video experience. After using NYT VR, you will be imagine all kinds of new possibilities for the next wave of virtual reality storytelling.
Get NYT VR on iPhone and Android.
8. Within VR
A curated collection of the best cinematic virtual reality, including short films, music videos, comedy and documentaries, produced with The New York Times, Vice, Saturday Night Live, U2 and others. Features industry leading 3D video with binaural sound.
Get Within VR on iPhone and Android.
9. VR Roller Coaster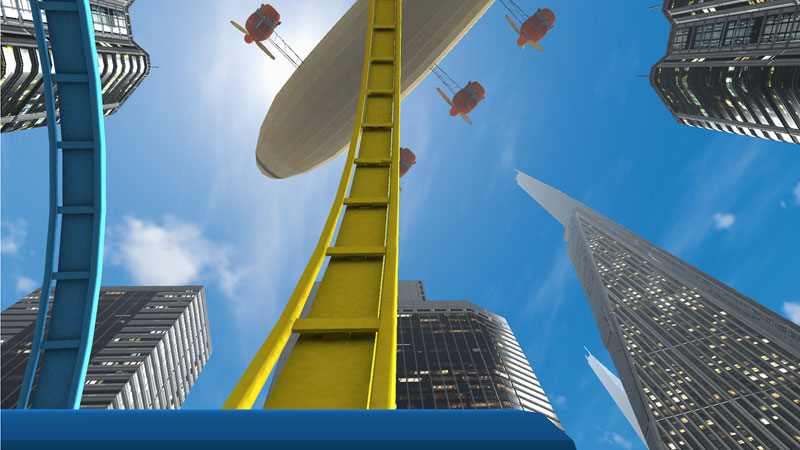 Experience the real life sensation of this 3D roller coaster and explore an exciting immersive environment with Google Cardboard. A step up from the roller coaster game in the official Google Cardboard app.
Get VR Roller Coaster on iPhone and Android.
10. Relax VR
Relax VR allows you to escape to beautiful locations around the world where you can relax and follow guided meditations. Their immersive 3D experiences are captured in stunning 360° Degree video with 3D Spatial Audio of the beach, ocean, wind and waves.
Get Relax VR for iPhone and Android.
Other Notable VR Apps For Google Cardboard:
1. YouTube 360° Videos – Watch 3D VR video in the YouTube App (iPhone/Android).
2. Sisters – A virtual reality ghost story that will scare you. (iPhone/Android).
3. VRinOR – A VR content platform for medical and healthcare training (iPhone/Android).
4. War Of Words – A VR story of the Battle of the Somme from WW1 (iPhone/Android).
5. Titans of Space – A short guided tour of our planets and a few stars in virtual reality (Android only).
Hopefully your adventures in VR will inspire you to explore the real thing too!