Feeling stuck in your 9 to 5 office job and looking for something different?
Maybe it's time to start applying for remote jobs and make the transition to telecommuting and being fully location independent.
If you don't have an online business yet, the best way to get into the location independent lifestyle is through freelancing or finding a remote job opportunity.
In last decade, there has been a big shift among startups and established technology companies toward remote work, telecommuting and greater flexibility for their employees to work from home, coworking spaces and coffee shops.
If you're focused and disciplined enough to hit deadlines and get measurable results for your employer then who cares where you choose to work from, right?
A Guide To Finding Remote Jobs:
Previously, most of the best remote jobs were for software developers and graphic designers.
But the world of remote work and telecommuting has expanding a lot in the last couple of years to include a much wider range of digital skillsets in the knowledge-based digital economy.
I'm seeing that a growing number of startups and established companies are also hiring for remote jobs in marketing, customer success, recruitment, copywriting, social media and sales.
Where To Find The Best Remote Jobs:
If you're ready to make the leap into location independence and remote work, then start applying through these websites and see what happens.
Here are the 20 best remote jobs websites to start exploring your options for remote work and apply for your first remote job: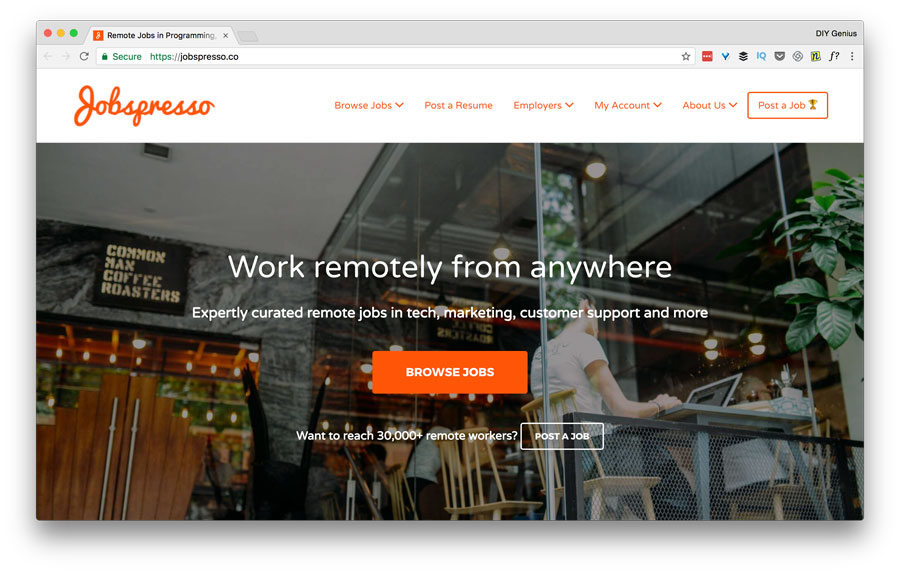 A beautifully designed curated list of remote jobs for developers, marketers, customer support specialists, content writers, designers, project managers and more.
When I looked at their website they had quite a few jobs from top startups and technology-driven companies such as Salesforce, Invision and Creative Market.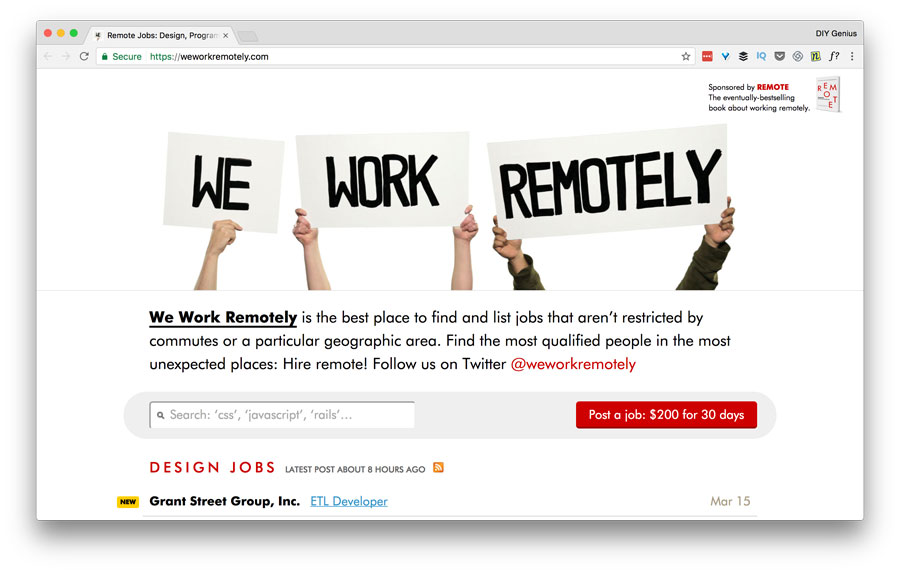 A popular job board for jobs that aren't restricted by commutes or a particular geographic area.
You find will lots of remote jobs at high-growth startups like ConvertKit, Hotjar, Toptal, Zapier and MeetEdgar across a range of remote job categories that cover programming, marketing, customer success, recruitment, sales and design.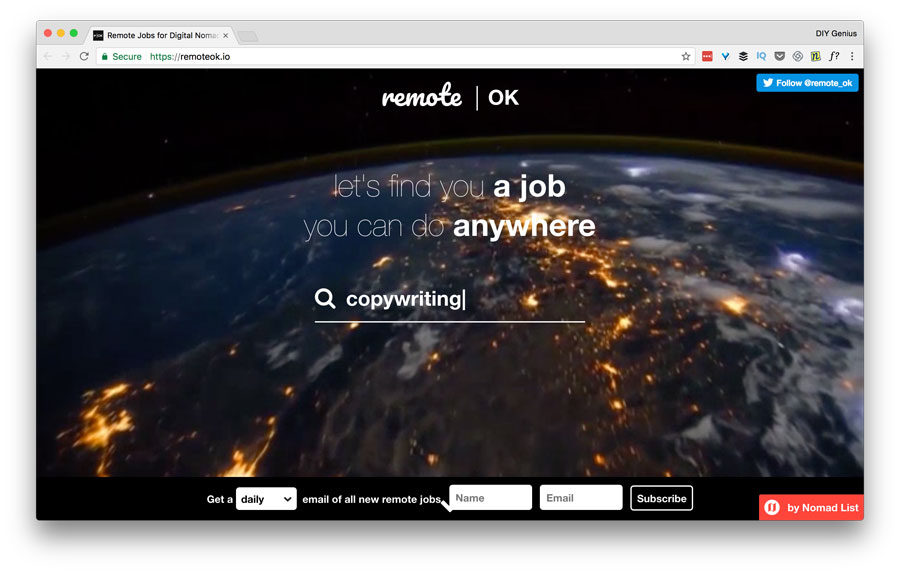 RemoteOK aggregates remote jobs from across the website and filters them by data and category.
They mostly have remote jobs for web developers, designers and mobile developers but you will also find some good non-tech jobs occasionally.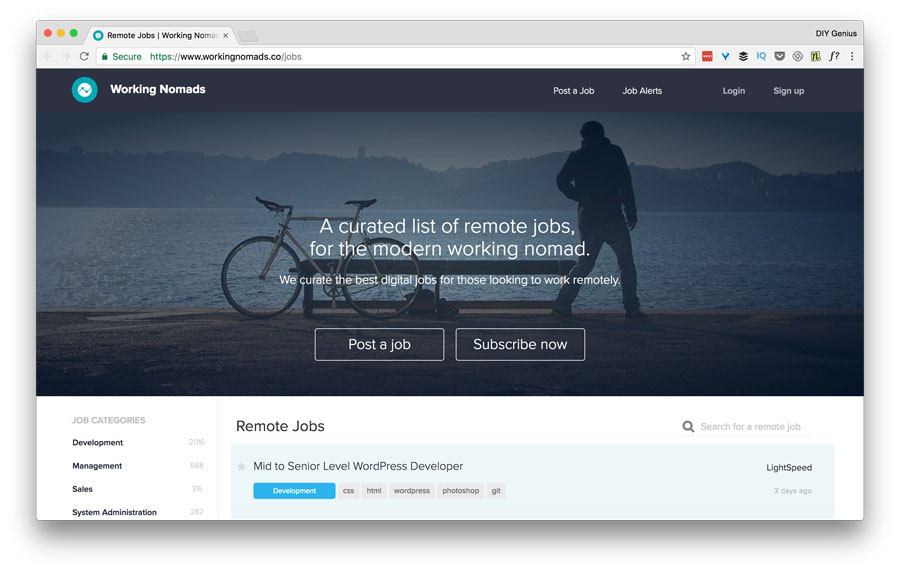 The guys at Working Nomads curate the best digital jobs for those looking to work remotely.
While the bulk of their remote jobs are for software developers, they also have quite a few positions for management, customer success, marketing and design.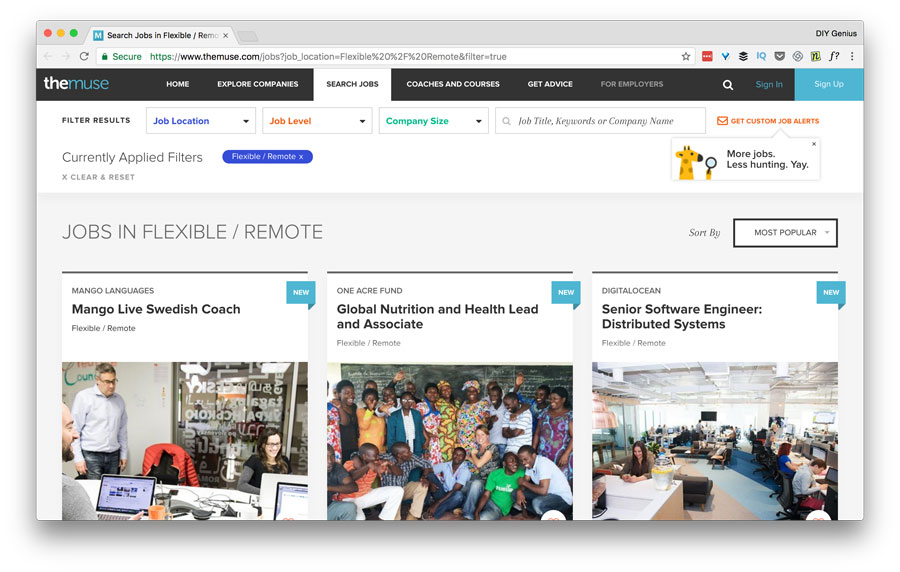 This beautifully designed job search engine has a good selection of remote work and flexible job opportunities that you can browse.
They have a lot of jobs across a variety of industries and professions that you won't find on any other remote job boards.
Many fast-growing startups are actually remote companies that hire their workforce from the four corners of globe.
You can find remote startup jobs by searching and checking "Remote OK" under Job Type.
Remotive is a community of remote workers that has an active Slack group and a bi-monthly newsletter full of great tips for remote workers and digital nomads.
Their remote jobs board has positions in engineering, marketing, design, customer support, sales and education.
If you're looking for flexible freelance work that you can do from anywhere, Hubstaff is marketplace for finding remote projects.
They have a wide range of project-based work categorized by development, marketing and sales, design, writing, content marketing, administration, customer support and business consulting.
A massive database of hand-screened remote jobs at employers that allow telecommuting, part-time work, freelancing and flexible job arrangements.
You will find jobs in 55 career categories that range from entry-level to executive-level positions. What's different about FlexJobs is they charged a $14.95/month fee for their service.
Similarly to FlexJobs, Virtual Vocations provides a massive database of hand-screen telecommuting opportunities.
They cover a wide range of remote jobs generally not covered by the other websites include technical writing, bookkeeping, paralegal, teaching, proofreading and translation.
Don't forget to search for remote jobs on the world's largest job search engine. Indeed indexes more jobs than any other website and this probably includes many of the best remote jobs.
Try using keywords like "remote jobs", "remote work", "telecommuting jobs".
If you're looking for contract-based freelance employment, Upwork is the world's largest peer-to-peer platform for freelancing.
There are a lot of low-priced and skilled professionals on here, so you'll have to build your digital portfolio to get noticed. Similar websites to check out are PeoplePerHour, Guru and Freelancer.
Another peer-to-peer remote work platform but what's different about Toptal is they are geared the top 3% of freelance talent.
If you're a highly skilled developer, designer or financial specialist you can find good-paying work here. Other similar website worth applying to are CloudPeeps and LinkedIn ProFinder.
They bill themselves as the job board that posts authentic jobs for designers, hackers, and creative pros.
This well-designed job search platform makes it easy to search remote jobs by: job type, skills required, company type and compensation.
A free service for job seekers that lists jobs that allow telecommuting, telework, online, virtual and working from home.
Skip The Drive covers a lot of job types beyond typical remote work opportunities such as health care, sales, recruiting, finance and accounting.
A remote job board for developers, designers, testers, digital marketers and support engineers.
Another great spot to find remote jobs is by browsing Subreddits related to digital nomads, remote work and working from home.
Here are some of the most popular and active Subreddits for finding remote work:
/r/digitalnomad/
/r/WorkOnline/
/r/workathomejobs/
/r/WFH/
/r/RemoteJobr/
/r/MakeMoneyFromHome/
/r/freelance/
An aggregator for remote jobs in tech and non-tech. All their jobs are pre-filtered to be 100% remote jobs and they well organized by job classification.
Remote4Me posts a lot of software development jobs but also non-technical jobs in such as salespeople, recruiters, managers, marketing, writers, designers and customer support specialists
If you're an aspiring social entrepreneur or community builder then you're going to love Idealist.
Their mission is connects millions of idealists – people who want to do good – with opportunities for action and collaboration all over the world.
An online marketplace for freelancers who want to work with companies that are outsourcing positions.
You will find remote work in design, web development, mobile apps, content writing, administrative support, customer service, sales, marketing and general business services.
Other Remote Work Opportunities?
Any other remote jobs websites that you've discovered in your job search with good remote work opportunities? Please let me know in the comments.