I make the effort to take a few strangers out for coffee every week. I genuinely like meeting new people and it has allowed me to build great relationships that have lead to a lot of great opportunities and new friendships.
I usually meet people at business networking events or I reach out to them directly on LinkedIn. But recently, I've discovered the new crop of networking apps that want to make the process of meeting other people over coffee even easier. Essentially, these networking apps are taking the Tinder concept applying it connecting people for professional networking.
In the near future,  I think these networking apps could become really useful tools for meeting other interesting people; not only locally but also at conferences and while you're traveling abroad. I think there is a lot of potential for these social apps but first one of them has to gain a lot of traction and and reach a larger audience to make it truly useful.
Let's take a look at the networking apps for #iphone and #android that are gaining the most traction:
With the tagline "meet inspiring people over coffee" this app is the one that I think is getting the most traction lately. I usually won't download an app unless there are a good number of 4 or 5 star reviews and this one has 31 5-star reviews, which is quite impressive.
To use Treatings, you sign up with your LinkedIn account and it automatically pulls your relevant data and then you choose from a list of interests like public speaking, affiliate marketing, small business, thought leadership, etc. Next, you add in your favourite local meeting spots and after that it starts matching you up with new people.
I ended up finding about 15 matches (mostly entrepreneurs, web designers, product managers and marketing strategists) where I live in Vancouver and I messaged 5 of them. I'll update the post when (if) I hear back from any of them.
Available for iOS.
31 reviews in the App Store – Average 5 stars
Another one of the mobile networking apps worth downloading is Weave. This app seems like it has achieved a decent amount of traction and it has a well-designed interface. There is more an entrepreneurial focus with Weave and I like the fact that they have different networking "rooms" where you can meet people around topics like fundraising, looking for a co-founder and if they are hiring.
I found about 30-40 people locally and I matched with about 10 people. Of the 10 people I matched with, half of them ended up being over 2,000 miles away. I messaged a few people but didn't hear back. There is promise here but they need more traction.
Available for iOS and Android.
43 reviews in the App Store – Average 3.5 stars.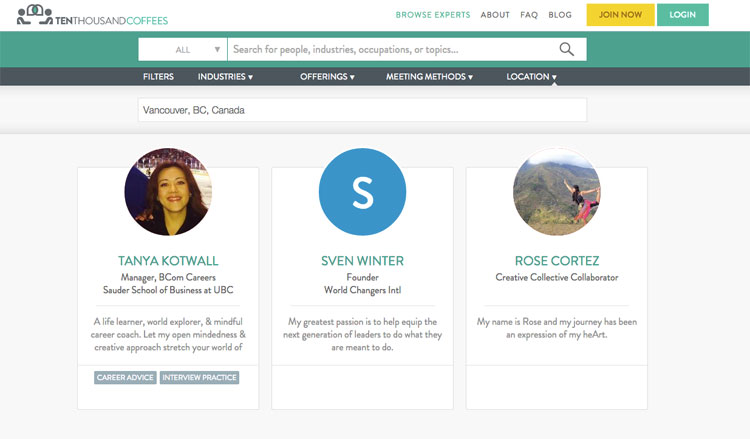 This isn't an app but it's the online networking platform that I've found the most useful. The Ten Thousand Coffees website is designed to help you meet experts over coffee and it actually has a lot of interesting people that I want to meet.
You have to complete your own profile, which takes a bit of time but I've had a number of requests for coffee (from students mainly) and I've taken out a few experts for coffee to learn about what they do. I think this app is based in Toronto so it has a large Canadian audience but it seems to have more people in American cities than most of the other apps on the list.
Hopefully in the near future they will join the mobile revolution and build an iPhone and Android app.
Other Networking Apps With Potential:
Here are a few other networking apps that I think are worth checking out:
3. CoffeeTheApp – I swiped through about 5 people locally in Vancouver. Needs more traction to be useful.
4. Caliber – Another professional networking app. I only found a few local matches on it.
5. Networkr – Another business networking app in this space. Also needs more traction and a better interface to be useful. They have both an iPhone and Android app.
6. Jobr – Applies the Tinder concept to looking for a job. Worth checking out if you're looking for job opportunities.
7. About.Me – Not specifically for meeting people over coffee but this is the platform I would recommend for personal branding. I usually send people to my About.Me profile rather than using a business card with the help of their new Intro networking app.
The future for mobile business networking looks promising. What I like about these networking apps is you can identify exactly the people you want to do meet and then reach out to them.
Hopefully one of these apps will really take off and then it will really become useful.