As the largest metropolitan area in Canada, Toronto is a major hub for traditional industries like banking, insurance, mining, media, and advertising.
But with young people craving more meaning and purpose in their work, many are choosing to educate themselves for creative jobs at the city's fast-growing technology and new media companies.
Toronto has become a major centre for artistic and creative industries such as film, design, music, movies and video games. It consistently vies with the much smaller city of Vancouver on the west coast for the title of Hollywood North and Silicon Valley North.
The tech innovation corridor between Toronto, the suburban Kitchener-Waterloo area and the capital region of Ottawa has the highest population density in Canada and it is home to the majority of the country's major technology and manufacturing companies.
Toronto's Advantages:
Here are some of Toronto's advantages:
1. Cheap office space: Office space can cost 50% less than in New York or San Francisco.
2. Low Canadian dollar: Average wages can be 40-50% lower than in the United States while the quality of talent from local Universities and tech institutions is high.
3. Immigrant visas: Visas are much easier to attain for both entrepreneurs and employees than in the United States.
Toronto's Disadvantages:
Here are some of Toronto's disadvantages:
1. Bad weather: Cold winter weather and a lack of consistent sunshine can dampen spirits and persist up to 6 months of the year.
2. High cost of living: Toronto has a very high cost of real estate and lower wages than many American cities.
3. Traffic gridlock: The city has grown too fast in recent years and it now has some of the most congested highways and longest commute times in North America.
Toronto's Startup Scene:
Toronto is putting up some impressive growth numbers lately and the local startup scene is booming:
1. It is now the fastest-growing city in North America.
2. It was recently ranked the world's fastest-growing region for high-tech jobs.
3. It ranks 3rd for the availability of skilled technical talent after San Francisco and Seattle.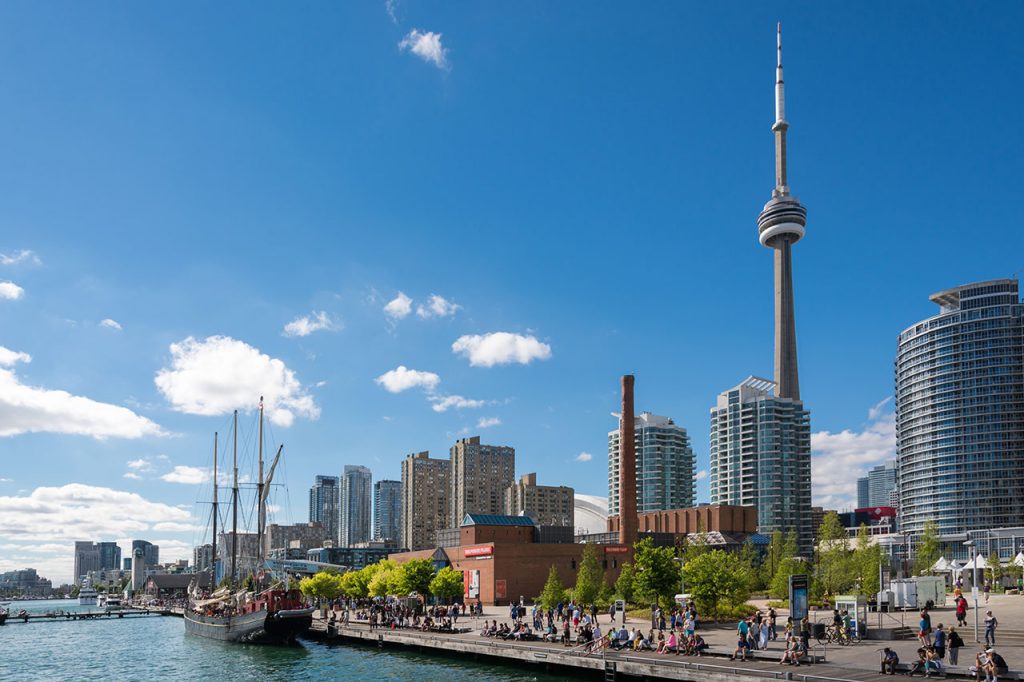 The Biggest Tech And Creative Scene In Canada
Toronto is the centre of Canada's media and cultural arts industries and it has a vibrant startup culture with excellent access to early-stage seed funding.
Canada has one of the world's most generous innovation grant systems. The Canadian government is a world leader in providing grants, incentives and tax write-offs to encourage startups and small business development.
The city still experiences a significant brain drain. Top technical talent from local Universities still goes south to work at big American companies like Google, Amazon, and Facebook who can offer much higher wages. Many later-stage startups also go to the United States to raise large rounds of investment.
Here are some of the best websites for exploring Toronto's startup scene and starting to network with other tech entrepreneurs and creative professionals:
1. Startup Here Toronto – An initiative by the city of Toronto to showcase local startup news, companies and events all in one place.
2. MaRS – A government-supported initiative that funds and supports Canada's most promising startups — helping them grow, create jobs and solve society's greatest challenges.
3. Toronto Startup Strategy – An extensive startup ecosystem strategy laid out by the city of Toronto documents over 60 business incubators in the city.
4. Toronto Startup Canvas – An excellent overview of Toronto's startup ecosystem from the Founder's Institute.
5. Collision Conference – The largest annual conference in Canada for startups and venture capital investors. The next event in June 2020 was canceled because of co-vid19 fears.
6. Elevate Toronto – One of the largest technology conference for startups and creative tech professionals in the city. The next event is in late September 2020
Creative Spaces To Meet People:
As the old axiom goes: it's not just what you know, it's who you know.
Networking and building relationships is a good big part of getting hired for the vast majority of good creative tech jobs.
Here are some of the best groups and creative spaces in the city to meet new friends and make connections with entrepreneurial and artistic people:
1. Toronto Entrepreneurs And Startup Network – The biggest entrepreneurship meetup of startup founders and aspiring entrepreneurs in the city.
2. Conscious Creatives in the GTA – A large meetup group for spiritual entrepreneurs and healing practitioners to meet, share contacts and build relationships.
3. Toronto Arts and Culture Meetup – Another big meetup group for attending arts and cultural events in a group.
4. The Now Common Meetup Group – A community of business owners, startup founders and entrepreneurs, hosting events at the Soho Innovation Lab.
5. The Centre For Social Innovation – A coworking space, community, and launchpad for people who are changing the world
6. Artscape Daniels LaunchPad – A creative space artists, designers, and creators to work together and develop their creative practice.
7. Creative Mornings Toronto – The local Toronto chapter of Creative Mornings featuring local speakers from the creative arts and digital media communities.
Startup Accelerators:
There is no shortage of startup accelerators offering assistance and funding to entrepreneurs:
1. Ryerson DMZ – University business incubator open to tech startups worldwide.
2. Creative Destruction Lab – A seed-stage program for scalable, science-based companies.
3. Highline Beta – A startup co-creation company that helps build and fund new ventures alongside forward-thinking global enterprises.
4. TechStars Toronto – The local chapter of well-known startup accelerator TechStars has teamed up with Real Ventures, one of  Canada's early-stage venture funds.
5. Velocity Fund – Pitch for an initial 50k investment, a fund set up by the University of Waterloo.
Canada's Innovation Grants and Incentives:
There is a low barrier in Canada to entry for entrepreneurial people who want to create their own jobs.
1. Invest Canada – Learn about some of Canada's lucrative R&D programs and other incentives for business research and innovation.
2. Corporate Tax Credits and Incentives – Canada provides significant incentives for creative R&D in film, media, interactive digital media, computer animation, and special effects.
3. Innovation Canada – A tool from the Canadian government to find programs and services that can grow your business.
4. Wage Assistance Programs – The Apprenticeship Job Creation Tax Credit allows employers to claim up to $2,000 per year for each eligible apprentice and the Canada Job Grant incentivizes employers to better train employees.
Fast-Growing Toronto Startups:
Here some of the best Toronto startups and innovative tech companies that are actively growing and hiring new talent for leading-edge tech and creative jobs.
Keep in mind that 95% of startups fail so some of these companies may have recently pulled the plug on their website and business.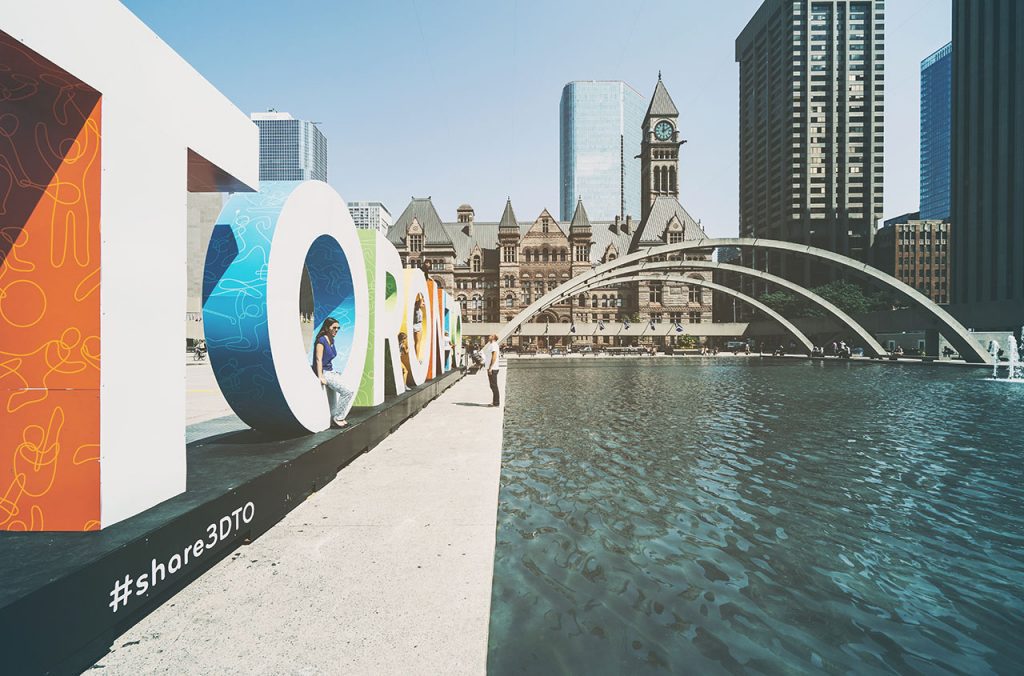 Social Media:
Kik Messenger has over 500 million users and is based in the nearby Kitchener-Waterloo area.
1. Kik – Popular messenger app.
2. 500px – Photo-sharing community for professional photographers.
3. MeltWater Social – Social media monitoring.
4. Keyhole – Hashtag analytics and brand monitoring.
5. Social Creators – Mental training for focus and productivity.
Video Games:
There's a booming video gaming sector in the city.
1. Prodigy – Learn math for free.
2. GameHive – Mobile gaming studio.
3. UbiSoft Toronto – Local studio of international gaming giant.
4. Big Viking Game – Mobile, social and HTML5 game developer.
5. Capybara Games – Adventure games for Steam & XBOX One.
6. Glu – Mobile gaming studio with Toronto office.
7. Certain Affinity – Independent gaming studio with Toronto office.
8. Pop Reach – Mobile gaming studio.
Digital Media:
WattPad is one of the world's fastest-growing new media companies.
1. WattPad – A global storytelling community of 80 million readers and writers.
2. StoryBird – Become a better writer with online creativity tools.
3. Influitive – Customer advocate and engagement platform.
4. FlyBits – Hyper-personalized customer experiences.
Collaboration:
Employee engagement at many traditional companies is poor, these startups are trying to change that.
1. Receptivi – Culture analytics platform for improving organizations.
2. Soapbox – Better one-on-ones, team meetings, and discussions.
3. Zoom AI – Book meetings with smart scheduling.
4. Achievers – Employee engagement platform.
Artificial Intelligence:
Toronto has the highest concentration of AI startups in the world.
1. BlueDot – Artificial intelligence to protect people from infectious diseases.
2. PeakPower – AI-powered software to help businesses use energy more efficiently.
3. Ecopia – High-resolution vector maps using AI.
4. GridCure – Predictive analytics for electric utilities.
5. Wysdom – Conversational A.I. products.
6. Ideal – High-volume recruiting powered by A.I.
7. Consensus – An open-sourced, decentralized artificial intelligence platform.
8. Proof – Helping governments improve data-driven decision making.
9. Vector Institute – Innovative artificial intelligence thinktank.
Events and Tourism:
There are a decent amount of event startups in Toronto.
1. Event Mobi – An event app platform for conferences.
2. BriziCam – Personalized engagement for sports stadiums.
3. Showpass – Sell ticket to your next event or festival.
4. Universe – An online ticket platform and event marketplace.
Education:
There are a number of education startups serving the higher education industry.
1. TopHat – Education software built for professors and teaching faculty.
2. Rumie – Access to free digital education for underserved communities.
3. Kira Talent – Admissions solutions for higher education.
Fintech:
There is a lot of fintech investment available since Toronto is Canada's financial capital.
1. Lendified – Business loans for small business owners.
2. Sensibill – Receipt management solution for entrepreneurs.
3. StackAdapt – Advertising platform for digital marketers.
4. Koho – A new kind of digital banking.
5. Planswell – Build a personal financial plan.
6. Clearbanc – Affordable growth capital for online brands.
7. Wealth Simple – Investing on autopilot.
8. Fathom – Financial intelligence reporting and analysis.
9. Wave – Financial management and accounting software.
10. Freshbooks – Invoice and accounting software for small businesses.
Cryptocurrency:
As the birthplace of Ethereum, the city has a thriving cryptocurrency industry.
1. CoinSquare – A platform to buy and trade Bitcoin and Ethereum.
2. DeCentral – Software company focused on blockchain technologies.
3. Coin Berry – Buy and sell Bitcoin in Canada.
4. Balance – Trading and investment in baskets of crypto assets.
Digital Business:
Being Canada's business enterprise capital, there's a big startup industry to better serve business needs.
1. Think Data Works – Data management platform for enterprises.
2. Nulogy – Customized product experiences.
3. Viafoura – Community building for business.
4. Ten Thousand Coffees – Human connections in the workplace.
5. Fiix – Organizes, tracks, and schedules your maintenance activities.
6. TrackTik – Security workforce management software.
7. Loopio – Software that simplifies the RFP process.
8. Upchain – Product lifecycle management platform.
Digital Marketing:
Toronto's traditional advertising industry has given way to a new generation of digital marketing platforms.
1. ScribbeLive –  Visual and interactive content marketing solutions.
2. PathFactory – Content insights for B2B marketers.
3. Shoelace – Customer journey retargeting.
4. Rover – Mobile engagement and monetization with mobile ads.
5. Polar – Partners with publishers to power digital advertising products.
6. 360Insights – Helps retailers manage rebates and sales incentives.
Ecommerce:
Shopify, with offices in Toronto, Ottawa, and Kitchener-Waterloo, is the fast-growing and most highly valued startup in Canada.
1. Shopify – The world leader in do-it-yourself e-commerce.
2. Wish – A discount e-commerce marketplace.
3. Drop – Get rewarded for shopping.
4. Hubba – Helps independent retailers find, purchase, and sell products.
5. Well – An e-commerce marketplace for health and wellness products.
6. Open Care – A way to find local dentists.
Retail:
Startups trying to improve the retail experience in different industries.
1. Tulip – Helps to elevate retail service and personalize customer engagement.
2. Setter – Personalized home maintenance care.
3. HomeStars – Marketplace for home improvement specialists.
4. Varage Sale – Buy and sell new and used items locally.
5. CareGuide – Apps for buying childcare, home care, and pet care.
Food:
Ritual is one of Toronto's fastest-growing startups.
1. Ritual – Social ordering from local restaurants.
2. Chefs Plate – Fresh ingredients and recipes delivered to your door.
3. Foodora – Fast food delivery from a curated choice of local restaurants.
4. Parachute Coffee – A coffee subscription delivery service.
Health:
Health care is big in Canada and there's a lot of opportunity in the sector.
1. League – A new enterprise OS improving employee healthcare.
2. Think Research – Knowledge-based tools for clinicians.
3. Optimity – A health and wellness optimization platform.
4. Maple – Online doctors and virtual health in Canada.
5. Inkblot Therapy – Mental health counseling over video.
Biotechnology:
Toronto is a major hub for biotechnology. BlueRock Therapeutics is one of the fastest-growing biotechnology companies in the world.
1. Deep Genomics – A.I. powered platform for new genetic medicines.
2. BlueRock Therapeutics – Engineered cell therapy.
3. Ironshore Pharmaceuticals – Makers of ADHD drugs.
4. Swift Medical – Wound care management technology.
5. Conavi – Intravascular imaging system for scanning eyes.
Hardware:
There are a number of innovative hardware manufacturers around the city.
1. InteraXon – Creator of the Muse headband, a wearable EEG device for meditation.
2. Nymi – Workplace wearables to enhance security.
3. Xaxadu – Builder of quantum computers.
4. TransPod – A zero-emissions advanced hyperloop technology.
5. OTI Lumiotics – Next-generation flexible and transparent OLED displays.
6. Myant – Knits sensors into textiles that can sense and react to the human body.
Sustainability:
Positioned along Lake Ontario and near the Niagara Escarpment, the Greater Toronto Area's beautiful landscapes and abundance of water inspire sustainable thinking.
1. Opus One – Distributed energy network with software intelligence.
2. Ample Organics – Seed-to-sale platform for the cannabis industry.
3. EcoBee – Smart home devices and thermostats.
Any other fast-growing Toronto startups that I forgot to mention? Let me know in the comments.